Ahead of 'Cobra Kai' season 2, here's a recap of 'The Karate Kid's characters That 'Cobra Kai' was renewed for a second season doesn't come as a surprise. The series that is based on 'The Karate Kid' movie series was a massive hit with the audience in its first season and received widespread positive acclaim.
'Cobra Kai' takes place 34 years after the original film and follows a down-and-out Johnny Lawrence (William Zabka), who seeks redemption by reopening the infamous Cobra Kai karate dojo, and in the process reignites his rivalry with Daniel LaRusso (Ralph Macchio), who has been struggling to maintain balance in his life without the guidance of his now-deceased mentor, Mr. Miyagi. The show traces the journey of the two men trying to get their life in order.
While we await the premiere of 'Cobra Kai': Season 2, here's what the recurring characters have been up to between 'The Karate Kid' and 'Cobra Kai'.
Daniel LaRusso (Ralph Macchio)
In the three decades between 'Karate Kid' and 'Cobra Kai', Daniel met and married a woman named Amanda (Courtney Henggeler) and had two children, Samantha and Anthony (Mary Mouser and Griffin Santopietro). When Sam was eight, Daniel trained her in karate, though she eventually stopped training with him. Also at some point, the bonsai tree store opened in 1989 with Mr. Miyagi ultimately failed and Daniel went into the car dealership business. Sadly, Mr. Miyagi died in 2011, which dealt a heavy blow to Daniel.
Currently, LaRusso is shown as a successful car dealer with a chain of dealerships in the San Fernando Valley with his wife Amanda. Things take a turn for the worse when he hears that the infamous Cobra Kai dojo has reopened and he tries to shut it down thereby locking horns with Johnny Lawrence, his former nemesis in 1984's All Valley Karate Championship. He is also seen training Johnny's son Robby Keene (Tanner Buchanan) which just goes on to further infuriate Johnny.
In the All Valley Tournament that sees a showdown between Johnny's protege, Miguel Diaz (Xolo Maridueña) and Robby, which the former wins, Daniel is shown to console his ward about the loss and takes him to Mr. Miyagi's old home, and reveals that he plans to use it as a dojo to continue Robby's training and teach others Miyagi-do karate, in a bid to bring Cobra Kai down, once again.
Johnny Lawrence (William Zabka)
Unlike LaRusso, Johnny's life is shown to have gone downhill at the start of 'Cobra Kai'. He is shown as an alcoholic, who quits his job as a home-improvement worker. It is also shown that Johnny had a relationship with Shannon Keene, who gave birth to his son, Robby, but the relationship fell apart, and Johnny reportedly neglected Robby since birth.
During the course of the show, he bumps into LaRusso and subsequently decides to re-open the Cobra Kai dojo taking in Miguel as his first pupil. (The first episode sees him rescue Miguel from a bunch of bullies). Despite LaRusso's best efforts to stop him, the dojo opens up and eventually becomes successful.
It is also revealed that the duo has instances where it looks like they bury the hatchet but when Johnny comes to know that LaRusso is training his son, he becomes enraged and fights Daniel again. By the end of the show, it is also shown that his Cobra Kai pupils have won the All Valley Under-18 Tournament and Miguel is shown as the champion after defeating Robby.
After celebrating his victory at the dojo, a shadowy figure walks in who congratulates Johnny. The figure emerges and turns out to be his old sensei, John Kreese. (Martin Kove)
Mr. Miyagi (Noriyuki Pat Morita)
Daniel LaRusso's mentor and guiding force. While Morita is no more, and it is revealed that he passed away in 2011, the show has seen LaRusso pepper his teacher's lessons throughout the show. In one of the instances where he is worried, he looks at a picture of him and Mr. Miyagi and says, "Wish you were here to give me some of that Miyagi wisdom right now."
John Kreese (Martin Kove)
Sensei John Kreese was the main antagonist of the original trilogy of 'The Karate Kid', a Vietnam War veteran, and the Co-Founder of the karate dojo Cobra Kai. At the end of the first movie, Kreese is shown to be utterly dismayed and is venting out his anger on Johnny Lawrence. After being forced to shut down his dojo, he goes to seek help from Terry Silvers (Thomas Ian Griffith). After listening to Kreese's story, Silver decides to help him out and nearly succeeds before LaRusso and Mr. Miyagi put an end to the duo's schemes.
Kreese is shown in several flashbacks. When Daniel questions Johnny on his attempts to resurrect the Cobra Kai dojo, the latter replies that he isn't Kreese and though he is dead (It was presumed until he shows up in the season 1 final episode), the lessons taught by Kreese were still working.
At the end of 'Cobra Kai', Kreese appears in Johnny's dojo and looks to exact revenge on LaRusso for putting Cobra Kai out of commission, this time without Mr. Miyagi to stand in his way.
The new additions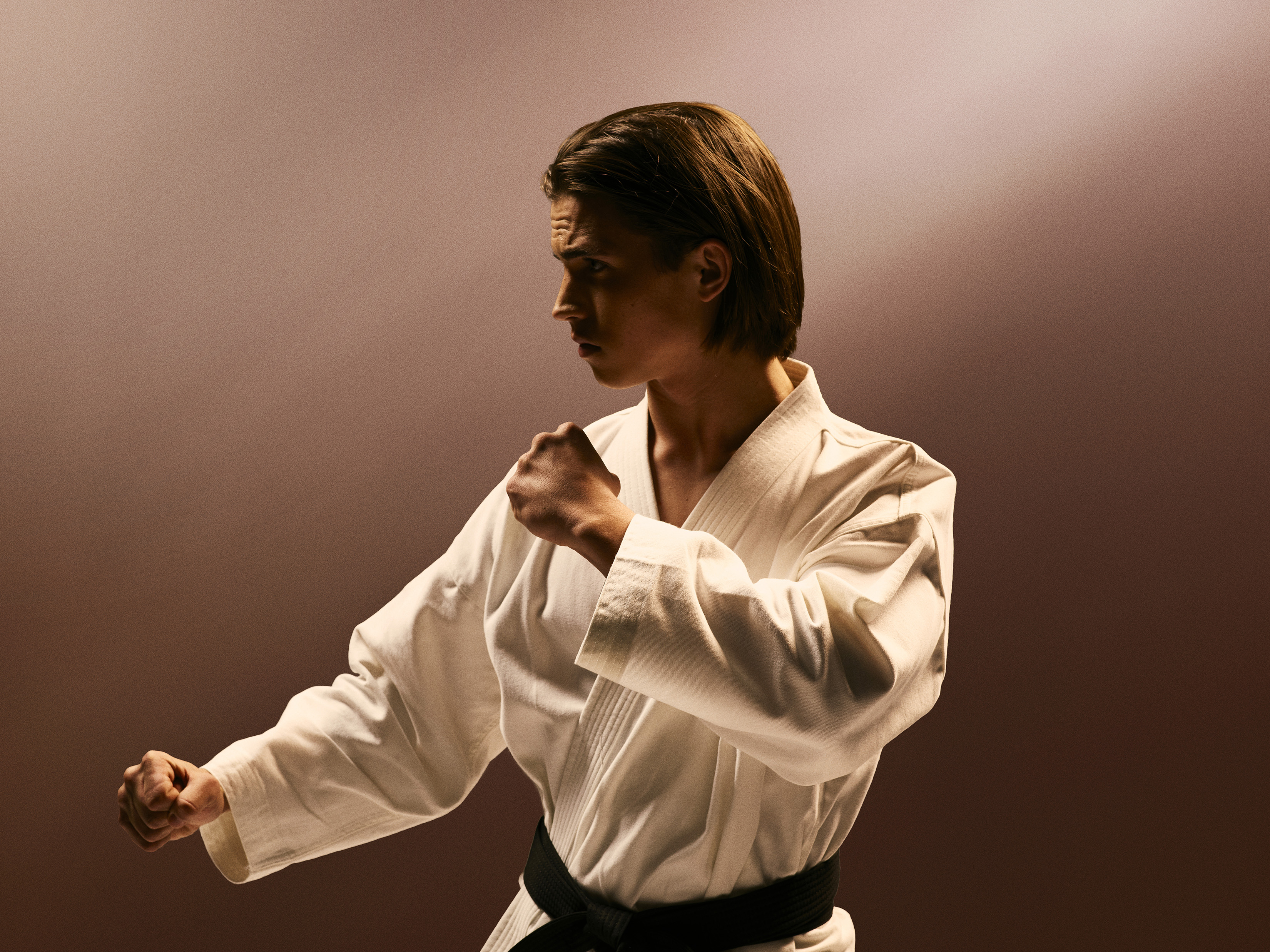 Robby Keene (Tanner Buchanan)
Robby Keene is the son of Johnny Lawrence and Shannon Keene. He starts as minor delinquent during the first part of the series but goes on to one of the nice guys once he is taken under LaRusso's wing. He also becomes the second disciple of the new generation of Miyagi-Do Karate.
Samantha LaRusso (Mary Mouser)
Samantha 'Sam' LaRusso, is one of the main characters in the first season of 'Cobra Kai'. She is the daughter of Daniel LaRusso and is shown to be dating Miguel Diaz (Xolo Maridueña) before she breaking up with him.
Miguel Diaz (Xolo Maridueña)
Miguel Diaz is Johnny Lawrence's neighbor-turned-top student of the Cobra Kai dojo. He was rescued by Johnny from a bunch of bullies in the first episode of 'Cobra Kai' and is eventually trained by him. Miguel goes on to win the All Valley Under-18 tournament against Robby, Johnny's son.
'Cobra Kai' Season 2 is set to premiere on April 24 on YouTube Premium. Watch this space for more updates.
Share this article:
cobra kai 2 the karate kid daniel larusso william zabka cobra kai season 1 2 youtube