CMT Awards 2019: Sheryl Crow, Michelle Monaghan and RaeLynn among worst dressed celebs While sequins and rhinestones summed up this year's CMT Awards fashion, the music award's blue carpet was populated with country music's biggest stars decked out in plenty of bling and some interesting getups, although a few of them did end up committing some serious fashion sins.
While some of the celebrities managed to completely blow our minds with their incredible and impeccable fashion choices for the red carpet, some celebrities somehow missed the memo.
1. Michelle Monaghan
A leather shirt and skirt combo? Hell no! Michelle Monaghan had us shaking our heads with this atrocious red and black printed look, adding a pair of black strappy sandals for some added disappointment for fashion lovers worldwide.
2. Sheryl Crow
We're quite unsure of how Sheryl Crow came about deciding on this dress for a red carpet appearance in the first place, for there's one thing we're absolutely sure of: it's way too casual! Her getup made the singer look like she was off to a pool party instead of a major country music award show.
3. Mitchell Tenpenny
Although none of us can deny Mitchell Tenpenny's "Alcohol You Later" vibe, we also decided that this red carpet look could have easily been pushed to the 'later' part as well. Though that pink Stephanie Thorpe suit is a pretty shade, the Varvatos v-neck t-shirt underneath and those sparkly white Nike sneakers took this look to unnecessarily casual levels.
4. Meghan Linsey
Jumpsuits may be making a huge comeback this awards season, but Meghan Linsey's bedazzled jumpsuit comepletely seemed to miss the mark here. Linsey's odd ensemble at the CMT Awards didn't stop there. She also added a similarly blush-hued duster over top, a tan hat and platform heels for a puzzling ensemble. Perhaps the only thing she had going for her was her bright pink hair, which kind of complimented the bizzare jumpsuit.
5. Brooke Eden
If you choose to wear pants to an award show's red carpet, the least you can do is find the right pair. Unfortunately for her, Brooke Eden completely missed the point, opting for some heavily patterned blue and black high-waisted pants and pairing it with an even more casual black crop top for a majorly underwhelming fashion moment.
6. Lindsay Ell
Lindsay Ell's two-piece looked more like a disco-themed Halloween costume than an award show ensemble. From the crop top and bellbottom style to those sparkly purple sequins, this costume-like look left a lot to be desired.
7. Sandra Lynn
When it came to picking a shade of silver, Sandra Lynn seems to have got extremely confused. The star opted for this indecisive dress, which comprised of half gunmetal and half pale silver. And holding it all together was an unfortunate chunky black belt. But even we couldn't deny the perfectly simple strappy black sandals that mitigated the disappointing look to some extent.
8. Lauren Akins
Lauren Akins, Thomas Rhett's better half, also made it to the list of celebs who managed to impress no one with their red carpet fashion choices. While we love a leopard print as much as the next person, Rhett's miniskirt, paired with a pink spaghetti strap tank and Gucci belt, felt too casual for the big night. And though we loved the hot pink heels sentiment, the shade was too far off to match her tank top, resulting in a fashion miss.
9. Mark Wystrach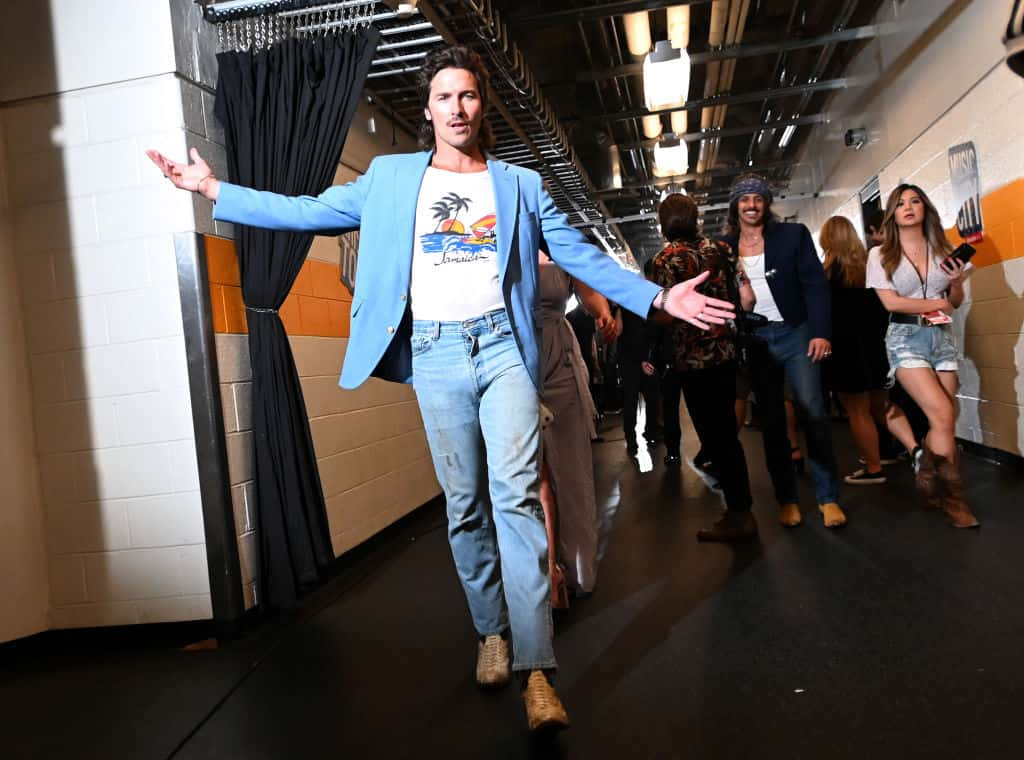 The only sentiment we could draw from Mark Wystrach's red carpet appearance was: blue. The singer donned these odd jeans, pale blue jacket and graphic t-shirt combo and then added sunglasses hanging off his pocket and dirty boots for a forgettable and lame look.
10. RaeLynn
RaeLynn's CMT Awards look was made of beautiful floral fabric, but the cut of the Ines Di Santo gown really underwhelmed our senses. The off-the-shoulder frock featured a mullet-style skirt, a mini in the front and an over-the-top train hanging from the back. She opted for perfectly tousled waves on the blue carpet, and when it came time for eyeshadow she really spiced things up with a bright purple hue.