New video shows Bill Clinton putting his arm around Monica Lewinsky's waist in the Oval Office in 1997
The video features Clinton's photo ops at the Oval Office from February 28, 1997. After greeting guests he goes on to take photos with Monica Lewinsky and is seen holding her waist. In a major throwback moment, the Clinton Library this week has released a video featuring former President Bill Clinton and former White House intern Monica Lewinsky. The video is from the time that President Clinton held the reins of America. The video features one of Clinton's photo ops at the Oval Office from February 28, 1997. Clinton is seen addressing the attendees in the beginning and speaking about the drug problem in the US at the time. He then greets everyone after the session is over and goes on to take photographs with the guests. He then goes on to take photos with Lewinsky and is seen holding her waist and then shaking her hand.  
This is the first time that a video has surfaced showing the two interacting with each other. Lewinsky and Clinton were involved in a scandal that left both of them reeling and when this video was taken, they were still said to be together. The affair, that came to light only in 1998 had been going between 1995 and 1997. Lewinsky had also stated that she had sexual encounters with Clinton on nine occasions. According to her published schedule, First Lady Hillary Clinton was at the White House for at least some portion of seven of those days. The day this particular video was shot was also significant.
According to the Starr Report, Clinton and Lewinsky reportedly had another interaction of sexual nature at the White House the day this video was taken. The video shows Clinton delivering his weekly radio address. It clearly depicts a cheerful Clinton asking an equally smiley Lewinsky to get in the shot.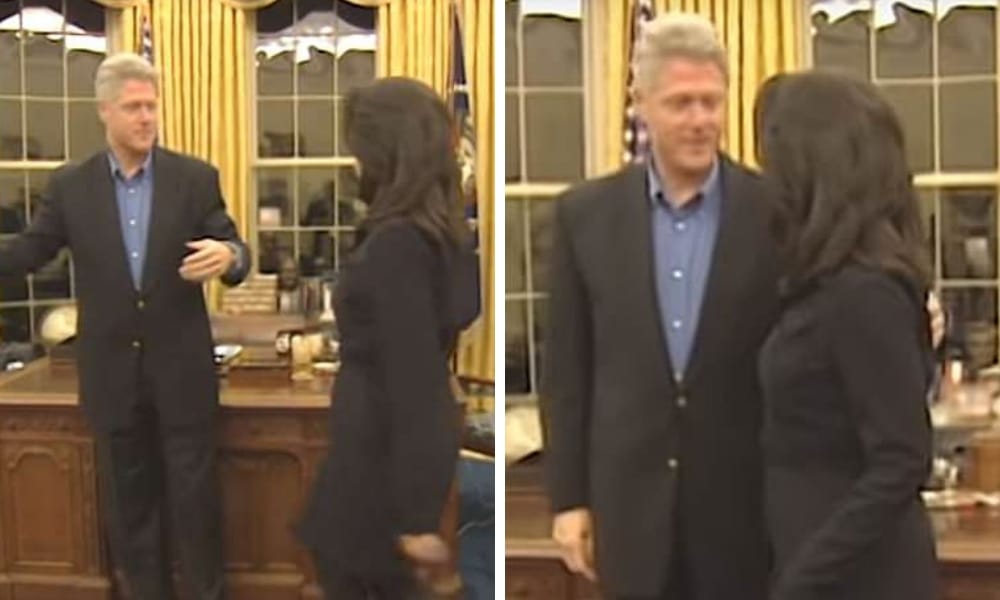 He says, "Come on Monica," and she comes to him perhaps wondering if he needed something. He whispers something incoherent in her ear and signals towards the guests. She cracks up a smile and the two pose for pictures. After the shots, she scoots out of the frame and he pats her back as she walks away. Just three months after this video was filmed, in May 1997, their affair is said to have come to an end. Clinton's marriage to Hillary survived but his presidentship did not. He was impeached by the House of Representatives in 1998. 
Almost a year before this particular address was done by Clinton, Lewinsky's superiors had relocated her job to the Pentagon because they felt that she was spending too much time around Clinton. Hired as an intern, she went on to become an employee of the White House Office of Legislative Affairs. She was also subsequently interviewed for a job at the UN which she declined. In his autobiography, then-United Nations Ambassador Bill Richardson revealed that he was asked to interview Lewinsky for a job on his staff at the UN in 1997.