Think of the worst couple tattoo you can get- Dakota Johnson and Chris Martin have it!
Coldplay's Chris Martin and Dakota Johnson have been spotted sporting matching infinity tattoos. This is another hint that points towards the fact that they are definitely together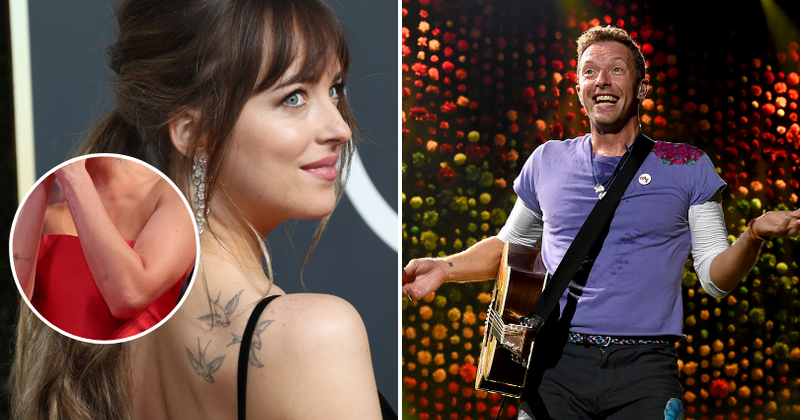 The award for the worst matching tattoo goes to - Chris Martin and Dakota Johnson! Although we do love the cute couple, who have never officially announced their relationship status, this is a bit much. The actress who is best known for playing the sexually charged yet awkward character of Anastasia Steele in the 'Fifty Shades of Grey' franchise and the Coldplay frontman have been spotted sporting matching infinity tattoos. The tattoos are seen near their elbows and look exactly alike!
This is another link that definitely hints towards the fact that they are in a relationship and are quite serious about it too. This connection was made when Johnson was out and about at a 'Suspiria' photocall, posing for the shutterbugs and promoting her new flick at the 2018 Venice Film Festival. Soon, cameras spotted what looked like an infinity sign near her left elbow. Now, just a couple of days ago, Martin had been seen at a launch event for S.E.A Jeans in LA and on closer inspection of the photos, you can spot the tattoo in a more or less same spot. 
While it may have been a sweet gesture, infinity tattoos are done to death. Chris Martin has some tattoos himself and so does Dakota Johnson - none of them check any boxes in the originality department. So we guess this shouldn't really come as a surprise.  
Twenty eight-year-old Johnson and 41-year-old Martin have been the topic of speculation since earlier this year after paparazzi spotted them enjoying a nice dinner date at Soho House in Malibu. They were also seen getting cozy after the meal and everyone assumed that maybe something was going on between the two. An eyewitness claimed to E! that they were leaning on each other and that there was dolphin watching involved.
"They had their arms wrapped around each other and were very affectionate. She had her head on his shoulder and was leaning into him. They stopped to gaze out at the water and look for dolphins."
In February we got a little more confirmation, although it was nothing official. The two went to comedian Ellen DeGeneres' 60th birthday bash together. It was a star-studded event and if these two were really trying to keep it low, well, mission not accomplished. It was when Melanie Griffith, Dakota Johnson's mum told People that she really liked Martin. She said, "I adore him!" but coyly refused to divulge more, adding, "But she is very private about her life and I respect that."