Chloe Madeley offended "house of the Lord" at the royal wedding by baring her shoulders
Chloe Madeley never meant to walk into the church baring her shoulders, however she forgot her coat in the coach and was forced to break protocol. James Haskell and Chloe Madeley (Source:Getty Images)
Chloe Madeley and her fiancée James Haskell attended Meghan Markle and Prince Harry's Royal wedding earlier this year. Harry, being a huge rugby union fan, personally invited England's rugby star James to his wedding, and the fitness guru and television presenter was of course his plus one.
Though it seemed like they had quite an amazing time, Chloe revealed that she offended "the House of the Lord" by attending the wedding at St George's Chapel with bare shoulders.
The 30-year-old spoke about her wardrobe mishap on ITV's Lorraine and admitted that she took away a lesson along with some good memories from the royal wedding, reported Metro.
Chloe wore a pale pink dress to the wedding. It dangled below her knee and had a rather deep front and back cut with spaghetti sleeves that exposed her shoulders. But the truth was, the wardrobe malfunction did not take place due to ignorance but due to bad luck. She never intended to show off her shoulders in church, for she knew better.
She said: "The invite said day dress and hat but obviously it is tradition to cover our shoulders. So I had a jacket with me, but was so hot and we were on a coach to the chapel and I was like 'I'm over heating.'" She added: "James told me to 'take it off we'll do a walk and before we get into the church you can put it on.'" Chloe thought it was a fair deal and removed her jacket before heading to the church. To her misfortune, she realized that she left her coat on the coach and was forced to walk into the church with her shoulders showing.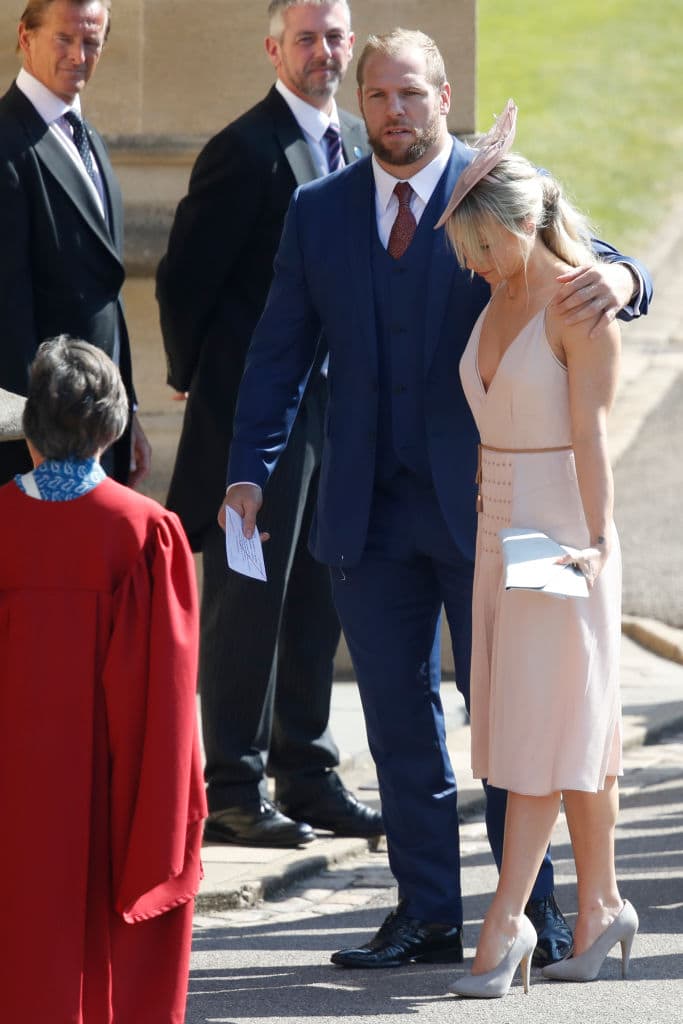 She said: "As we were walking up I got the the church and asked James, 'where is my jacket?' and he didn't have it. She continued: "I was like 'okay so I'm going in shoulders out, it's not a big deal no one will care." But the truth was far from what she expected, for people really did care. She continued: "People were like, 'You're offending the House of the Lord,' I was like, 'Oh my god, oh my god, I did not need a religious war. But, you know, it's OK, lesson learned."
Even Twitter users caught onto her wardrobe mishap and criticized her for her choice of clothing. One tweeted: "Chloe Madeley looks SO inappropriate #RoyalWedding." Another added that Chloe was "inappropriately dressed" and had "let herself down".
Chloe is on track to marry her fiancé James in 2020 and mentioned that she was considering showing her off her shoulders at her own wedding. Talking about her big day she said: "My shoulders will probably be out at my own wedding. I don't think I'm going to do the long sleeve thing. It's me. I mean, come on."
On the page of James and Chloe's wedding day, if you're wondering why they're taking so long to tie the knot, it's because of the Rugby World Cup next year, reported Daily Mail.
James said: "Because the World Cup is next year, so anyone who would be at the wedding wouldn't be able to attend. It'd be the worst timing in the world!"
James proposed to Chloe in Paris this April. Could it get any more romantic than that? Though he doesn't seem to have any solid plans for the wedding yet, as it is pretty far away. But judging from his wedding proposal, it sure seems like he their wedding will be grand. He did mention one thing they will not be doing for the big day: going on a pre-wedding diet.
---
According to Daily Mail, he said: "I'm going to do what I always do which is to stay in the best shape as possible. Like anybody we get in unbelievable shape and we get out of shape within reason and then we get back into shape. No doubt for women it's very important to look amazing on their big day, and men have the same thing, but I'm not planning on getting morbidly obese and then trying to lose the weight. I don't see it as something we would do."
He added: "We trained every single day we've been on holiday but let our hair down and eaten food that we want, and we've both put on weight."
Being an athlete, James eats 4,000 calories a day to maintain his physique. But he revealed that his wedding breakfast will contain all the food the duo love to eat.
He said: "We haven't got that far down the line, but whenever it does happen will be all about us and our day and eating good food and drinking good wine. If we happen to have something healthy on the menu it's because we'll want it there because it tastes good. But I'm not going to have a quinoa salad for lunch or do crunches before the church service."