AMERICA'S STD CRISIS: Cases of Syphilis and HIV spike as condom usage plummets
With decline in use of condoms, syphilis cases have gone up by 26% while HIV sees a 16% rise from last year, along with worsening rise in monkey pox WASHINGTON, DC, WASHINGTON: US health officials are now calling for urgent measures of prevention and treatment amidst the staggering rise in cases of sexually transmitted diseases (STDs). This comes after infection rates were on a steady rise over several years, with a chief cause of concern being the decline in people using condoms.
On Monday, September 19, Dr Leandro Mena of the Centers for Disease Control and Prevention (CDC) said, "It is imperative that we work to rebuild, innovate, and expand (STD) prevention in the US." The Daily Mail also reports that in 2021, the rate of increase of syphilis was 26%, highest since 1991, with the highest cases recorded in 1948. Similarly, HIV saw a 16% hike in comparison to last year. The sharp rise in STDs also comes amid the recent outbreak of monkeypox.
RELATED ARTICLES
Gay porn star Silver Steele reveals battle with monkey pox that could leave him scarred for life
'Keep your clothes on': CDC issues BIZARRE guidelines on how to have SEX if you have monkeypox
The worsening outbreak of monkeypox across countries has added to the severity of the problem of soaring STDs. It has also brought to light the failure of the US in combatting the rise of sexually transmitted diseases, so much so that David Harvey, the executive director of the National Coalition of STD Directors has described the current scenario as being "out of control."
US health officials have been directed to carry out urgent measures of prevention and treatment. According to Dr Leandro Mena, they are working on tackling the situation through new methods. Accessible home-test kits for certain STDs are one such measure, making it easier for people to get tested the moment they show symptoms that become a cause of concern. Early detection of infections will lead to people taking preventative measures so that it doesn't spread to others.
The source also reports that awareness must be created about the importance of condoms. Dr Mike Saag, an infectious disease expert at the University of Alabama at Birmingham reasons, "It's pretty simple. More sexually transmitted infections occur when people are having more unprotected sex."
If left untreated, STDs can have severe repercussions. Syphilis, a bacterial disease that shows itself through sores on the genitalia according to the CDC, may then progress to worse symptoms of skin rashes and/or mucous membrane lesions. These can then prove fatal, affecting other organs and even leading to death.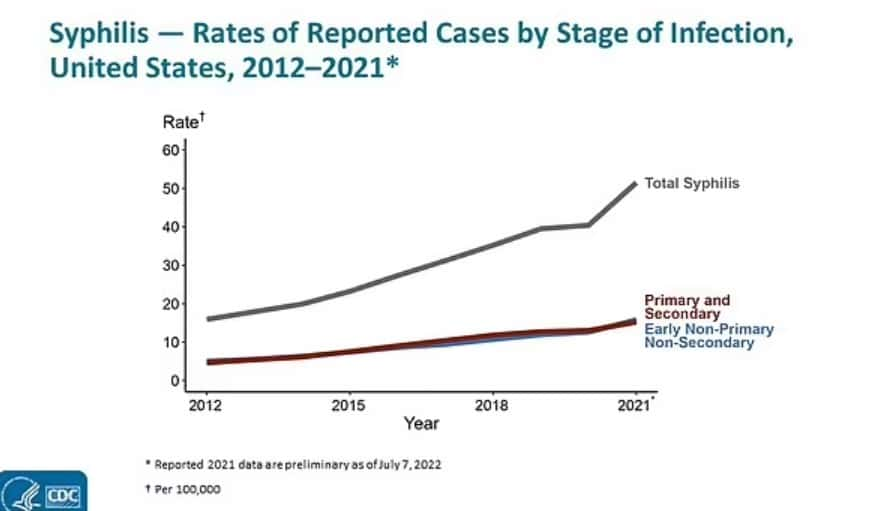 Speaking at a medical conference on sexually transmitted diseases, Mena stated that reducing the stigma around STDs, in addition to the improved and accessible methods of testing will be a game-changer in the treatment of all sexually transmitted diseases. "I envision one day where getting tested (for STDs) can be as simple and as affordable as doing a home pregnancy test," he added.