Ending the casting couch: Film and TV actors' union bans auditions, meetings in private spaces
The Screen Actors Guild‐American Federation of Television and Radio Artists is an American labor union representing around 160,000 film and television workers Gabrielle Carteris (Getty Images)
The largest US actors union, along with four major television networks: ABC, CBS, NBC and Fox, has agreed to limit auditions in private hotel rooms and spaces, according to the Screen Actor's Guild which had laid down the guidelines calling for an end of such meetings in April. The Screen Actors Guild‐American Federation of Television and Radio Artists (SAG-AFTRA) is an American labor union representing approximately 160,000 film and television actors and artists.
The union's president, Gabrielle Carteris said that their goal was to try and eliminate the potential for "predators to exploit performers behind closed doors under the guise of a professional meeting." She also added that the new guideline is a "partial realization of our work toward industry culture change."
As reported by Variety, Carteris shared, "To truly change the culture, we must be courageous and willing. At its most basic, this Code will ultimately help better define what harassment is, and what members' rights are in real-world situations. We are going further, however, with the launch of our Four Pillars of Change initiative to achieve safe workplaces and advance equity."
"This initiative gives members a clear understanding of their workplace rights and provides reliable guidance for members to navigate the unique environments of the entertainment, music and media industries," Carteris added.
The national executive director, David White, said, "This initiative provides a critical framework for our collective efforts to further strengthen protections for SAG-AFTRA members who experience harassment in the workplace. Our comprehensive approach ensures that we stay focused on providing members with clear information, making training available that is relevant and practical and working with industry partners to expand our tools to intervene and support victims of workplace harassment and assault. We are very excited to engage in this effort."
The union took to posting the code on their website along with a message from Carteris and White which read, "The recent intensified focus on sexual harassment in our industry and across many sectors has exposed abuses of power that pervade workplaces across the country and beyond. We believe it also presents a unique opportunity for unprecedented change and is a call to action for us all. We unequivocally condemn workplace harassment in all its forms."
The networks along with the union agreed to end auditions, interviews, and any sort of professional meetings in any sort of private spaces of residences. The so-called casting couch is responsible for and has been known to have been used by corrupty men to seek sexual favors from actresses in exchange for a guaranteed part/role.
Such measures became a compulsion post the Harvey Weinstein scandal and the #MeToo movement. The Hollywood industry was outraged at the numerous complaints and accusations of sexual misconduct against the disgraced film mogul. Weinstein had the audacity to flatly deny all the allegations that were made against him in a Manhattan Supreme Court including charges of rape and sexual assault between 2004 and 2013.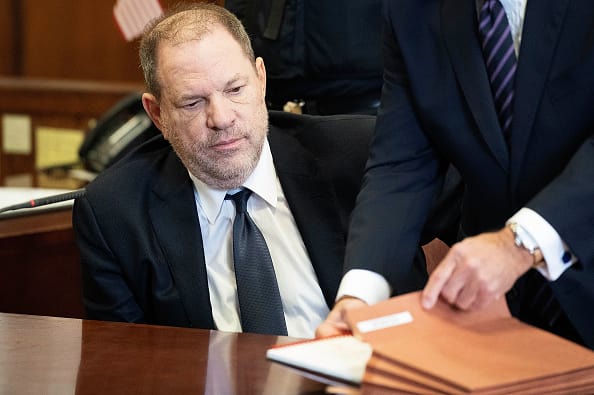 The Weinstein reports also led to a tidal wave of accusations against influential and high-profile men in politics, in the media and in the show business, shedding light on the huge problem of sexual harassment and assault. Many women took to social media to share their stories of abuse and harassment using the #MeToo hashtag.
Since his arrest on May 25, Harvey appeared in court for a brief hearing where he had to sit through a formal reading of all the charges that were made against him. The 66-year-old said, "not guilty," denying all allegations of non-consensual sex. Weinstein has admitted that his behavior has "caused a lot of pain," but has described many of the allegations as "patently false."
The former Miramax supremo has been accused of sexual misconduct ranging from harassment to rape by at least 87 women. Actresses who have accused him include the likes of Kate Beckinsale, Cara Delevingne, Heather Graham, Salma Hayek, Lena Heady, Angelina Jolie, Ashley Judd, Minka Kelly, Rose McGowan, Lupita Nyong'o, Gwenyth Paltrow and Mira Sorvino who have bravely come forward to share their horrific experiences.
Rose McGowan has accused Weinstein of rape by performing oral sex in a hotel during the Sundance Film Festival in the year 1997 when she was only 23 years old. Recently, a grand jury in Virginia has indicted McGowan on one felony count of cocaine possession. The charging documents reveal that cocaine was found in a wallet that she left behind on an airline last year.
McGowan has stuck her ground and has maintained that the drugs are certainly not hers and has suggested in court papers that the cocaine was planted on her on Harvey's orders. She was one of the first women to speak out against Weinstein and she along with others have shared that he has aggressively attempted to discredit his accusers.
Melissa Thompson was among the three women who filed a class action lawsuit against Harvey and recalls how he forcibly had intercourse with her in the year 2011. Actress Salma Hayek has also claimed that she had to turn down multiple unwanted advances and even recalls him threatening her and saying, "I will kill you, don't think I can't."