Is Carson King innocent? YouTuber, 21, accused of 'sexting' underage girls but fans want his 'side of the story' YouTuber, comedian and Twitch streamer, Carson King became the talk of social media when he told his fans, that he'll be taking a break after his girlfriend allegedly cheated on him. Now, a new Twitter thread has come to light, claiming that Carson used to indulge in sexting with his underaged fans.
On March 12, 2020, Carson made a Twitter announcement saying that he needs an indefinite break, in order to improve his mental health. After a few weeks, on April 1, 2020, he confirmed that his mental health deteriorated after his girlfriend Katerino cheated on him with Fitz, one of his good friends. He later revealed, that it wasn't just Fitz, who was in Katerino's life, there were other boyfriends as well. Which included her manager, a small League of Legends streamer, and a couple more unidentified people.
After a few days, Carson apologized to both Katerino and Fitz for harming their careers on April 15. Katerino also posted a video titled "an update" in which she explains how she "wasn't in a relationship with Carson" and how "she is going through a hard time and is seeing a therapist". However, this apology was not as well-received among the community. After the drama got over, Carson was active on Twitter again and played 8Ball on the iPhone against many popular figures. Carson also made jokes on his Twitter about him getting cheated on.
A now-deleted Twitter thread claims, "tw // grooming , pedophilia if you didn't watch keemstar's video and aren't in the headspace to right now basically what was said is that carson had been sexting and sending sexual things to his underaged fans for months and all of lunch club knew and didn't say anything." The Twitter user, further wrote, "+ they don't know if he still does this because they haven't really spoken to him for awhile." He also added: "Lunch club were a group of creators (callmecarson, jschlatt, slimecicle, traves, hugbox, ted nivison and cscoop) from smplive that formed a collaborative group"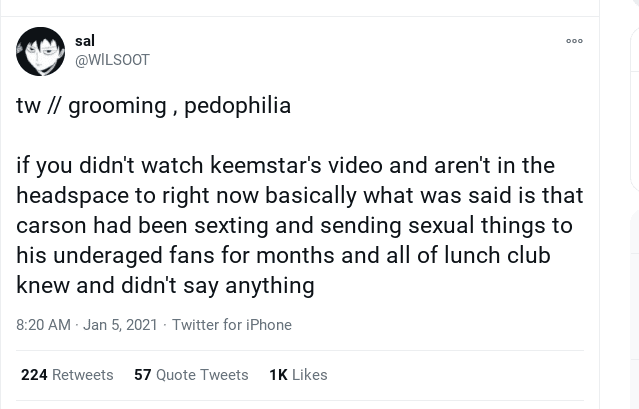 More and more people started replying to the thread, as one wrote, "I dont think we should blame the rest of lunch club because Carson told them he was going to step back and get better. They also practically made their careers and didn't want to get sued over it. Still they should've shared it so that his younger fans would know sooner." While one wrote, "I know this isnt about me but if their feelings said "well carson is still a friend even after he admitted to being a sex offender :/" then thats even worse"
Keemstar posted on Twitter, "A 18 year old girl posted this video on twitter Claiming that Call Me Carson groomed her when she was 17! #DramaAlert".
Another one wrote, "You know the feeling you get when you watch a youtuber and are a fan of theirs for a long while, and when they are exposed or called out on something bad, and you feel both confused and empty? That's what I feel with this whole situation," and "From now on, things will be different, I'm in utter shock, I really don't know what to feel, think, or say about this situation. Best thing we can do is wait for Carson's response, but until then, I think that things are gonna be different, for better or for worse"
One fan said, "I'm very sad about the Carson situation. He was like the only good and funny youtuber. Why did he have to sex child? Why?" While one suggested, "We should let carson tell his side before any harsh insults and attacks" unwilling to believe the accusations may be true.
These remarks were made by the Internet, MEAWW cannot confirm them independently and nor does it support these claims being made on the Internet.