'The new adventure begins': Carrie Fisher's French bulldog Gary retires to Florida, two years after the actress' death
The French bulldog became somewhat of a celebrity himself with his signature tongue-out style after he tagged along with Fisher to various press and book tours.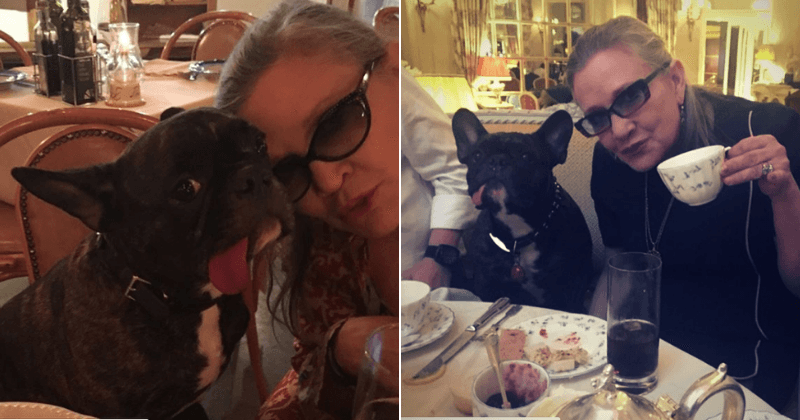 Late Carrie Fisher's French bulldog, Gary Fisher, is set to start a "new adventure" in Florida, according to Fisher's former assistant Corby McCoin. Gary "wrote" on his Instagram account Wednesday, "Just wanted to check in and say it has been 2 years and I miss my mom every day," People reports.
The famous canine posted a photo of himself soaking up the sun at Miramar Beach and staring out at the blue waters. In the caption, he wrote, "I tried New York after LA and decided the beach is much better. Hello Florida and the new adventure begins 🐶❤️" 
---
 

 

View this post on Instagram

 
---
Gary also added hashtags to boost his reach, including "#garymisseshismom #garyloveshismom #garyloveshisfans #garyfisher #frenchiesofinstagram #garyindestinflorida2019 and #garysnewadventures."
The world famous pet has made his social media presence felt after Fisher's death and garnered over 189,000 followers. His most recent posts included two photos in tribute to his late mother. The bulldog posted a close-up shot of his face with green glitter lining his eyelid on what would've been Fisher's 62nd birthday. In a sweet message for his mum, Gary wrote alongside the photo, "We threw glitter in the air for my mom and when it landed on me, It landed in a way she would have loved. Happy b day mom, I will always love and miss u 🐶❤️"
---
 

 

View this post on Instagram

 
---
Gary kept it simple on the anniversary of Fisher's death in December, writing, "Miss you everyday 🐶❤️ "
The bulldog was instrumental in helping deal with Fisher's bipolar disorder and served as her most trusted sidekick since day one. In a conversation with Today on December 13, Fisher's daughter Billie Lourd said, "I live for Gary. He was mine first and she actually stole him from me because she fell in love with him."
Fisher said her canine soulmate provided vital emotional support and stability in her life, especially after her mental health diagnosis. Speaking to The Herald Tribune in 2015, Fisher said, "Gary is mental also. My mother says Gary is a hooligan. Gary is like my heart. Gary is very devoted to me and that calms me down. He's anxious when he's away from me."
---
 

 

View this post on Instagram

 
---
Gary did not leave Fisher's side after she suffered a heart attack aboard a flight from London to Los Angeles on December 23, 2016. Sitting beside the actress as she fought for her life at the hospital, Gary spent his last moments comforting his beloved owner. Four days after her admission, she died at the hospital.
Gary became something of a celebrity himself during the final years of Fisher's long, illustrious career in Hollywood. He tagged along during press tours for 'Star Wars: The Force Awakens' and also accompanied her while promoting her book, 'The Princess Diarist'.