Why does America hate Camilla Cabello? Racism, misogyny, bullying continue to plague popstar Why do people hate Camila Cabello?
From her role in Fifth Harmony's internal issues to her past racism, from her voice to her alleged PR relationship with Shawn Mendes, the singer can't seem to catch a break. But is the hate justified? Or is there more to this story than what meets the eye?
Fifth Harmony
While in 5H, Cabello was increasingly pushed to the forefront and featured more prominently in their music videos and stage performances, much to the displeasure of their fans. Many fans also disliked her voice, such as this one who says "I cannot for the life of me stand Camila Cabello's voice and it's so prominent in every f*cking single Fifth Harmony song...It's not unique, it is not good...Her voice is pitchy, musically underdeveloped, high and not in a good way...THE OTHER FOUR GIRLS HAVE STRONGER VOICES THAT NEED TO BE EXPOSED MORE AND SOMEONE NEEDS TO GIVE CAMILA SINGING LESSONS."
Naturally, this divided the fandom, but what resulted from this chasm was an intense amount of hatred from Cabello stans towards other members — especially Normani, who received constant racist messages including ones calling for her to be 'lynched'.
Cabello officially left the group in December 2016, and while the group claimed they were blindsided by her decision, Cabello maintained that they always knew she had solo plans. What followed was a lengthy back-and-forth that culminated in 5H's shocking 2017 VMA performance that opened with a fake Cabello stand-in who gets flung off the stage.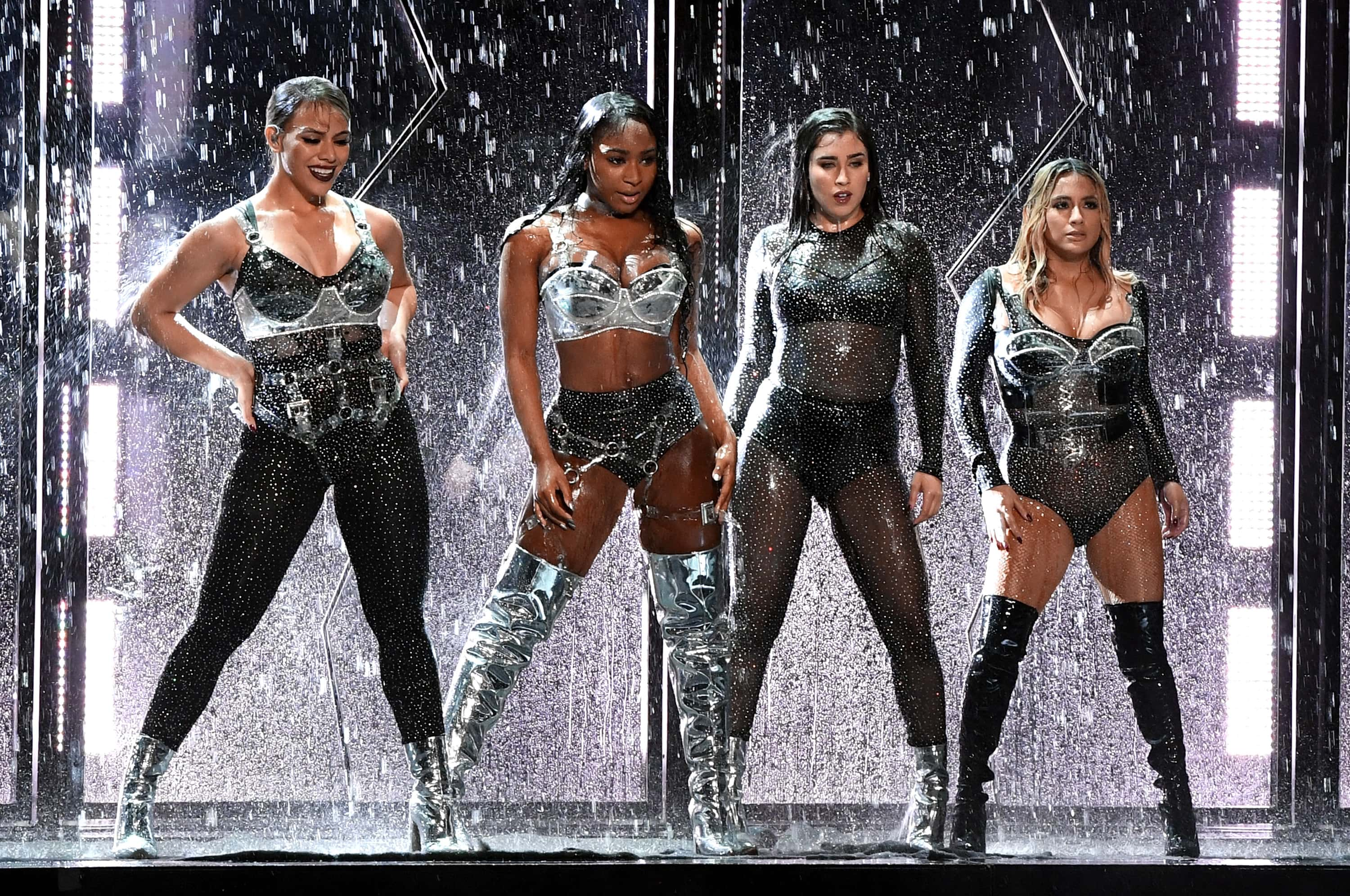 In a 2018 interview, Cabello claimed that the real reason for her departure was that she felt her solo aspirations were stifled while in the group, implying she was being bullied by the other members who she claimed were jealous of her non-group activities, and calling their VMA performance hurtful and "petty".
Unfortunately for Cabello, these claims would soon be buried under her own controversial and problematic behaviors from the past.
Racist and misogynistic comments
Cabello came under intense fire when a 2019 Twitter thread revealed racist and misogynistic comments from her Tumblr, including repeated use of the n-word and variations of it, anti-black and anti-Chinese posts, as well as extremely insensitive posts about the horrific assault Rihanna endured at the hands of Chris Brown. After the backlash, the Tumblr account was immediately taken down. However, the Twitter user had already archived the posts so they were still available for anyone to view.
Her past use of the n-word against her former 5H members, especially Normani, also resurfaced. 5H was often praised for having a racially diverse group of members, including African-American, South Pacific Islander, Mexican, and Cuban. Cabello herself spoke about the importance of representation, stating "It's just really special because I feel like representation is so important, especially for little girls growing up that have dreams, and because of prejudices or because of Eurocentric standards they might not think that they're good enough or quote-unquote pretty enough — whatever. We have all different ethnicities, we have all different body types, so I think that makes us really special."
After the n-word controversy, Cabello was forced to issue an apology and released a statement saying, "When I was younger, I used language that I'm deeply ashamed of and will regret forever. I was uneducated and ignorant and once I became aware of the history and the weight and the true meaning behind this horrible and hurtful language, I was deeply embarrassed I ever used it."
She added, "I'm 22 now, I'm an adult and I've grown and learned and am conscious and aware of the history and the pain it carries in a way I wasn't before." She did not, however, address the racism she was accused of levying against her former band members, which she only ever briefly alluded to it in an apology she tweeted in 2013.
Normani later addressed the controversy in a statement, adding "It was devastating that this came from a place that was supposed to be a safe haven and a sisterhood because I knew that if the tables were turned I would defend each of them in a single heartbeat. It took days for her to acknowledge what I was dealing with online and then years for her to take responsibility for the offensive tweets that recently resurfaced."
For many, this was proof enough that the group's internal strife came from Cabello herself.
Shawn Mendes: PR stunt or just young love?
Prior to the Twitter thread exposition, Cabello teamed up with singer Shawn Mendes to release the smash hit 'Senorita'. And there was a lot of speculation about their relationship that Mendes confirmed at last. And though it seems innocent enough, not counting the excessive PDA the couple are known to show, the relationship has received hate from all corners, particularly towards Cabello, who many accuse of being behind what they call a 'PR stunt'.
Even their recent appearance at a charity benefit concert did not stop the hate, as people said the couple 'disgusted' them and believed Cabello was 'ruining' Mendes.
Is the Camilla Cabello hate justified?
Now here's where the debate gets murky.
It is understandable if people do not enjoy Cabello's vocals or musical style. That's subjective, after all.
Her issues with the members of 5H, particularly her racist comments as well as her lack of support for bandmate Normani while the latter was dealing with racism from Cabello's fans definitely do not paint her in the best light.
That doesn't, however, excuse the intense and often misogynistic hatred Cabello receives for her relationship with Mendes, who has mostly escaped the backlash as many treat him like the victim in a grand scheme concocted by Cabello herself. Odd as it may seem, women in maligned relationships tend to receive the brunt of the backlash, and this is hardly a new phenomenon.
Taylor Swift has often received hate for her relationships, her romance with actor Tom Hiddleston being one of the most targeted. She was accused of 'ruining' Hiddleston who many, just like with Mendes, claimed was tricked into participating in a PR stunt. It seems like many forget that the two men are consenting adults fully capable of making their own choices in these relationships.
Women being villainized and portrayed as 'conniving witches' who go after 'innocent' and 'nice' men is a trope that deserves to fade into obscurity. Having said that, holding people accountable for their racism, misogyny, and otherwise problematic behavior is absolutely necessary.
Share this article:
Camila Cabello racism misogyny bullying Fifth Harmony Shawn Mendes hatred backlash n-word PR stunt