Who is Melanie Fontana and why is the BTS Army calling her a 'credit-claiming clout chaser'? American composer, songwriter and producer Melanie Fontana has drawn the ire of the BTS Army after the several claims she made about the extent of her involvement in multiple of the group's hit songs, including the world-famous 'Boy With Luv' featuring Halsey, the Taehyung solo track 'Sweet Night' and Jungkook's 'Euphoria'.
Fontana has been a long-time target for the Army for the claims she has made over time, but she appears to have ventured too close to the fire this time following an Instagram story that had her stating she wrote BTS tracks. The Army soon swarmed Fontana's social media, accusing her of taking credit for BTS' work as well as their success. To make the situation as clear as possible, one Army shared a helpful thread of Fontana's alleged crimes against BTS. Declaring that their issue is not with collaborative projects but with Fontana being "a credit-claiming clout chaser with a proclivity for being rude and selfish", the user stated, "The issue is not her working with BTS, it is that she is so desperate for clout that she claims that she herself is responsible for BTS's success which feeds into the idea that BTS cannot be successful in the west without collaboration or assistance from a white artist."
The user went on to share that Fontana's work on most songs came in the form of sending over original compositions and lyrics, with much of the latter being rewritten by BTS in Korean, as confirmed by RM in one video shared by the user. They also stated, "Her post about the song repeatedly makes the ludicrous implication that she is solely responsible for the songwriting of BWL when in actuality she was only credited for the chorus which was then changed by BTS. See the issue?" They continued, "Some of her other fun posts include her claiming that BWL is "my first platinum single", claiming she's responsible for the Guinness World Record related to BWL, and other tomfoolery."
Fontana has had a hand in composing and co-writing several top hit songs. Her work ranges from Justin Bieber's 'Home This Christmas', Britney Spears' 'Mood Ring', and several songs off Aaron Carter's 2017 comeback EP 'LøVë' to three Top 10 singles featured on the Korean Mnet TV show Produce 101 — 'Crush', 'Yum Yum' and 'Fingertips' in addition to songs like Secret Number's 'Who Dis?' In addition to writing, Fontana has also contributed backing vocals to several songs, including BTS' 'Boy With Luv', even joining them for a performance of the song on 'Saturday Night Live'. While her contributions are extensive, however, fans dispute her claims that imply she can take credit for the songs' successes.
Fellow producer and Fontana's spouse, Mister Lindgren, soon came to her defense, reasserting that they wrote "every word in 'Sweet Night'" and further sharing, "It's incredibly sad to see that some #ARMY have still not learned that different cultures have different ways of talking about achievements. Educate yourself before you harass people." And, as would be expected, he faced a similar amount of backlash for coming at the Army.
But some responses were more nuanced, including one user who shared, "It's incredibly sad that you and Melanie don't encourage Western media to give credit to V, Adora, and Hiss noise (too). You are so adamant on protecting Melania from Armys but do you even care about your ASIAN co-workers not getting the credit they deserve? Your posts and IG comments are honestly incredibly disrespectful. The fact is that without BigHit or BTS or ARMYs, you wouldn't have the bank you have now. Stand up for your co-workers who are people of color and already have to face challenges in the western industry. I never had a problem with you before today, only with Melania. But honestly, the best thing for all parties would be if both of you stop working with BTS, TXT, and BH in general. We will never regain respect for you (and I'm sure you don't like us behind closed doors) anyway."
Another disagreed with Lindgren's statement itself, stating, "'Different cultures have different ways?' Um I have covered music since the 90s & I have never seen songwriters act the way you guys do." The user continued, "I don't think the fans are so off. Esp as white people collaborating with artists of color don't you think your grievances seem misguided?"
And this essentially leads into the second major reason why Fontana and Lindgren are being called out: racism and cultural insensitivity. A separate thread of Fontana's racist comments includes her making several jokes against both Black and Brown communities, including joking about poverty and starvation in Africa. The original thread of Fontana's blunders also shared, "She always plays the victim and threatens to tattle to BTS when ARMYs don't agree with her claiming total credit or misrepresenting her involvement on BTS's songs. Also, she thinks reverse racism exists."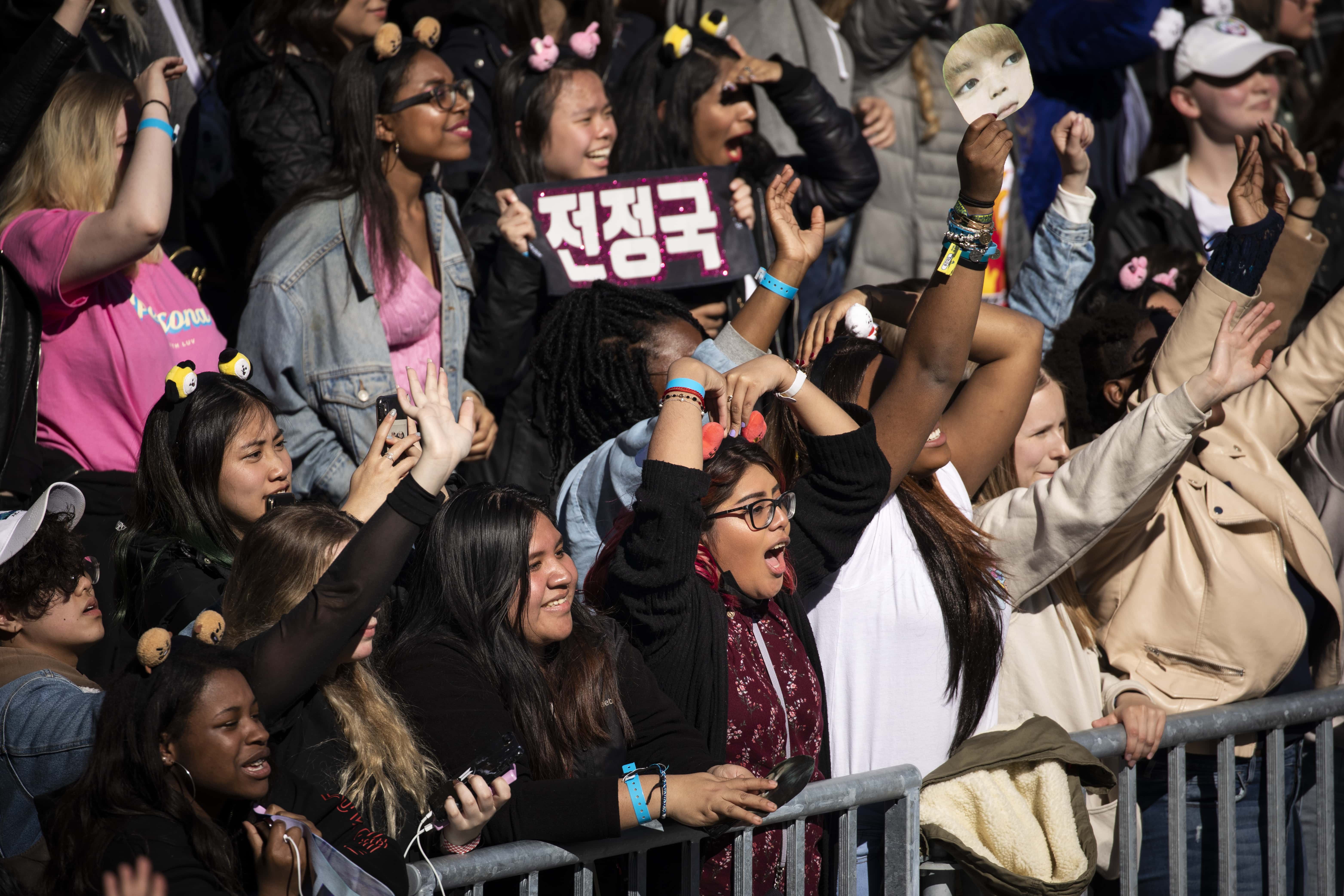 Soon, the Army was making open and entirely unveiled threats towards Fontana. "Melanie you know ARMY will destroy you? Honey we emailing Bighit Rn," stated one fan, "Melanie Fontana better stay her a** inside. Them Army's coming for that neck sis. And rightfully so," said another, and several more threats followed. Some were less violent in their response, sharing, "I don't even care about Melanie she's clearly jealous of BTS. I laughed when I saw that too." Others chose to target her career instead, sharing, "Can yall dm these pictures of Melanie being racist to @/theshaderoom on Instagram? It will seriously end her career if they decide to post about it. Evil laugh," with several other Armys relentlessly tweeting at Big Hit Entertainment demanding they terminate their working relationship with Fontana.
Some Armys were not on-board with the hate train, however. In response to the tweets at Big Hit one fan shared, "Sweetie calm down, no need to be aggressive towards the company, they'll do smth." Several others called out their fellow Armys for taking things out of proportion, specifically telling others to stop sending Fontana death threats.