Brooke Burke to part ways with David Charvet after nearly 7 years of marriage
The 46-year-old actress filed for divorce from the 45-year-old former Baywatch star on Friday after more than 12 years of being together David Charvet and Brooke Burke (Getty Images)
The seven-year-itch of Hollywood has struck yet another couple. After seven years of marriage, Brooke Burke and David Charvet are divorcing. The 46-year-old Burke filed for divorce from Charvet, 45, on Friday in Los Angeles County.
"They've been separated for a couple of months and tried as hard as they could to make their marriage work, but at the end of the day they have to do what's right for them and their family," a source reportedly told PEOPLE.
The former 'Dancing with the Stars' host "met in Mexico, and it was the perfect example of right guy, wrong time because we had this beautiful affair, came back to L.A. and just stayed friends," Burke told Health for its April 2014 cover story.
She further added; "If we had gotten together then, we wouldn't have made it. We had to grow up and then we found each other much later in life, and it was the right time."
Following a five-year engagement, the couple tied the knot in secret at a St. Barts wedding in August 2011. "It is not often that you get to plan a very special occasion, and have it play out just as you imagined in your mind," Burke wrote in a blog post for her parenting website, Modern Mom. "Even the weather was perfect."
Describing the wedding as a "secret mission," she added, "We told no one – no friends, not even our mothers. We broke the news to our children just days before our departure."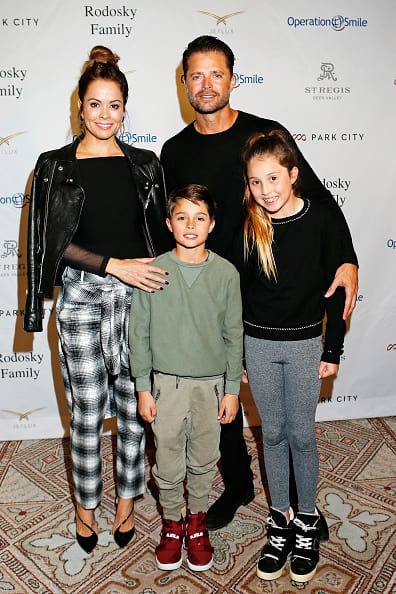 Burke and Charvet were married on a sailboat anchored off of a private beach, while music they had handpicked played in the background.
"I felt incredibly peaceful, certain, and blissfully happy," she wrote. "In my soul, I was already married. Making the spiritual commitment to exchange vows in our favorite place, in front of our four children, with my soulmate seemed like a real life fairytale." On being asked how they manage to keep their romance alive, Burke told Health in 2014, "We believe in romance. We hold hands. We cook together. We still make out."
"We're very fiery passionate people, so when we fight, it's like the 4th of July!" she added.
The couple shares two children together -- 10-year-old son Shaya and 11-year-old daughter Rain. Burke is also a mother to daughters Sierra, 16, and Neriah, 18, from her previous marriage to Garth Fisher.