Brad Pitt and Jennifer Aniston's former Beverly Hills mansion sells for $32.5M, here's a look at the gorgeous home Brad Pitt and Jennifer Aniston were married in 2000, a year later, the couple moved into a 1934 Wallace Neff-designed estate in Beverly Hills. They purchased this five-bedroom, 13-bathroom California estate for approximately $12.5 million in 2001. They completed a huge three-year renovation and eventually offloaded the house in 2006.The property was again put on sale last year and now has bought for $32.5 million in an off-market deal.
First movie star mansion

The price of the property frequently fluctuated in recent times from $56 million last year to reach $44.5 million in March and finally selling for the current price. Indeed it is difficult to gauge the worth of this beautiful 11,173-square-foot mansion that was originally built in 1934 for two-time movie Oscar star Fredric March. It was one of the first movie star mansions in Beverly Hills.
What's inside?
Jen and Brad's former honeymoon mansion boasts over 12,000 square foot space and nestled on a quiet cul-de-sac with gated entrances on two streets. It is a very comfortable home and a visual treat to the eyes with its cozy and beguiling interiors. The home has five bedrooms and 13 baths between the main house and a one-bedroom guest house. The formal rooms are expansive and have a dining room capable of seating 20 guests. It also has a bar with a fireplace, eat-in gourmet kitchen. For leisure activities, one can find a swimming pool, a bar with a fireplace that converts into a private screening room. For a comforting and serene walk there is thick tropical lush green vegetation on the grounds best suited to soak in the natural beauty.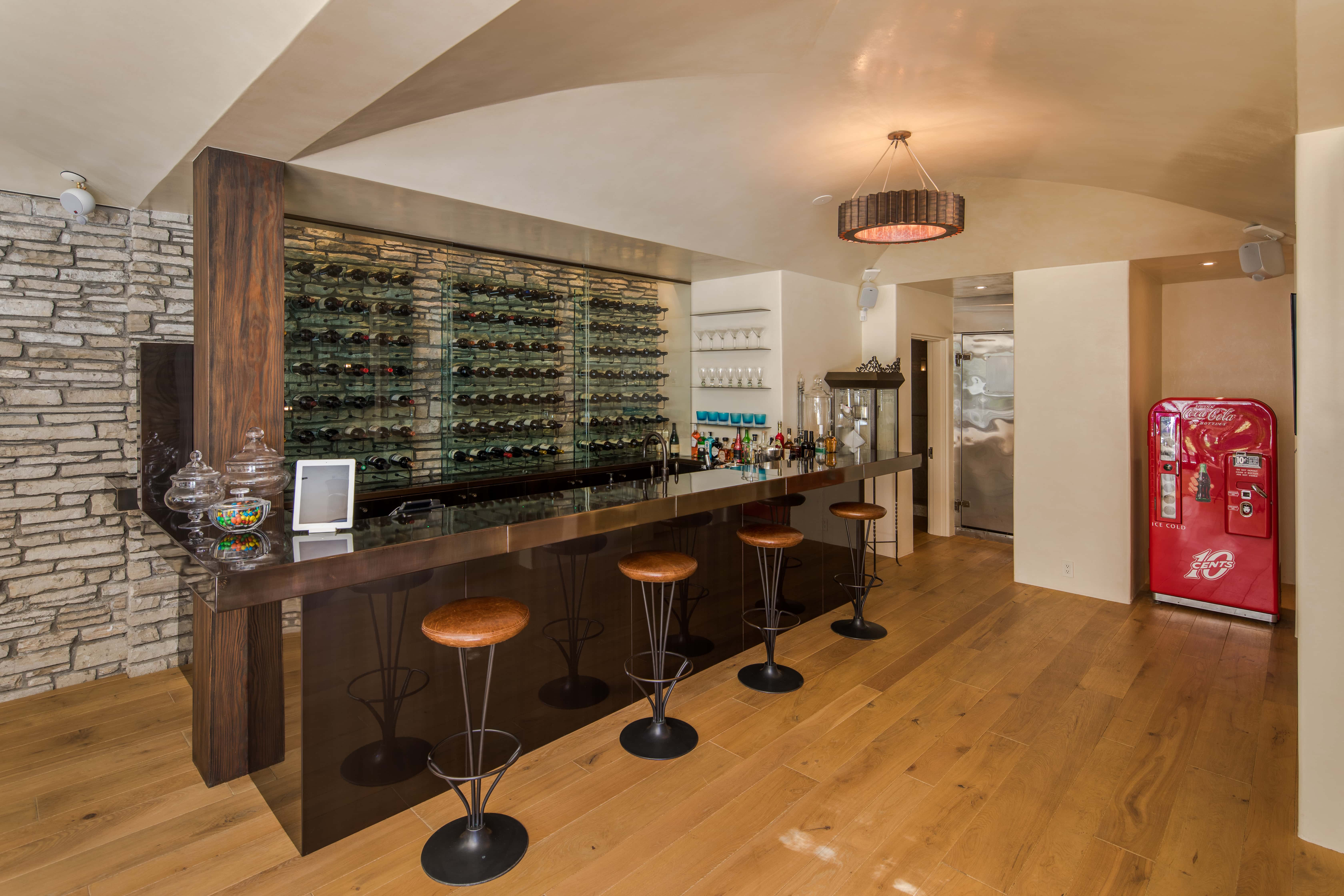 The house exudes luxury

Many of the things and charming elements installed in the house are still existing today, thanks to Brad and Jen. Soon after they brought the home in 2001, the super couple back then, started with a three-year-long renovation to uplift the look of the house. They replaced the kitchen floor with heated marble, designing and installing a pub with floor sources from a 200-year-old French château, even adding a private screening room. For entertainment, they added a tennis court and pavilion with a guest house on the upper level. Some more renovation was done to the mansion after it was sold in 2006 to hedge fund executive Jonathan Brooks for $26 million after Jen and Brad split in 2005.
Susan Smith of Hilton & Hyland was the listing agent and representing the buyer were Justin Huchel and Drew Fenton who are also with Hilton & Hyland. For more detailed pictures of the home click here.