'Blood & Treasure' composer Kyle Newmaster honors his mentors, says his dad was a huge influence on his music Composer and trumpet player Kyle Newmaster is most-known for his work on the CBS series 'Blood & Treasures', the music style of which show co-creator Stephen Scaia once described as "'Indiana Jones' meets 'James Bond' meets 'Romancing the Stone' with a heavily classic orchestral sound." But aside from his work on the show, Newmaster is, at his core, a humble student of the arts himself.
MEA WorldWide (MEAWW) got a chance to speak with Newmaster about his early influences and dream projects. For part one of this interview, where the composer delves into the soundtrack of 'Blood & Treasures', head over here.
A composer's style is often shaped by his surroundings or the time they live in. The year 2020 has given the world surprise after surprise of unusual news and changes. Do you feel today's world has affected your compositions?
It's been a very challenging year for composers, musicians, and the world in general as we all know. I'd love to say the quarantine hasn't impacted me at all, but it has, of course. I took for granted the daily interactions I had with people, both personally and professionally, and how those experiences kept me going. I have had to find other ways to stay inspired, such as listening to music, connecting with old friends through new technologies, and setting new goals. I think it's made us all reevaluate our priorities. I can't wait to be able to freely see my friends and family again and share musical concerts and events together again as well.
With the recent protests for racial injustice, I have also been very moved and affected by it. There are so many voices finally speaking up about important issues that need to be addressed. It's inspiring to see people finally being heard and pushing for change. It's true expression, and music will reflect that, no doubt. It's hard to say how it will affect my writing since it's so recent, but it absolutely will. In my career, I have been fortunate to work with composers, filmmakers and musicians from around the world. I always strive to listen and learn from them and will continue to do so.
Who have you looked up to for inspiration and mentorship during your professional career? And can you name a few of your favorite composers, either contemporary, jazz or classical?
First, I'd like to acknowledge all of the many great mentors I had throughout my life prior to my professional career. My jazz improvisation teachers Jeff Rinear, Greg Lewis, Mike Kaupa, my college trumpet teacher Robert Baca, and my early composing teachers Dave Rivello and Fred Sturm. Professionally, I think a big mentor for me early on here in LA was Jack Smalley who taught composing at the Henry Mancini Institute where I spent three summers. I owe a lot to him for his encouragement and advice in the early part of my composing career. He was an amazing teacher and just a really great person. Other LA composers who have been very kind and helpful with advice and encouragement over the years would be Mark Mckenzie, Jeff Beal and Tyler Bates. And, of course, many of my good friends are composers and we always bounce ideas off of each other and have each other's backs.
Listing my favorite composers is a tough one, but I'll list a few in each category.
Classical: Samuel Adler, William Schuman, Igor Stravinsky, Bela Bartok, Steve Reich, Claude Debussy, Aaron Copeland.
Jazz: Duke Ellington, Maria Schneider, Herbie Hancock, Chick Corea, Bob Brookmeyer, Pat Metheny.
Film composers: John Williams, Jerry Goldsmith, Terence Blanchard, Max Steiner, Bernard Herrmann, Alan Silvestri, John Barry.
You come from a musically-inclined family. Can you elaborate on how your passion and love for music was sparked at an early age by your father?
My dad was a huge influence on my life musically. He wasn't trained traditionally in music, but he knew more about orchestral music than anyone I have ever met. He had thousands of records and listened to everything from the early classical period to the extreme avant-garde. He was also an avid reader and studied music history, theory and composers. He loved to learn. He especially had an interest in dissonant and atonal music. So, from an early age, I was listening to a very large variety of music and some pretty intense stuff. I'd say that the 'Rite of Spring' would have been considered easy listening in our household.
We listened and discussed music together all the time and he was very supportive and interested in my musical journey. Also, we really connected on film scores. We'd see a new film and then go buy the soundtrack and listen/discuss it afterward. My mom was also very supportive of my passion for music. It was a natural thing to pursue the arts in my family and I feel very fortunate for that. My sister was adopted from Korea, and my parents always wanted us both to learn about her Korean Heritage, both musically and culturally. She studied Korean drumming and dance all over the US and in Korea and is one of the most respected teachers in the Midwest.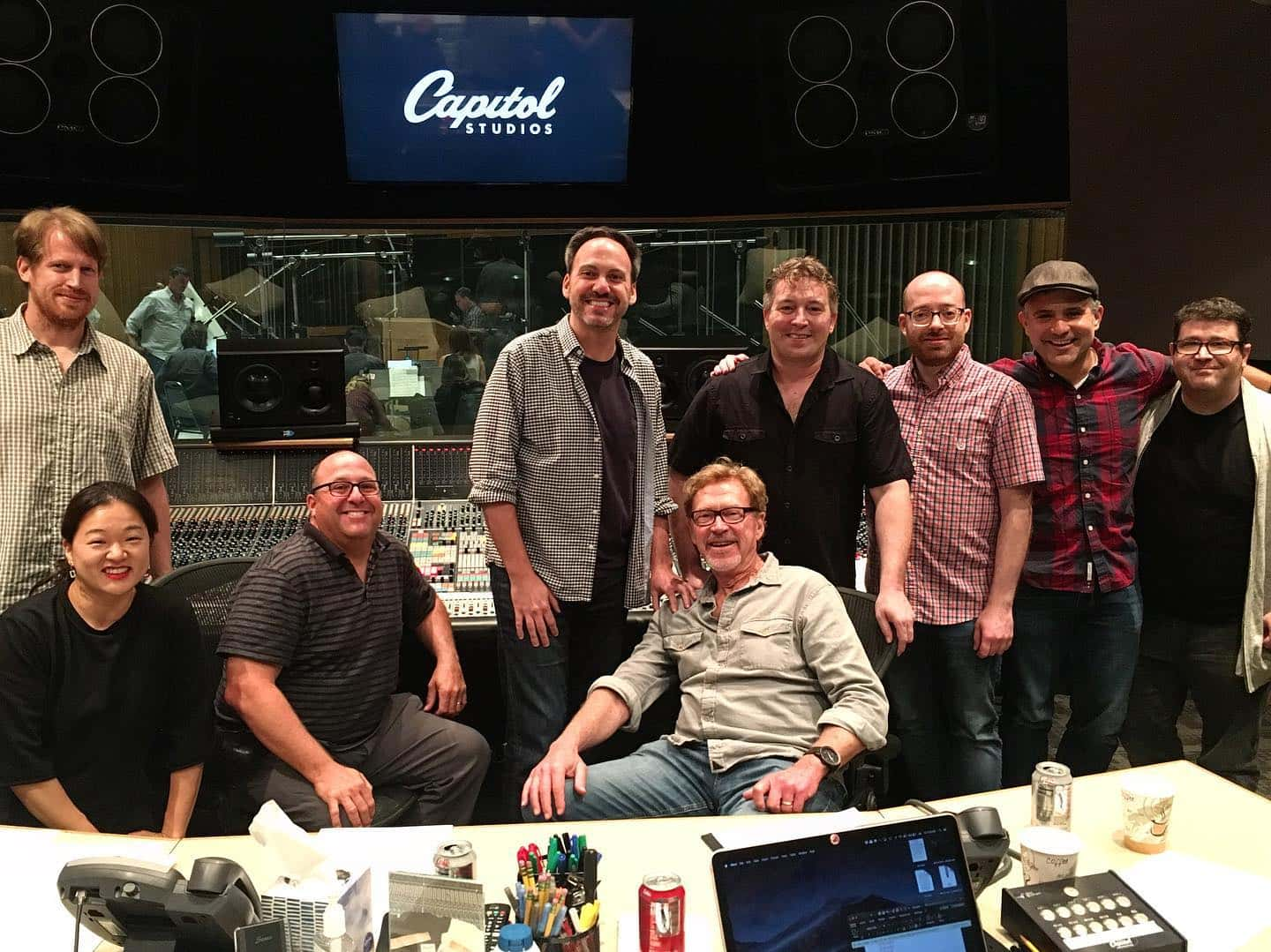 What are your thoughts on how scoring and composing have evolved over the years?
Scoring for media and composing, in general, is constantly adapting and evolving. It reflects popular culture, world events and general tastes in music and film. Just in the world of film and TV scoring we have seen various trends that come in and out of favor. For example, in the early/mid-20th-century, orchestral music was the only game in town. Then around the '60s/ early '70s, it was thought orchestral scoring was too dated and it was probably gone for good. But, during the mid-'70s orchestral scoring came back with a vengeance. Things are always constantly evolving as technologies, popular music and electronic music evolve too. The hybridization of various ideas allows for so many possibilities nowadays as well.
One very cool thing going forward is that with technology being so affordable and available now, it has opened up endless possibilities to compose to picture. It's more about finding unique voices in scoring now. Also, recording in real-time around the world over the internet has made it possible to collaborate easily with so many more people. Anything is possible now. Trends in composing and scoring are always changing, but I think the really exciting thing now is that with so much media content out there needing scores and with so many tools available to help realize a musical vision we will hear some truly unique voices in the future.
You've entered into many a musical arena, with works in film, television, gaming and the concert stage. What has been your favorite platform to work on and are you interested in any specific outlet in the future?
I like the challenges that come with each musical arena and with all of them it all comes down to writing the best music possible for that opportunity. But, I really love writing to picture, so I am very content with where things are at currently. This past year I worked on 'Blood & Treasure', scored a horror feature 'Pooka Lives!', a documentary feature 'A Chef's Voyage', and also finished up an orchestral commission. That's a pretty full year, and I enjoy the variety so if that's how it continues, I'll be very happy! Someday I would like to devote more time to writing for the concert stage though.
I also really do love scoring the classic orchestral style for films and shows. It would be amazing to continue working on projects similar to 'Blood & Treasure'. If the opportunity ever presented itself, I would certainly love to take a shot at a Lucasfilm or Marvel project sometime down the line. Scoring a Western would be a ton of fun too.
Another genre that would be really fun to explore in film scoring would be jazz. I spent many years as a jazz trumpet player and arranger in the Midwest, and even after moving here to Los Angeles, and it's something I really love and have a lot of experience writing for. Jazz scores are rare nowadays and hard to come by, but it would be a ton of fun to work on something where I could dive back into that world.