Black Portland residents feel drowned out by 'mostly White Antifa protesters' committing vandalism, says report Black Lives Matter protests have reportedly silenced and drowned out the voice of Black residents in Portland, Oregon, as peaceful demonstrations continue to be hijacked by violent and predominantly White Antifa extremists, says a report. "Chaotic and often violent protests against racial injustice have topped the headlines for days, but lost in the shouting are the voices of many Black Portland residents themselves — and their feelings about the unrest are nuanced and diverse," the Associated Press reported on Monday.
According to AP, some feel the Black Lives Matter movement is being co-opted by "overwhelmingly White crowds of protesters — and particularly those committing vandalism." Meanwhile, BLM activists are welcoming White demonstrators thinking larger numbers may help "draw attention to the city's racial inequity in ways that Black demonstrators alone can't."
"Some believe deeply that there can't be a Black Lives Matter movement without defunding the police," the report continues. "Others say a recent vote to cut a specialized gun violence reduction unit is behind a sharp spike in shootings that's devastated their community."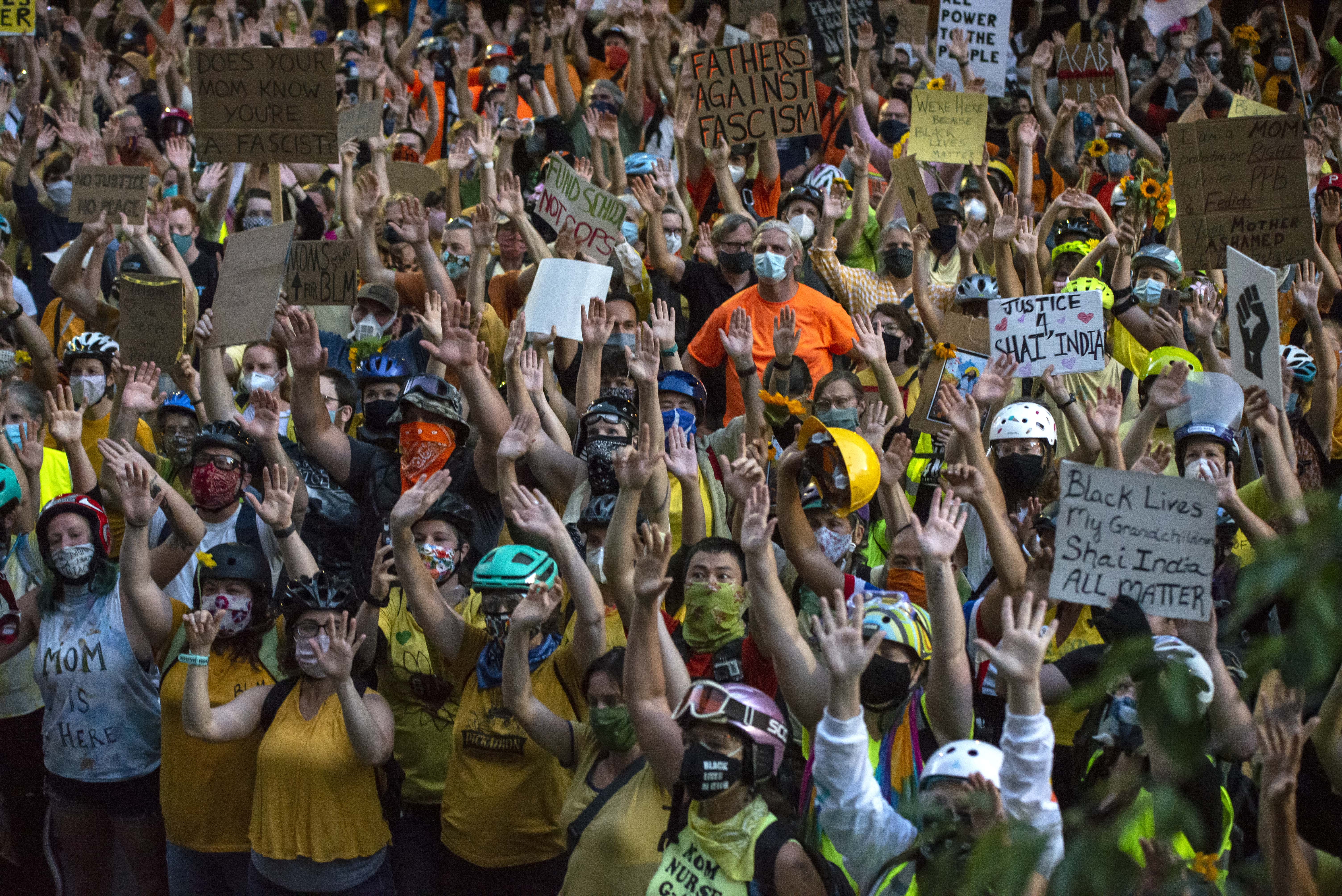 There is a constant worry that a vital opportunity to bring the focus to racial justice in Portland's Black community could be lost. Shootings in the city, as reported by AP, have skyrocketed since the protests began following the Memorial Day death of George Floyd in Minneapolis police custody.
The sharp rise in gun violence reported in July has "overwhelmingly hurt Black people," per Breitbart. According to police Sgt. Derrick Foxworth, there were "99 shootings — more than triple the amount from the previous July — and the city has tallied 366 non-suicide shootings this year compared to 388 in all of 2019." Foxworth said around two-thirds of the victims in July were Black.
Nonetheless, critics of the current administration in Washington continue to brush aside the chaos in Portland as a "peaceful protest," per the outlet.
The Washington Post published a detailed profile of Portland demonstrators on Saturday, featuring artistic portraits of black-clad rioters. "I am protesting because it is unacceptable and wrong on so many levels to have a police force that the majority of citizens are afraid of," 31-year-old activist Mischa told the Post. "I am opposed to the existence of the police in their current form of a culturally corrupt, armed, cruel, and tyrannical force that patrols the streets and instills fear into the people."
"We are prepared to do this for as long as we have to. I, for one, have no intention of going back to normal," 39-year-old protester Mac Smiff added.
According to the Post, demonstrators see the withdrawal of federal law enforcement from the city as a resounding victory. "So the story goes that [Portland is] under siege — but we are not under siege by these protests, we are under siege by the police," City Commissioner Jo Ann Hardesty (D) told the paper last month. "It breaks my heart to think [people] are coming to exercise their rights, and yet they have to come with a bike helmet, water, and first aid and an understanding that they may be brutalized."
Meanwhile, local police and civilians continue to face the brunt of riots and attacks in the absence of federal officers, according to Breitbart.