Desperate for a win: Bill Cosby fires legal team after jury finds him guilty on all counts in the sexual assault trial Bill Cosby's spokesman Andrew Wyatt confirmed with ABC News that the comedian has fired all the seven attorneys on his legal team, just a few months ahead of his September sentencing, as he replaced them with one criminal-defense lawyer from Pennsylvania, Joseph P. Green Jr.
In a statement, on Friday, Green said, "I am looking forward to representing Mr. Cosby in post-trial proceedings and at sentencing...There are complicated legislative and constitutional issues unique to Pennsylvania law that have to be addressed prior to sentencing."
The decision comes at a time when the entertainer is supposed to be convicted on three counts of felony sexual assault which stemmed from his 2004 drugging and sexual molestation of Andrea Constand, a former basketball coach at his alma mater, Temple University.
According to a report on Deadline, the legal team which was being led by Tom Mesereau, "the cable news friendly ex-Michael Jackson attorney", could not defend Cosby from being proven guilty by a Norristown, PA jury of the three counts indecent sexual assault in a retrial which ended on April 26.
Cosby's new defense lawyer's website describes Green as, "He is an exceptionally experienced litigator, having tried over 100 cases to jury verdict, including acquittals in nationally significant federal criminal cases, white-collar, CCE, and drug-related criminal cases. [Green] is presently litigating a number of sex offender registration cases in state and county courts, including challenges to the retroactive application of SORNA II and other sex offender registration laws."
The outgoing team of lawyers led by Mesereau, on the other hand, has wished luck to Cosby and his new attorney. "I wish Mr. Cosby, his family, and his new defense team all the best."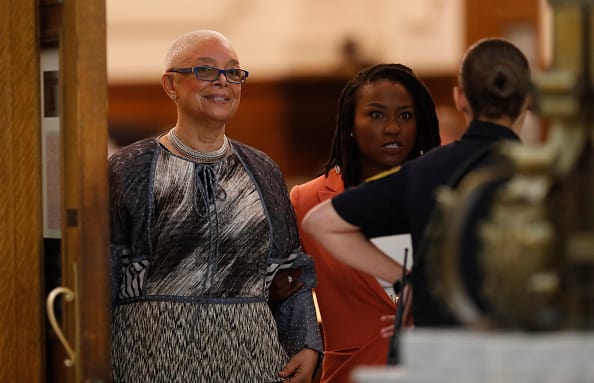 While there are potential chances of Cosby being sentenced to prison for almost 10 years, there are rumors that his wife, Camille, could be seeking a divorce. Cosby is currently under house-arrest in Philadelphia and is set to be sentenced after a two-day hearing on September 24-25. It is not yet confirmed however if the altering of the legal team would mean that the dates will be postponed.
Radar quoted a source from inside Cosby's camp on June 14 who said, "Every single one of them...He's angry. They let him down, and these aren't easy times." Regarding the replacement, the source also informed, "It could be the judge puts off sentencing until he can find adequate counsel...The judge could order him remanded because he no longer has counsel, which could make him a flight risk."