Celebrity Scandals 2018: What Meghan Markle, Donald Trump and Roseanne Barr have in common, the biggest scandals so far Celebrities are not immune to scandals and, with paparazzi everywhere, it is near impossible to get away with anything. Time and again, celebs have their dirty linen washed in public and the year 2018 was no different. This year, some celebrities faced a downfall like never before. From losing a role in a hit sitcom to being booed at their own basketball games. Here's a look at some of the biggest celebrity scandals so far this year.
#10 Tristan Thompson cheating scandal
Everyone thought that Khloe Kardashian had everything she ever wanted with a baby on the way and a loving boyfriend. However, it soon went down the hill after footage emerged of Tristan Thompson making out with two different girls on two separate occasions. The footage dated back to October 2017 and it was also the period when Khloe was pregnant with their daughter True Thompson.
The Kardashian-Jenner clan was quick to sideline Tristan as they unfollowed him on social media and Khloe's older sister Kim Kardashian did not turn away from talking about the alleged cheating scandal. At the same time, Khloe's best friend and fans also stood by her throughout this.
Several of her fans ended up booing Tristan as he played for Cleveland. However, it seems like the pair has sorted everything as Khloe decided to stay with her man. While there are many who are not happy with this, Khloe believes she has her own reasons and people should accept it.
#9 Roseanne Barr's racist tweet
Roseanne Barr is known for tweeting things that offend people but she might have called trouble upon herself when she decided to tweet against President Barack Obama's aide Valerie Jarrett. In the tweet which has since been deleted, Roseanne wrote, if "Muslim brotherhood & planet of the apes had a baby=vj." People were quick to slam the actress for the words she had used to describe Valerie. ABC was not far behind to comment on Roseanne's tweet.
ABC Entertainment president Channing Dungey said in a statement, "Roseanne's Twitter statement is abhorrent, repugnant and inconsistent with our values, and we have decided to cancel her show."
ABC then announced that they would go on with the show 'Roseanne' without the actress. The official statement from ABC read, '''The Conners' (working title), a spinoff of the groundbreaking family comedy 'Roseanne,' has been greenlit to series with an order of 10 episodes for fall 2018." While the show is still going on without Roseanne, the actress admitted that she has become a hate magnet after her tweet. However, she admitted that she is still getting offers despite the tweet.
#8 Ryan Seacrest sexual assault allegations
Ryan Seacrest was accused of sexual misconduct by Suzie Hardy. The stylist claimed that Ryan sexually abused her for six years. In an interview with Variety, she alleged that he would slap her, hug her while just wearing underwear and repeatedly cup her crotch with his hand. Time and again Ryan has denied the accusation. In 2017, E! opened an investigation after looking at the allegations that were made on him. The investigation noted that there was "insufficient evidence" which would prove that Ryan was guilty.
It is then that Suzie decided to go public with her account. Many people suggested that Ryan should not host the Oscars because of the allegations. However, despite these claims, he went on to host the Oscars with E! and many people backing him. On March 29, Suzie went forward and filed a police complaint against Ryan.
#7 Donald Trump Jr cheating scandal
Donald Trump Jr. and wife Vanessa filed for a divorce after 12 years of marriage. "After 12 years of marriage, we have decided to go our separate ways. We will always have tremendous respect for each other and our families," the pair said in a statement at that time. "We have five beautiful children together and they remain our top priority. We ask for your privacy during this time."
While the two spoke about being together for the sake of their kids, several reports suggested that their marriage went on a downward spiral in 2016 when it was reported that Trump Jr. cheated on his wife with Aubrey O'Day. The two met each other while filming "Celebrity Apprentice" in 2011.
Various sources told tabloids that Trump Jr. was leaving his wife to be with her and it happened to be the time when Vanessa was pregnant with their third child. Even though people expected Trump Jr. to start dating Aubrey soon after his split, he sparked dating rumors with Kimberly Guilfoyle. The two were spotted being affectionate in various photos. The two recently celebrated 4th of July together and made their relationship official.
#6 Mariah Carey sexual harassment allegation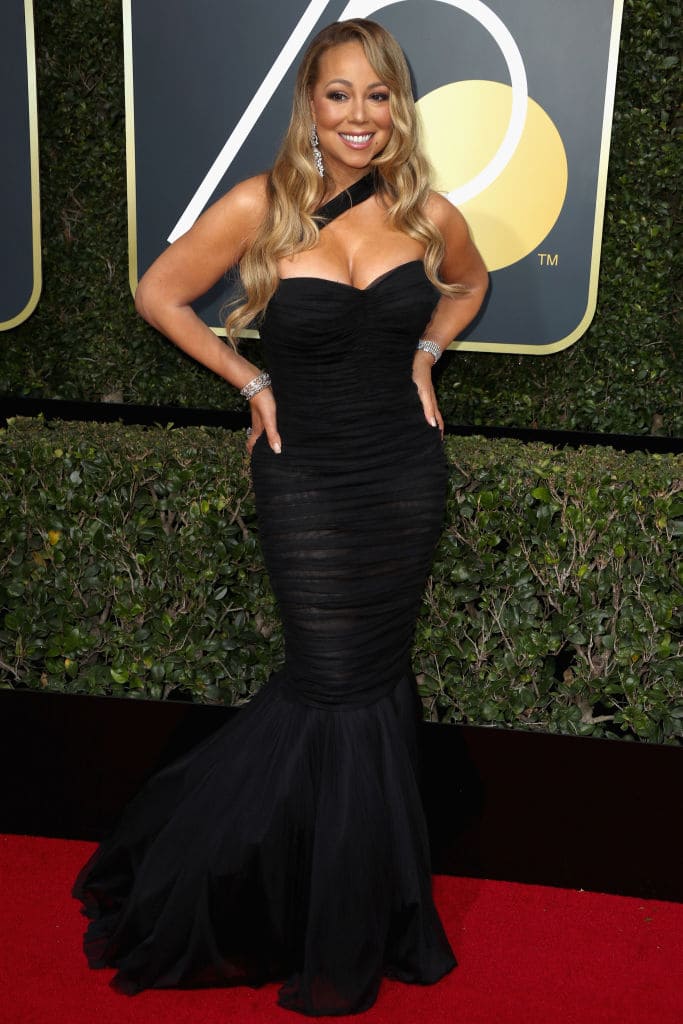 Mariah Carey's former manager Stella Stolper claimed that she was sexually harassed by her and was going to file a case against the singer. She claimed that Mariah suffered from substance issue.
As reported by TMZ, Stella claimed that Mariah was often naked and performed "sexual things" in her presence. Stella was fired in November 2017 and, according to the lawsuit, she says she was unfairly fired even though she had signed a contract for three years. However, a representative of Mariah denied these claims as they noted, "If this frivolous and baseless claim is filed, we will defend against it vigorously and successfully."
#5 Meghan Markle family drama
Meghan Markle and Prince Harry's wedding was filled with drama and it was all thanks to her family. Ever since the news about Meghan getting engaged to Prince Harry hit the news shelves, her family members were up and running trying to bring her down. However, one person in particular who did not shy away from slamming the now Duchess of Sussex was her half-sister Samantha Markle. Time and again Samantha slammed the decisions made by Meghan but she witnessed a huge blow when she got to know that none of the family members were invited for the wedding (apart from her dad, Thomas Markle, and mother, Doria Ragland).
However, inviting her dad to the wedding also turned out to be a bad decision for Meghan as it was reported that Thomas faked the pictures for the paparazzi in a bid to earn some cash. He soon stated that he will not be attending the royal wedding following his heart surgery and Meghan was walked down the aisle by Prince Charles. However, after the wedding was over, the drama from her family continued.
In an interview, Thomas Markle disclosed what he and Prince Harry spoke about while putting some strong words about Queen Elizabeth meeting President Donald Trump. This was the last straw for the royal family and probably the last time Thomas was getting to talk about his daughter. While Thomas might have got a hint that his relationship with his daughter is close to over, Meghan's sister Samantha still tries to bring her down time and again, while always adding that she does love her sister. Talk about family drama!
#4 Kanye's comment on slavery
Kanye West seems to have plans to run for the President of the United States. While there may still be time for that, Kanye has made it clear that he is a huge supporter of the current president, Donald Trump. However, the singer received a lot of criticizm his ideas about slavery.
Appearing on TMZ Live, Kanye noted that he thought slavery was a choice. "When you hear about slavery for 400 years... for 400 years... That sounds like a choice. You were there for 400 years... It's like we're mentally imprisoned," he said. "I like the word 'imprisoned' because slavery goes too directly to the idea of blacks… So prison is something that unites us as one race. Blacks and whites being one race. That we're the human race."
Several people were quick to call out the rapper for his comment. Several A-list celebrities from the industry came forward and explained how his words held no meaning. Even the people who were a big fan of the rapper called him out for his unthoughtful comment. His wife Kim Kardashian West confessed she was not happy with the comment.
Kanye even rapped about Kim's reaction in his latest song saying, "Wife calling screaming saying we're about to lose it all I had to calm her down 'cause she couldn't breathe / I told her she could leave me now but she wouldn't leave / This is what they mean for better or for worse, huh?" While Kanye may not have made another ignorant comment since, this one is hard for people to forget.
#3 Logan Paul suicide forest video
In the name of getting more views, YouTuber Logan Paul landed himself in trouble after he uploaded a video which he took at Aokigahara forest, which is infamous for being a popular spot for committing suicide. In the footage, Logan is seen making fun of the place and the people. To make matters worse, he posted the video on YouTube with the picture of the man hanging in the background.
Even though he apologized for the video in a tweet, fans were not pleased with it. They believe that his apology was not enough as Logan did not leave a chance to brag about himself while suggesting he didn't do it "for the views" because he does "get the views." He also bragged about how he has a "great reach" and how with "great power comes great responsibility." While he is still creating videos, he has lost several of his viewers.
#2 Allison Mack's association with sex cult
In 2010, it was reported that the Smallville actress was involved with sex cult NXIVM. On April 20, the actress was arrested after being charged with sex trafficking and forcing women to be slaves in the controversial self-help group which has been branded as a sex cult by many.
Allison faced charges of sex trafficking, sex trafficking conspiracy, and forced labor conspiracy. The founder of the organization Keith Raniere was accused of forced labor and sex trafficking in March 2018. The statement from the US Attorney's Office said the actress recruited women to join what was sold as a female mentorship group that addressed their weaknesses.
However, in reality, the group was created by the founder to exploit women sexually. "The victims were then exploited, both sexually and for their labor, to the defendants' benefit," Richard P Donoghue, US Attorney for the Eastern District of New York, said in the statement to People. On April 24, Allison was bailed on a $5 million bond and held under house arrest under the custody of her parents in California. It is reported that Allison is currently negotiating a plea deal.
#1 Stormy Daniels and Donald Trump lawsuit scandal
The political scandal saw pornstar Stormy Daniels coming forward and claiming that she signed a nondisclosure agreement with Donald Trump's personal lawyer Michael Cohen just before the 2016 United States presidential election. On January 12, 2018, The Wall Street Journal reported that Michael paid Daniels $130,000 just a month before the elections were going to take place. Many people argued that the payment was among the potentially illegal campaign payments made. In February, he admitted that the agreement was made between them.
In an interview, Stormy confessed that the two had sex once and added that she had been threatened in front of her infant daughter which put a pressure on her to sign the documents. At the same time, she confessed she was warned by many people to not speak about the incident.
In April, Donald admitted for the first time Michael did represent him in Stormy Daniels case. Later, Trump's new personal attorney Rudy Giuliani said that Trump has reimbursed Cohen for the payment and added that he did not know the specification that went into the settlement.