'Big Brother's most controversial HouseGuests through the seasons, including Aaryn Gries, JC Monduix and Paul Abrahamian 'Big Brother' has been synonymous with controversies ever since its inception in 2000. And through the years, it's only gotten worse. Last year's season 20 was heavily accused of sexism and racism, and to top it all CBS network's CEO and chairman, Les Moonves, had to resign following several allegations of sexual harassment and abuse. His wife Julie Chen, who is the host of 'Big Brother', rendered her support and used her husband's last name for the first time following the scandal. Despite stepping down from her show 'The Talk', Chen announced that she will be back to host the new upcoming installment of 'Big Brother' — season 21, set to premiere on June 25.
This year, the network needs to be extra cautious given the scandalous and controversial history of the contestants. Taking a look through the seasons since the inception, here are the biggest scandals that took place within the walls of the 'Big Brother' house.
JC Monduix (Season 20)
JC Monduix got into trouble a couple of times in the house. First, he was accused of sexual harassment on social media after he used an ice cream scooper on the genitals of fellow HouseGuests. He also told one contestant to "open up" her vagina, saying it "feels good". Later in the season, he used the N-word during a conversation and asked one of the HouseGuests, namely Rachel Swindler, if she is transgender. Then towards the end of the season, there was footage that showed him kissing another HouseGuest, Tyler Crispen, while he was sleeping. The footage showed him rubbing Crispen's face and arm, then kissing his armpits, and though he tried to prove his innocence, social media did not buy it and many called for his removal from the show.
Paul Abrahamian (Season 19)
Paul Abrahamian took racism on TV to a whole new level when he dressed in black leggings applying black colored cosmetics in order to mock African-American HouseGuest Dominique Cooper. Abrahamian referred to his makeup as "blackface" and hatched the plot to evict Cooper over the weekend. TV viewers saw him whisper to other HouseGuests (who are white), about dressing in dark leggings and "blackface". Later, he used the term "black mask". Fans, who were obviously outraged, called it racially insensitive and intentionally racist.
Frank Eudy (Season 18)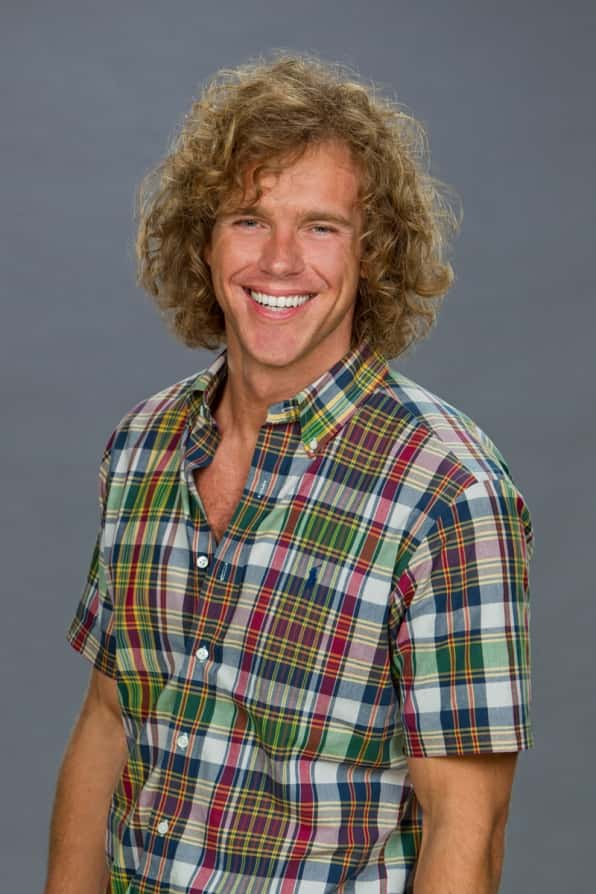 Wrestler and actor Sid Eudy's son Frank Eudy groped a fellow contestant, Da'Vonne Rogers' butt without her consent and went on to call her a "slut" on the show. Da'Vonne went straight to the diary room and broke down in tears and said, "I don't want my daughter to see that and think it's OK for guys to hit girls on their butts and guys to call girls sluts." Season 18 is said to be the most misogynistic season of 'Big Brother', with male contestants groping women and critiquing their bodies in condemning ways as well as citing baffling opinions about women in general. A contestant named Paulie Calafiore even called women "dumpsters" for male bodily fluids.
Aaryn Gries (Season 15)
Aaryn Gries was not only condemned by viewers but also by host Julie Chen for her racist and homophobic remarks. She referred to Asian people as "squinty-eyed", called her African-American housemate Candice Stewart "Aunt Jemima" and told Korean houseguest Helen Kim to "go make some rice". Chen spoke out against the racism in the house on her CBS show 'The Talk' and remarked "I took it personally. The really sad part was it took me back to the '70s when I was growing up in Queens, when I was seven being bullied and being called a "chink"."
Justin Sebik (Season 2)
It was just season two, but after a night of drinking, things got really intense between Justin Sebik and HouseGuest Krista Stegall. They began kissing and after a while, Justin pulled out a knife and held it to Krista's throat and asked if she would be mad if he killed her. Krista remained undeterred by the knife, but the producers felt that Justin was a danger to everyone in the house and expelled him.
Share this article:
big brother season 21 controversial houseguests seasons cbs aaryn gries monduix abrahamian