On Barbra Streisand's 77th birthday, here's a look at the ultimate diva who continues to rule hearts with her singing and acting prowess When one thinks of all the uber-accomplished people in the film and music industry, one can't deny that Barbra Streisand's name definitely comes up on the top. The celebrated persona, who turns 77 today, April 24, has had a prolific career that spanned more than 50 years, making her the only singer ever to achieve number one albums in six consecutive decades.
Born in Brooklyn in 1942, Barbra recalls, "I was considered the girl on the block with the good voice". A young Barbra made her singing debut at a PTA assembly, which gradually turned into singing at weddings and summer camp. An honors student at Erasmus Hall High School in Brooklyn, she sang in the Freshman Chorus and Choral Club alongside classmate and fellow future star Neil Diamond.
Always the one with fierce artistic hunger, she graduated at age 16 and set out to audition for stage roles, ultimately landing her first job as an opening act for comedian Phyllis Diller. The up-and-coming star made her major debut in the Broadway show 'I Can Get it For You Wholesale' in 1962, and within a year, she was inspiring rave reviews for her performance by a majority of critics at the time. She even received a Tony nomination and New York Drama Critics Award for Best Supporting Actress for her performance.
Before she found fame and fortune, however, Barbra wasn't the musical diva that we all remember her as. Instead, the star was embroiled in a number of controversies like her bisexual lover and drug use, her body image issues, how she cheated on her husband, and her long-standing affair with stage fright.
But the veteran singer has never been one to shy away from speaking up, often at the disapproval of others. In a past interview, she said: "I believe in love and lust and sex and romance. I want someone to go crazy out of his mind for me. I want to feel passion and heat and sweat and madness. I was valentines and cupids and all of that c***. I want it all."
And earlier this year, the star managed to get involved in another controversy when she commented on 'Leaving Neverland', a controversial documentary featuring Michael Jackson and his alleged predatory behavior with young boys. "His sexual needs were his sexual needs, coming from whatever childhood he has or whatever DNA he has," she said, but later apologized for it when her remarks were met with severe backlash.
Therefore, it doesn't come as a surprise that the successful singer lost her virginity at 18 to her first lover, fellow actor Barré Dennen, who was then aged 22. According to the actor, one night he "took out a canister of marijuana, rolled a couple of joints and taught Barbra how to smoke." As revealed in the book 'Hello Gorgeous: Becoming Barbra Streisand' by William Mann, "soon they were both high and naked and making love."
But it was not until much later that Barbra found out that Dennen was, in fact, bisexual. The singer, who was extremely jealous of her lover's good acting reviews, never saw him perform, which ultimately drew a wedge between them. And on New Year's Eve, 1960, she returned home early from a gig to find her lover in their New York apartment, making love to another man. A devastated Barbra tried every possible way to get away from the grief of losing her first love, to the point where she even considered a nose job, along with the idea of changing her name to Joanie Sands.
She found love again in 1962 with actor Elliott Gould, who recalls a young Barbra as a "fantastic freak". The couple's raucous sexual liaisons scandalized the Broadway show they were starring together in, and eventually, Gould fell hard for the singing beauty and married her in 1963. But it was an ill-fated marriage, with Gould's career down in the dumps while Barbra prepared for her first Broadway lead in musical 'Funny Girl'.
Her first record, titled 'The Barbra Streisand Album', was also released in 1963 and included standards like 'Cry Me a River', 'A Taste of Honey', and 'Happy Days Are Here Again'. It cracked the Billboard Top 10 and made her the bestselling female vocalist in the United States. She followed it up with 'The Second Barbra Streisand Album' later that year, while her husband, depressed and jealous of his wife's success, gambled, smoked marijuana and confessed to a "very self-destructive" streak.
Tired of making the relationship work, Barbra started having an affair with her 'Funny Girl' leading man Sydney Chaplin, the married son of comic legend Charlie Chaplin, during their Broadway tour. The fling eventually ended, but Streisand and Gould labored on until their divorce in 1971. Later, Barbra found that troubled romances were the least of her woes.
With her popularity at an all-time high, the singer, who simply saw singing as a way to pay the bills until her acting career took off was often gripped by so much stage fright that she resorted to marijuana to calm her nerves before her performances. "It was great, it relieved all my tensions," she said at the time. When playing in Las Vegas she recalled: "I started lighting live joints, passing them around to the band. Other acts up and down the Strip heard about what I was doing and started sending me the best dope in the world. I never ran out."
A lot of Barbra's troubles were also linked to her sad childhood — one where her father Emmanuel, an English teacher, died when she was 15 months old and her step-father, who her mother Diana married later, was an abusive, beer-swilling divorced father of three who womanized, hit her mom, and constantly reminded her of how ugly he thought she looked. A young Barbra received no encouragement from her mother as well, who told her daughter that she'd never make it in show business, only to be proved wrong.
She became a movie star with 'Funny Girl', 'Hello Dolly!', 'What's Up Doc?' and 'The Way We Were', and an acclaimed producer and director with 'Yentil', 'The Mirror Has Two Faces' and 'The Prince Of Tides'. Barbra became the first woman to receive a Golden Globe for Best Director and her movie, 'Yentil', was also awarded two Oscars. By the end of the '70s, Streisand was the most successful female singer in the US, and only Elvis Presley and the Beatles had sold more albums than her.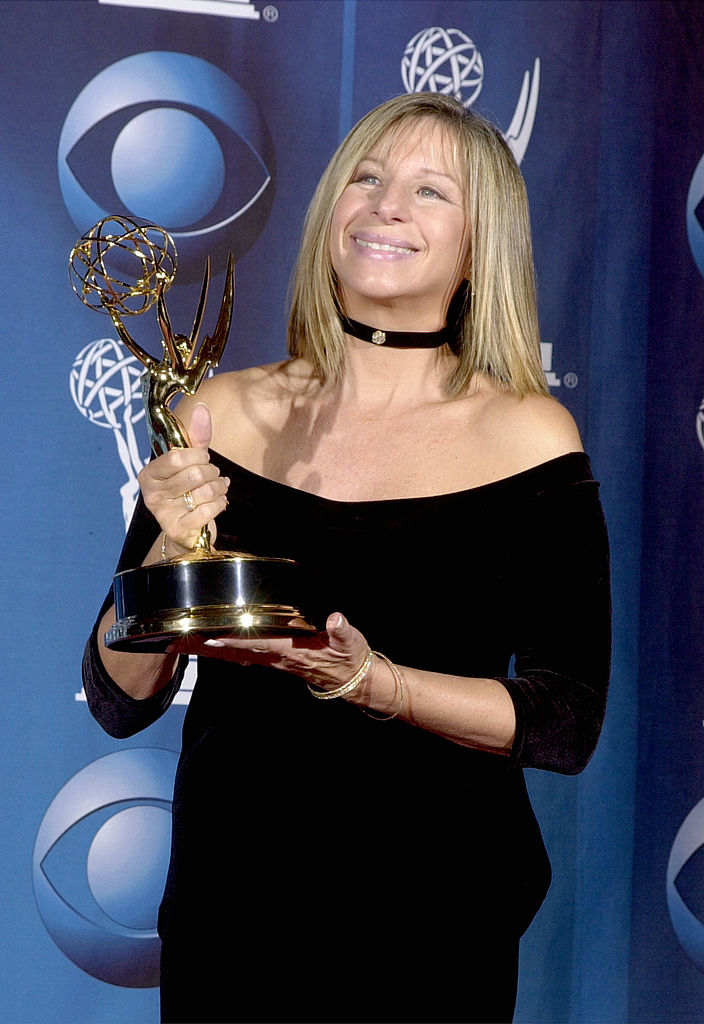 After dating a number of stars like actor Don Johnson and Hollywood producer Jon Peters, the veteran star finally found what she was looking for when she wed actor James Brolin in 1998. She admitted at the time: "Jim fills a void in my life… He is not only my lover and my best friend but he fills the role of my dad at times too." She further said, "He makes me feel very safe."
The 'Meet the Fockers' star has had a long career spanning more than seven decades, so encompassing her achievements is definitely an impossible feat to achieve in a shortened version. In 2007, French President Nicolas Sarkozy presented Streisand with the Legion of Honour, the highest decoration in France, and President George W. Bush presented her the Kennedy Center Honors, the highest recognition of cultural achievement. And in 2015 she was awarded a Presidential Medal of Freedom by Barrack Obama, the nation's highest civilian honor.