'America's Got Talent' season 14: Brad Paisely reveals he will push his Golden Buzzer for a contestant who is imperfect but can win it all 'America's Got Talent' season 14 is done and dusted with its auditions, and with a slew of contestants having moved on to the next round, the judges now have a major task in front of them, as they have to cut the remaining contestants down to around 36.
Airing on Tuesday night, 'America's Got Talent' season 14 returns with the first episode of Judges Cut, where they will whittle down the contestants for the next round. This number is excluding the Golden Buzzer winners, who have moved directly to the live shows.
For the Judges Cut, apart from the regular panel that consists of - Simon Cowell, Howie Mandel, Julianne Hough and Gabrielle Union - the series will also bring a guest judge. The guest judges who will be appearing on the series this season are Brad Paisley, Dwyane Wade, Ellie Kemper, and Jay Leno.
Joining the panel as a guest judge on Tuesday night's episode is none other than award-winning famed country singer Brad Paisley. Prior to the show airing, the series released a sneak peek on its social media pages.
In the sneak peek, the famed singer talks about what kind of judge he will be on the series. Starting off Paisley said, "I don't know. I am not in a combative mood. I'd like to be one of those judges who is just supportive and kind. Simon's here for the other part."
Adding to that the country legend also mentioned he had previously met Cowell, and that he is an alarmingly nice person. "I have met Simon, and he is alarmingly nice in person, and that is scary. Having watched him for years with his no-nonsense, cut the BS, absolute straight shooter brutal honesty, I almost wish he wasn't nice in person, I almost wish that you can dislike him, but you can't. When you meet him, he's too nice."
Talking about what kind of judge Paisley is going to be on the series, Hough shared, "I think Brad is going to look for artistry and probably someone who he really can see as an artist, a true performer, someone who is going to have a lasting career. I think Brad is going to be very encouraging and just letting all the contestants know that he is there to support and root for them."
Paisley spoke about Hough and shared how she has been on his tour years ago and that he hasn't seen her since she became a movie star. He also added that she and his wife are good friends and he can't wait to see her and if she is a "stuck-up person" now. He also teased saying that he hopes she is stuck-up at least a little bit."
Continuing, Paisley shared what he is looking for in his Golden Buzzer contestant. "I think I'm looking for that person that feels like they can win it all to me. Also, I'm looking for that person who isn't perfect. You know they have exactly what it takes, but maybe they weren't quite everything they needed to be. This is a do-or-die situation for a lot of these people, and some of them panic. But that doesn't mean they don't have a future."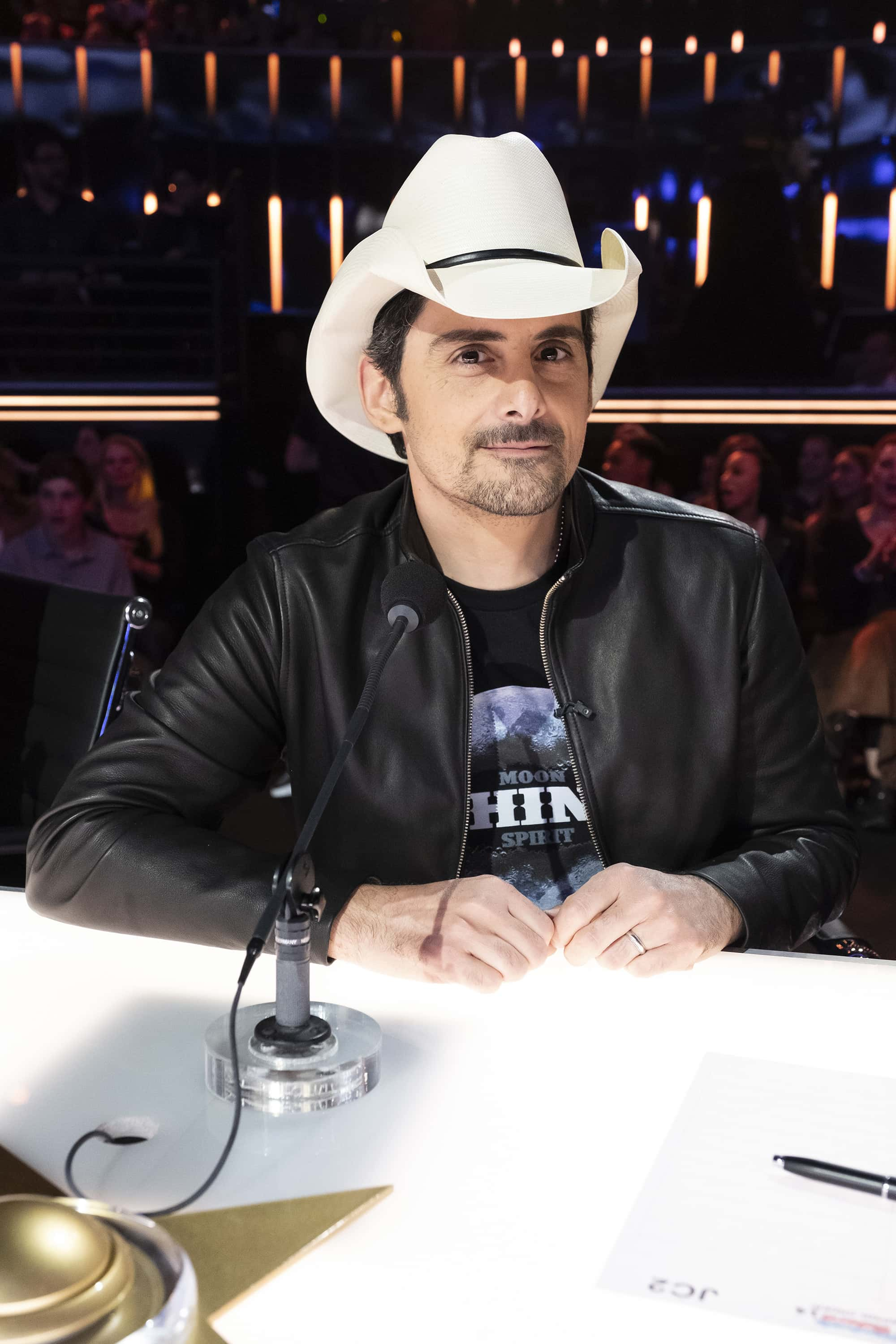 Mandel also chimed in with his opinion as to what kind of judge he think Paisley will be. "Brad Paisley will be funny, he'll be real, he'll be I think to the point. I think he wants to be constructive and I can't wait to see who he chooses as a Golden Buzzer."
With all the judges rendering exciting opinions about Paisley's judging, we can't wait to see who he pushes his Golden Buzzer for.
'America's Got Talent' season 14 airs every Tuesday night on NBC. Check your local listings for more information.
Share this article:
americas got talent brad paisley guest judge golden buzzer sneak peek julianne hough simon cowell