Alfie Evans' father threatens to prosecute three NHS doctors on conspiracy to murder son It's been two days since Alfie Evans' life support was switched off after his family lost the most recent of a series of legal appeals. Even though the severely ill toddler — who has been at the centre of a life support battle between his parents, health officials and the British justice system for several months — has since been breathing unassisted, reports said that the 23-month-old was still "struggling" and needed intervention to survive.
Now it has emerged that Alfie's father Tom Evans has sought to privately prosecute doctors for conspiracy to murder in the case of his son as the child's treatment continues to play out in court — three Court of Appeal judges are analysing the latest stage of the life-support treatment fight over the boy at a hearing in London.
According to a report in the Metro, papers were served on doctors at Alder Hey Children's hospital Liverpool on Tuesday.
The hospital has been the scene of angry protests for more than a week and at one stage on Monday a group of protesters tried to surge into the hospital after a court appeal decision went against Tom.
At an emergency hearing in the Family Divisions of the High Court in Manchester on Wednesday afternoon, when Paul Diamond, representing Tom, said there were "tensions but no hostility" against the NHS, Lord Justice McFarlane slapped him down in unequivocal terms, according to Daily Mirror.
"Your client purported to take out a private prosecution to have three named doctors charged with the criminal offence of conspiracy to murder.
"Those summonses were served on the doctors and I hear you say that there is no hostility to the NHS."
Tom's barrister is understood to have told the court: "He is a desperate man clutching at straws."
Alfie's parents Tom and Kate, who are both in their early 20s and, are appealing following a ruling made by a High Court judge late on Tuesday that Alfie should not be allowed to leave the hospital and travel to a hospital in Rome for further treatment.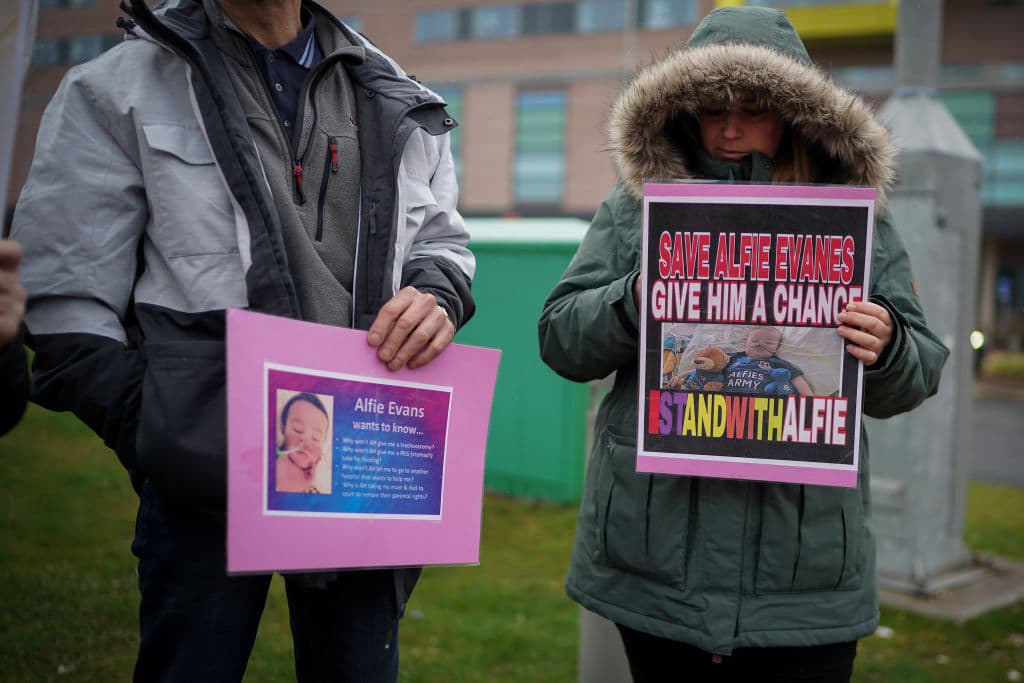 Alfie has a rare degenerative brain disease and is in a semi-vegetative state since having a seizure in December 2016. Judges have agreed with doctors that further treatment would be futile and there is no hope of him getting better.
Pope Francis had issued an appeal on Twitter on Monday that the parents' "desire to seek new forms of treatment may be granted" for the boy, who suffers from a rare degenerative neurological condition.
Italy has previously said it was granting citizenship to the toddler. The Bambino Gesu (Baby Jesus) pediatric hospital in Rome, which is administered by the Vatican, has said a specially equipped plane from the Italian defence ministry is on standby to fly to Britain to pick up the boy if he is released.