Five-year-old child dies tragically after log swing crushes her in front of her mom
A court is conducting an inquest into the death of Alexia Walenkaki who died after a swing fell on her in July 2015 (Source: Getty Images)
When Vida Kwotuah of Poplar, East London, took her daughter Alexia Walenkaki to the local park after school on July 17, 2015, she had no idea that tragedy was about to strike.
A court has been informed that Alexia, just a day away from turning six, was killed in front of her mom when the log swing she was playing on broke and smashed open her head. Three years later, a judicial inquest is looking into the incident.
Kwotuah had just collected the child from her school and taken her to Mile End park to play with her friends and cousin. She was calmly watching her daughter at play when Kwotuah realised that the swing was beginning to move unsteadily. The last time she saw her daughter alive, little Alexia was smiling happily and hanging on from the rope of the swing that would soon crush her.
"She was our world," reads a statement released by Kwotuah and read out at St Pancras Coroner's Court by senior coroner Mary Hassell.
"I lived with Alexia and her sibling who was very happy to have her as a sister. She was a blessing to have and cherished by our family. She was very independent and we spent a lot of time playing in the local parks, Alexia was very active, inquisitive, strong and determined and we were in the local park almost daily. We gave her a nickname which meant that she was a Ghanaian warrior, she was an all-rounder at sports and teachers asked me to slow down with her because she was ahead of her classmates. She had many friends and was sociable and outgoing, she was definitely a leader and not a follower."]
According to the statement, the swing was in a part of the park that she and her daughter did not frequent. Alexia had reportedly wanted to play with her friends who just so happened to be playing in that particular area of the park. The Daily Mail reports that the swing was heavily decayed by the influence of various fungi.
---
Arborologist Kevin Moore said that the swing was so badly decayed that when he attempted to get a lab test done on a sample, there were far too many kinds of fungi in the wood to determine the exact cause of the accident. The swing was made of poplar, a wood that is generally prone to decay.
"The piece of wood was attached to a piece of rope that was attached to a tripod being used as a zip wire," Moore said. "The base was just over three metres in length and you could see it was incredibly decayed."
Kwotuah ran to her child's side as soon as she saw the swing snap. There was blood oozing out of Alexia's nose and she lay completely unresponsive, coughing up blood. The cause of death, according to pathologist Liina Kiho, was trauma caused by head injury. Despite efforts to give her CPR, Alexia died an hour later on the eve of her sixth birthday.
"I heard children screaming and I screamed, the woman I was standing with ran towards me and called an ambulance. We arrived at the hospital and were told that Alexia could not survive the injury from the log and we were invited to sit with her," Kwotuah says in her statement.
After Alexia's death, Kwotuah started a petition on Change.org requesting legal aid to find justice for her lost daughter. The log swing was not from a tree that had grown on the park but was instead a piece of imported equipment. Moore believes that the wood was a very poor choice for building play equipment as the wood may have started to decay even at the time the swing was installed.
"With this species of wood it would be a matter of at least a couple of years," Moore said. "The nature of fungi is that you do not see it until it is advanced. When I spoke to the lab they described it as a blunderbuss of fungi inside, multiple organisms decaying the inside.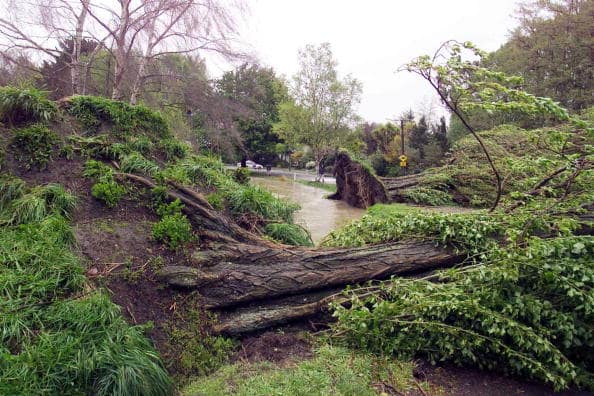 "As an educated guess I would say it was a poplar tree, the tree was roughly 28-years-old when it was cut down and the condition of the tree is very poor. Poplar and willow both toughen, they use willow for cricket bats, but they are not very durable and once the decay has set in they do not resist it very well. In the Salicaceae family once they are left out in the weather they decay very quickly. The tree fractured because it was so extremely decayed, it could not resist the load applied to it, it was not strong enough to support the load. I was asked if it was suitable for play activity and it is not a species, if I had been asked, I would not have recommended because of its propensity to decay."
---
"Tower Hamlets Council who are responsible for the maintenance of the park did not do a maintenance check on the park for 21 months," the bereaved mother says in her Change.org petition. "If they had done so I would be sitting here with my daughter today."
Kwotuah continues to mourn the loss of her beloved child while the inquest proceeds.