Alex Rodriguez furious about claims that he stiffed his ex-wife on child support payment
Alex Rodriguez has responded to allegations that he is trying to stiff his ex-wife and mother of two daughters of child support payments. Alex Rodriguez (Source:Getty Images)
Alex Rodriguez had a stellar career in the MLB, turning out for teams such as the Seattle Mariners, Texas Rangers, and New York Yankees, and is considered one of the greatest baseball players of all-time. Nicknamed 'A-Rod,' the former baseball player's sporting acumen has never been in question but a series of lawsuits and accusations, which he calls frivolous, have served to damage his reputation in the past few years.
The most recent rumors making the rounds are claiming that the 14-time All-Star, who is currently dating diva Jennifer Lopez, is trying to cheat his ex-wife out of child support payments. The accusation stems from a report by the New York Daily News which cited texts from said ex-wife, Cynthia Scurtis, to his former brother-in-law Constantine Scurtis in which she claims that Rodriguez is trying to lower the monthly child support payments out of spite.
One of the texts read: "I'm just trying to defend my child support situation...and it's terrible. I have an email from (Rodriguez) telling me that he's basically making me pay for not stopping you and telling you I hate you," and alludes to a long-running feud between her ex and her brother.
The bad blood between them has been boiling since 2014, when Constantine sued A-Rod. The civil lawsuit alleged that Rodriguez pushed him out of the real estate company they founded together in 2003 and accuses the baseball star of mortgage and insurance fraud. The legal battle has been running since and doesn't look likely to come to an end any time soon.
Rodriguez has responded furiously to these latest allegations, calling them 'false and highly offensive,' and stated to the New York Post that he had 'always paid far more than maximum' to support his two daughters and 'that will never change.,' adding that they would always be his 'number one priority.'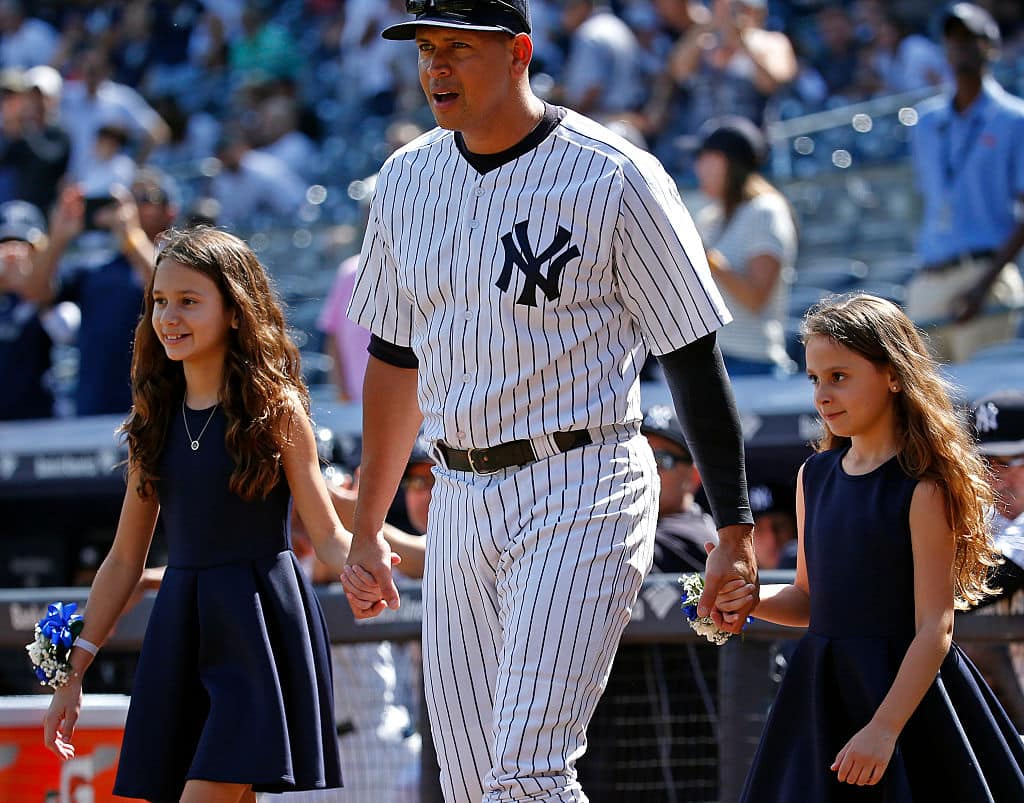 He shifted the blame for these spurious accusations onto his brother-in-law and said: "It's highly offensive to me that my former brother-in-law, who has been trying to pursue a frivolous case against me for four years and has gotten absolutely nowhere with it in court, is misrepresenting my relationship with my daughters to manipulate the public's opinion."
He continued: "This is a classic tale of somebody trying to use the media against me for their own gain. I may not have been perfect in the past, but I am very proud of who I am, and how I live my life now and it is important to me that my daughters feel the same way," adding that he would not have responded to these accusations if it were not for his daughters and that he did not want them to think it was true.
A friend of his was supportive as well, saying: "Regardless of what people think of Alex, if there are two things he's good at, it's baseball and being a father. The girls grew up at Yankee Stadium."
He married Cynthia, a psychology graduate, in 2002 after meeting her at a gym. Their first child, Natasha Alexander, was born in 2004 and is now 13, and their second child, Ella Alexander, was born in 2008 and recently turned 10.
The pair filed for divorce in 2008 after Cynthia cited 'emotional abandonment, extramarital affairs, and other marital misconduct.' Meanwhile, Rodriguez and his current love JLo seem to be very happy together, having even purchased a $15 million apartment in New York City recently.