Aiden Fucci, 14, stabbed cheerleader Tristyn Bailey, 13, 'so viciously' that buck knife blade broke ST JOHNS COUNTY, FLORIDA: Florida State Attorney RJ Larizza claimed that Tristyn Bailey was "stabbed so viciously that the buck knife blade broke and stuck in her scalp". On May 27, Larizza disclosed some horrific facts about Bailey's death and stated that Aiden Fucci, who was suspected of murdering the 13-year-old cheerleader, will be tried as an adult.
Bailey suffered 114 stab wounds, 49 of which were defensive, according to the lawyer. Tristyn received them while she "fought for her life". The murder weapon was retrieved near the pond where her body was recovered. Larizza told reporters that the blade had "broken off" and was "missing a tip" and the medical examiner later found it in the scalp of the victim.
RELATED ARTICLES
Were Tristyn Bailey and Aiden Fucci friends? Florida cheerleader, 13, was filmed walking with 'killer' schoolmate
Who is Jason Fucci? Aiden Fucci's dad was in jail for child abuse years before 14-year-old 'killed' teen girl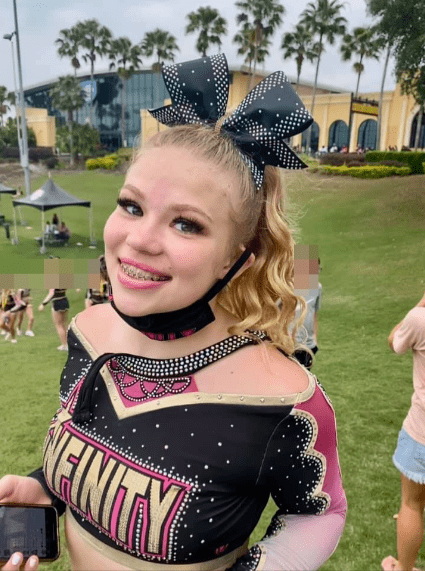 The 13-year-old cheerleader was found dead on Sunday, May 9, in a wooded area of the Durbin Crossing neighborhood hours after she went missing in St Johns County, Florida. She was later found to have been murdered by Fucci, 14, who went to the same school, Patriot Oaks Academy. However, it's not clear if they knew each other. A grand jury had met in secret earlier on Thursday morning, May 27, and decided to charge Fucci with first-degree murder, the Sun reported.
When a person is charged with first-degree murder, the matter is automatically transferred to adult court. "The adult system is where this case belongs," Larizza said during the press conference. The 14-year-old is the sole suspect in his classmate's murder. Larizza admitted that charging a 14-year-old with first-degree murder "brought him no pleasure", but said the law and facts of the case "made it an easy decision to make". The state attorney added that it "would be an understatement to describe Tristyn's murder as horrific".
Fucci might be back in court as soon as Friday, June 4. Prosecutors will seek a life sentence without the possibility of parole, according to Larizza, but Aiden will most likely be able to appeal due to a statewide campaign to decrease juvenile punishments. If convicted and sentenced to life in prison, Larizza said Fucci's case would be reconsidered after 25 years, with a court having the option of reducing or releasing him.
According to Larizza, there is no proof that Fucci suffers from any mental illnesses. He also stated that the adolescent had no prior criminal records. Larizza declined to say whether the murder was motivated by sexual desire or if Tristyn was sexually molested during the crime. However, he did reveal that Fucci's DNA was discovered on Tristyn's body. Tristyn's DNA was also discovered on shoes and a t-shirt recovered in Fucci's bedroom, according to Larizza.