Legendary Nigerian drummer, composer, and songwriter and one of the founders of Afrobeat Tony Oladipo Allen has died at the age of 79.
Allen's cause of death is not known. "We don't know the exact cause of death," his manager Eric Trosset told France 24. "He was in great shape; it was quite sudden. I spoke to him at 1 p.m., then two hours later he was sick and taken to Pompidou hospital where he died."
As the drummer and musical director of Fela Kuti's band Africa '70, Allen was one of the co-founders of the Afrobeat genre. Not to be confused with afrobeats, which is an umbrella term for contemporary pop music that is made in West Africa and across the diaspora and is a fusion of sounds and genres originating in Ghana and Nigeria with influences from British house music, hip-hop, dancehall, as well as distinctly African genres. Allen's Afrobeat is a genre that combines West African music, such as fuji music and highlife, with American funk and jazz, in addition to layering in chanted vocals, complex intersecting rhythms, and percussion.
Kuti, a Nigerian multi-instrumentalist, musician, composer, and human rights activist coined the term 'Afrobeat' and is considered the pioneer of the music genre. He once stated that "without Tony Allen, there would be no Afrobeat." Apart from Kuti, many, including Brian Eno (who is best known for his pioneering work in ambient music) have described Allen as one of "the greatest drummer who has ever lived."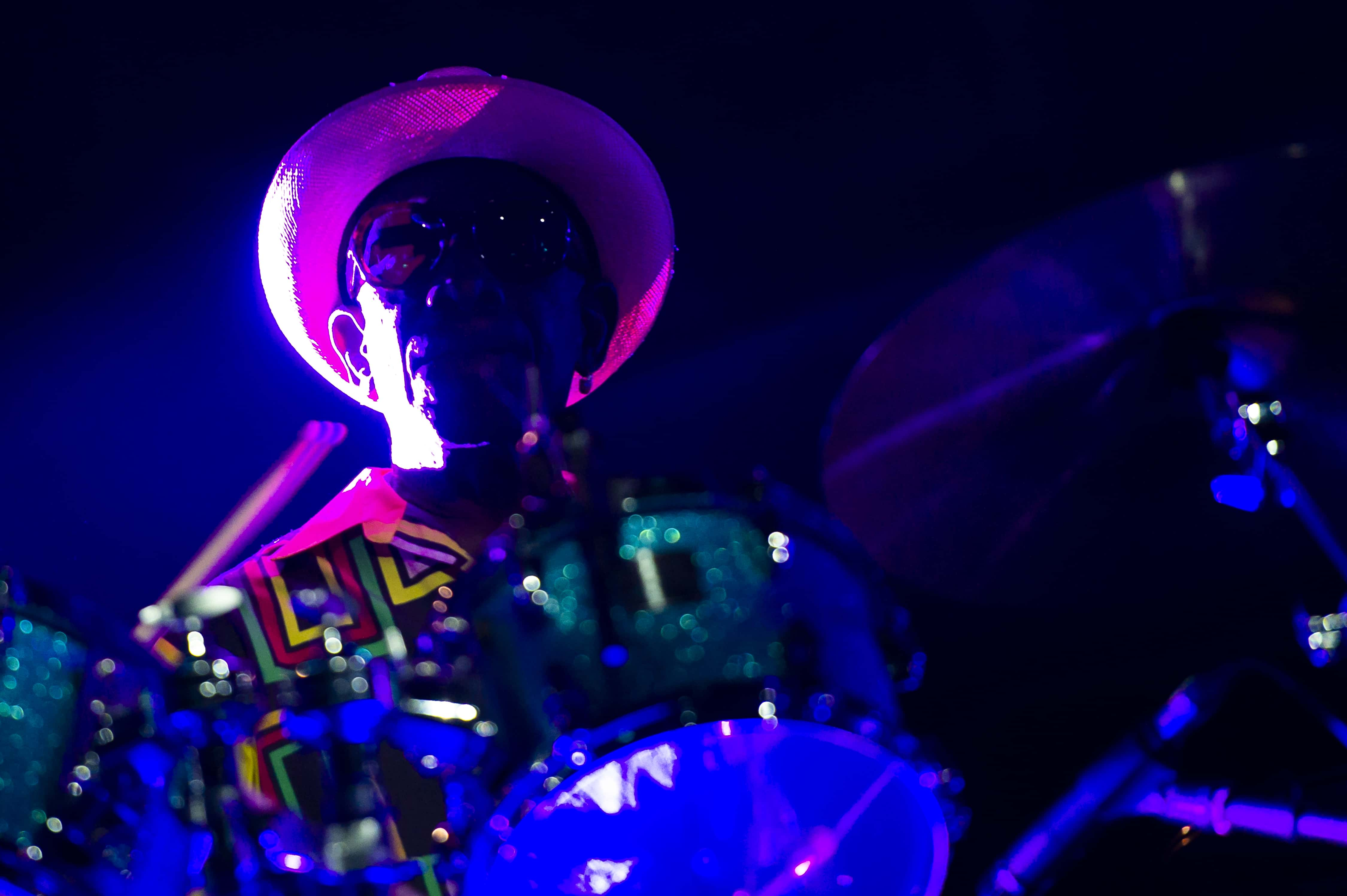 With musical influences from Jùjú, a popular Yoruba music from the '40s that his father used to listen to, as well as American jazz and the Nigerian and Ghanian highlife scenes, Allen began to define his sound quite early on. The self-taught musician began his career as an engineer at a Nigerian radio station, before getting his first break filling in as a drummer for the highlife band Cool Cats, before playing with several other acts. In 1964, Allen was invited to audition for Kuti's jazz-highlife band and together they formed 'Koola Lobitos'. After being exposed to life in the US in 1969, the Kuti rebranded the band as 'Africa '70' and shifted their sound to something far more militant, fusing the soulful groove of jazz and highlife with more conventional Yoruba rhythms. To complement Kuti's new musical direction, Allen developed a totally new drumming style that helped blend the vastly different genres.
Allen recorded over 30 albums with Africa '70, but by the late '70s arguments over royalties, pay, and recognition caused rifts within the group. Allen, who was one of the pioneers of the genre the group created as well as the band's musical director, was especially bothered by Kuti's insistence that he would get all the royalties from their music. In 1979, Allen left Africa '70, taking many of its members along with him and later formed his own group as well as pioneering yet another genre, 'Afrofunk', which fused elements of Afrobeat with electronica, dub, R&B, and rap. He continued to refine his sound and redefine music over the decades since then, foraging into more avant-garde and electronics fusions, before returning to his Afrobeat roots in 2006 with 'Lagos No Shaking'.
Allen's final release, 2020s 'Rejoice' in collaboration with the late trumpeter Hugh Masekela, was a collection of recordings the two put together in 2010. The album was described by Allen as "a kind of South African-Nigerian swing-jazz stew," and featured a fusion of Afrobeat and bebop as well as lyrics in English, Yoruba, and Zulu, making the record a remarkable representation of the African diaspora as well as a wonderful reminder of Allen's legacy as someone who redefined African music.
Fans of the legendary drummer expressed their sorrow at hearing of his passing. One tweeted, "Heartbroken to lose one of my heroes. RIP, Mr. Allen," and another said, "RIP Tony Allen. An exceptional musician of incredible depth."
One fan stated, "Another great one gone," and another tweeted, "2020 has been a hard year...we've lost many artists like Arlus Mabele, Manu Dibango and now Tony Allen who played alongside Fela Futi...." Nigerian-American rapper, singer, songwriter and record producer Jidenna also took to Twitter to share his grief, tweeting "Rest In Power to Tony Allen, The Godfather of Afrobeat Rhythms. Thank you for giving us the sound that would change our lives and our destiny as a people."

Some fans were inconsolable, tweeting "Yo, I'm done. I can't handle this anymore," while others were expectedly somber, stating "Tony Allen was a Legend. Good night sir. Indeed, darkness has come upon us during the day time."
Some fans mourned the loss of a figure who inspired them, tweeting "R.I.P Tony Allen. This man pioneered Afrobeat with Fela Kuti. His drumming was the backbone of the sound. Blessed to have played a show with him in Köln a couple year ago. A true genius. He will be missed," and stated "Tony Allen got me dancing :(," but as another fan reminds us all, "Dance. Shout. Think. Feel. Lose yourself. It's his legacy. #tonyallen #afrobeat"
A few fans also weighed in on Allen's contributions to Afrobeat. One fan said, "Man. May Tony Allen Rest in Peace," before sharing some insight into the formation of Afrobeat, stating "Let me let you in on a well kept secret. You see Afro Beat? Fela might be the face that ran the place, but Tony Allen and Igo Chico and the built the f*cking House." The fan also said, "Tony Allen's drums gave the breath of life to AfroBeat. Igo Chico's tenor Sax is the blueprint of AfroBeat. Igo was a way better Sax player than Fela," before adding, "This is not a slight on Fela."