Adriana Sylmetaj: Pregnant woman, 23, thrown from SUV dies after drunk BF driving over 100mph hits wall STATEN ISLAND, NEW YORK: Adem Nikeziq, 30, is currently facing a manslaughter charge for throwing his pregnant girlfriend Adriana Sylmetaj, 23, to death in an alleged drunken crash on Staten Island. According to the police, Adriana suffered severe body trauma at around 4.45 am on Saturday, January 28. Apparently, she was ejected from the Dodge Challenger which crashed into a wall and a utility pole and was split in half on Hylan Boulevard.
A New York Police Department spokesperson said that Adriana's partner Adem Nikeziq, was later charged with manslaughter, criminally negligent homicide, assault, vehicular assault, reckless endangerment, and driving while intoxicated and driving while ability impaired by alcohol. The spokesperson added that Nikeziq was taken to Staten Island University North Hospital after showing signs of intoxication.
READ MORE
What was Chunli Zhao's motive? Half Moon Bay mass shooter details bullying and long hours on farms
Tom Landon: Conspiracy theorist, 54, arrested after 6 children found living in cellar for 9 months
Nikeziq and Sylmetaj show that the couple was expecting a baby girl on April 12, according to a registry listed at Buy Buy Baby. A crib, a baby lounger, and assorted clothing are some of the other items listed on the site. "He's going away for the rest of his life and that's still not good enough for that piece of s–t," said a grieving relative outside Sylmetaj's home on Sunday. "They couldn't save the baby," he said. "We're never going to be ok. None of us. We've experienced a terrible tragedy."
More than two dozen friends and relatives gathered yesterday to mourn the tragic death of the soon-to-be mother. A man who identified himself as Sylmetaj's uncle said his niece was one of four children and that one of her siblings is a police officer.
The vehicle was speeding southbound and went out of control in front of 2545 Hyland Boulevard near New Dorp Lane, crashing a "barrier wall" at the scene. The SUV then slammed into a utility pole and split in half, claiming the life of the young pregnant woman.
One man compared the wreckage to war-torn Beirut. "I don't understand how the [utility] pole is still standing," Mario Basso, owner of H20 Auto Spa near the site of the crash told the New York Post. "It was hit so hard."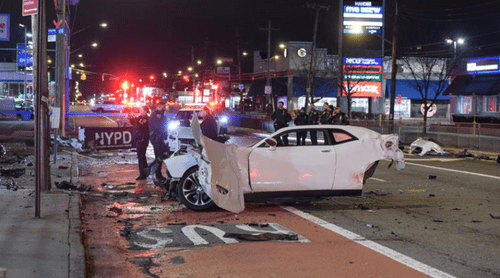 According to her Facebook page, the Great Kills woman, Sylmetaj, graduated from New Dorp High School in Staten Island and attended the College of Staten Island until last year. She is originally from Brooklyn and worked at Pleasant Plains Animal Hospital South and for NYU Langone Health.
Share this article:
Adriana Sylmetaj: Pregnant woman thrown from SUV dies after drunk BF driving over 100mph hits w