'A Simple Favor' premiere: Blake Lively shares just how far she was willing to go to include her Christian Louboutin shoes in a scene By Nicki Gostin
The premiere of Blake Lively-Anna Kendrick starrer 'A Simple Favor' held in the Museum of Modern Art in New York, on September 10, was a star-studded affair and Meaww got an opportunity to talk to Foodgōd Jonathan Cheban, Blake Lively, director Paul Feig and Henry Golding on the sidelines of the event. 'A Simple Favor' starring Lively, Kendrick and Golding opens in theaters nationwide on September 14.
We managed to sneak in a few questions to the star of the event - Blake Lively- as she stepped up for a round with the gathered media.
What was it like to explore a darker character?
It was so much fun because every villain is the hero of their own story right? So she just knew why she did what she did and she did it with conviction and she just did it unapologetically and I just loved it.
How much fun do you and your husband have making fun of each other on Instagram?
We have so much more fun in real life than on Instagram so I'm glad that people get to see a sprinkle of it there but real life is much more fun.
What's your favorite memory of shooting the movie?
My favorite memory from filming is being on set one day, the stuntwoman had to do this crazy stunt where she flew up in the air, fifteen feet and she practiced it and was confident with it but they told me I had to take off my Christian Louboutin shoes because she couldn't run out of the building, it was too unsafe for her to sprint in those six inch heels and I said, 'I'll do it! I can sprint in those. I'm not losing the heels in this entire scene' and they were like, 'I don't think we can let you do it.' I was like, 'It's my last day! If I shatter my ankle you can still go on.'
Director Paul Feig was a real sport as he gave us a little insight into what made him make a thriller like 'A Simple Favor'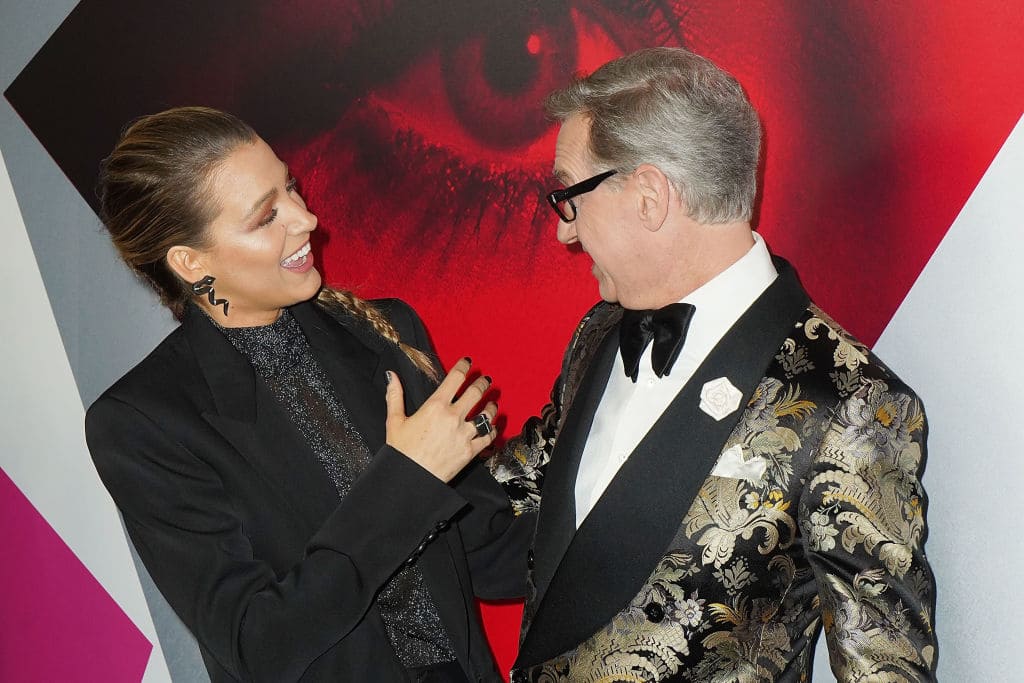 What made you decide to do this genre?
I love thrillers and if you look at all my movies they're genre movies really, wedding movie, spy movie, buddy cop. I've always been wanting to do a thriller but I don't know how to write one from scratch, so I was always like, 'If I'm going to do this, I have to find a great script' and this just happened to come in out of nowhere for our company to produce and when I read it, I was like, 'I want to direct this, this is the one.' I love Anna's character so much, it was so over the top. I was like, 'I can make this funny but still very real.' Like a real thriller, in that old Hitchcockian way where you would be scared and then you'd laugh. You'd find levity in it.
You had hired Henry Golding before he blew up.
Yeah, he had just wrapped 'Crazy Rich' like two weeks before. Once you meet him, you're like this guy's a superstar. You just have to convince the studio of that because he's new but at the same time he'd just been kind of anointed by John Chu for the lead of this big movie so I talked to him, Skyped with him. Talked to John, 'Is Henry the real deal?' And he was like, 'He's the greatest.' So it was one of the easiest decisions I've ever made.
Tell me about Blake and Anna on set.
They're both really funny and Blake is... she loves to surprise people with what she does on screen and the fact that she was so willing to just go for it was really exciting and Anna is such a pro to work with. So inventive. It was one of the most fun movies to do because everyone was so in tune.
We also spoke to Henry Golding and how fast things have moved for the star in the past one year.
I can't imagine how different your life must be from this time last year.
This time last year I was on this side (points to my side) of the carpet. I was doing junkets and stuff. It's been a major switch in terms of work, what my daily life has sort of evolved. It's a lot of traveling, I'm not going to lie but it's been phenomenal. I've been able to work with some amazing people especially Paul in this film and Blake and Anna. It's been wonderful.
How do you keep your head on your shoulders with everyone blowing smoke up your bum?
Having a great team, being older. I'm 31, I'm no spring chicken in that sense. I've lived a life outside of the industry for a long, long time. So I understand the ethics of hard work and sort of being the gentleman and striving to work with good people. Essentially that helps me keep grounded.
What's your favorite thing to do when you're not working?
Hanging out with my wife!
We also caught up with Jonathan Cheban at the premiere and we just had to know what the reality star has in store for his fans and more.
What's going on with your show?
Oh 'Food God,' it's my brand, I'm changing my name. Millions of people follow me all over the world. I just signed a huge endorsement and partnership with a burger company that's opening a thousand locations called Burger IMi. I have a video game with Atari coming out, I have a huge thing with Sugar Factory, big subscription service for kids. And working on a TV show right now, I can't talk about it but it's very exciting.
What's your favorite food?
Favorite basic food is pizza obviously. I'm a purist for pizza and burgers but I love my Nobu and Cipriani. I go high, low, overtop, that's how it works.
How pissed are you at Khloe Kardashian? (For not wanting him on Family Feud)
So pissed! I'm pissed! (Kidding). I'm calling her later to talk about it when I get out of here. Yeah, I just watched the episode with my family. I'm like, 'I can't believe she wanted to throw me off!' And it's all over the news which is worse! She's (going to be) getting a lot of shit tonight.
Is Kim going to law school?
No, I don't know where that came from. Who's got time for law school? 3 kids and a husband, a TV show and an empire, me, you have no time for law school. I take up a lot of her time!
Share this article:
A simple favor premiere New York Blake Lively Anna Kendrick Paul Feig Henry Golding Jonathan Cheban interview