5 characters from American Horror Story that truly took the scary quotient a notch higher
The adored series has one of the best character developments we've seen on TV for a long time in the horror genre - it's like the characters were written with the actors in mind.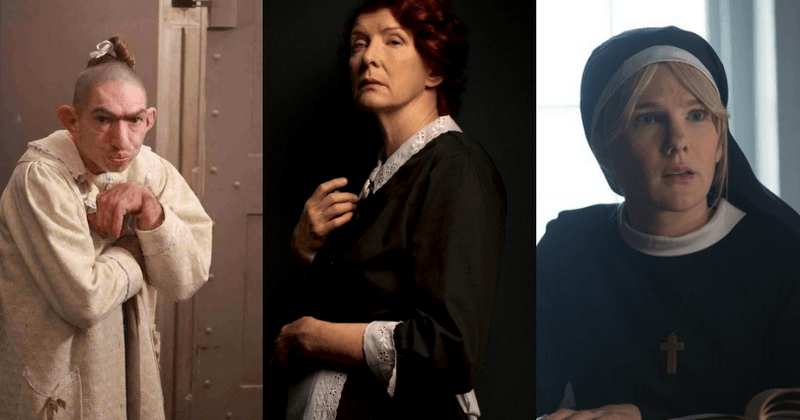 'American Horror Story: Apocalypse' is almost here and it is the perfect recipe for a nightmare - a newborn baby, a dark hand with creepily long fingers reaching out to the baby and a mushroom cloud erupting and swallowing everything around. While the show itself is absolutely terrifying thanks to Ryan Murphy's talent to keep things interesting every single time, a large chunk of the credit goes to its story arcs, not just for the plot but also each character involved. The adored series has one of the best character developments we've seen on television for a long time in the horror genre - be it crossover characters or even those who appeared just for a season.  'American Horror Story' characters were written with the actors in mind, for sure. 
Let's take a look at the five characters that have truly defined the horror hit.
1. Fiona Good, 'Coven'
Desperately trying to hold on to whatever she can to keep her throne as Supreme intact, Fiona Good doesn't care who or what she has to fight. Although her end is pretty grotesque in 'Coven', she still leaves a mark on you. Jessica Lange who is a regular on the show plays every role to perfection and Fiona Good's character wouldn't have been the same without her. She's as stylish as she's evil and she's as maddening as she is powerful. The perfect concoction of a fantastic antagonist, Good crosses lines without giving a damn about the rules. She always keeps everyone guessing and isn't afraid to make friends or enemies - and she makes both. In some ways, that makes her a fabulous Supreme.
2. Moira O'Hara, 'Murder House'
When she walked through the doors of the murder house, her wrinkly innocent face did not give away her reality. A seductress who appeared as a 20 something young redhead fetish-y maid to men, Moira's powers of persuasion are legendary. Harmon (Dylan McDermott) almost falls for the trap, oh so many times but in spite of his morality, it was always Moira's relentless persuasion that stood out. Trapped in the house because she had been caught in the act with Constance's husband many years ago, Moira is convinced that every man wants to cheat and all he needs is a little push. She was wrongfully killed for sure, after all, Constance's husband had assaulted her when she walked in but her revenge got the best of her. She changed faces (literally) with a blink of an eye and honestly, right till the end of the season, you cannot help but wonder if she's really telling the truth. Played by the amazing Frances Conroy and Alexandra Breckenridge, Moira O'Hara has definitely stood out amongst the various characters Conroy has played on the show.
3. Sister Mary Eunice, 'Asylum'
Nuns give you the creeps on a horror show, but Mary Eunice was something else altogether. From a strange woman to a possessed murderous rapist, her character arc was really something to devour as a horror fan. She is taken over by the devil and he feeds on the one insecurity she had - her longingness to fit into the world. Her thirst for acceptance brought her to religion and when she joined the convent, she felt like that's where she belonged. She eventually reaches the asylum and things begin to get dark. Sister Jude supporters made her life hell and as much as she tried to play it cool, the exorcism changed her life. She brings back more than experience from  Briarcliff, she brings back the devil himself.  She turns manipulative and with an edge and it was an exciting transition to witness. While her spirit lost the battle, the character definitely tops the list. Lily Rabe really killed it with this one.
4. Pepper, 'Freak Show'
Pepper has got to be one of the most memorable characters in the series. She's the least equipped to be burdened with the cross of revenge and the torment of losing a loved one, but there life was, happening to her. What really stands out about Naomi Grossman's character was just the wonderful transition it makes from being unable to do much to seeking seething fiery revenge from someone who ran the entire show. 
An abandoned character, she finds her place in the world when she turns 18 and decides to join the Freak Show. That too was taken from her when Elsa sells the show to go to Hollywood. Even her sister, who was to be her asylum in this time of need ends up dumping the death of her baby on her - falsely of course. Just because she was babysitting her and she was an easy target.  Pepper is sent off to Briarcliff Manor (yes AHS stories are connected) framed as a murderer with no logic or mercy and she meets a pitiful end there. Pepper really made us whip out our tissues. Her character was naive, sweet, extremely caring and so capable of love - and the prejudice against microcephaly couldn't take that away from her.
5. Lee Harris, 'Roanoke'
Oh, the shocking twist in the season finale - Ryan Murphy had really made everyone believe that Lee Harris was everything we thought she is.  A hardworking and determined woman, fighting her addiction, Lee tugged at your heartstrings. She is addicted to pain pills and alcohol but tries to be her best for the family she so fiercely protects.  A classic wavy bob in place, she would be seen on the show in her police uniform. Her character cares for other people to a large degree, being the first person to offer to look for Sidney so Shelby gets medical help (Despite tensions high between the two) and not leaving Audrey behind on two deadly occasions. She does, however, have her own agenda as we find out in the blood-soaked doozie of a finale. Survival is the main agenda for Harris and being the sole survivor she gets away with a lot of things, including possibly killing her husband as her child Fiona watched. 
'American Horror Story: Apocalypse' premieres on September 12.