4 men held for alleged gang-rape and murder of 26-year-old vet shot dead by cops when they 'tried to escape' In what can only be called a sensational development, Indian police on Friday, December 6, fatally shot and killed four men suspected of raping and killing a woman in Southern India, leading some to celebrate their deaths as justice in a case that has sparked protests across the country.
We had reported earlier that the woman was raped and then burned alive by her attackers after her vehicle broke down when she was returning home from a visit to a skin clinic.
The horrifying incident unfolded in the eastern Indian city of Hyderabad after the 26-year-old victim, a veterinarian living in Shamshabad, left her home at around 5 pm on November 27, to visit a skin clinic in Gachibowli, about 16 miles away, according to India Today.
She was supposed to return home the same evening, but alarm bells rang when she called her sister at around 9.30 pm and said she was concerned for her safety because her scooter had a flat tire near a toll plaza and a stranger had insisted on helping her.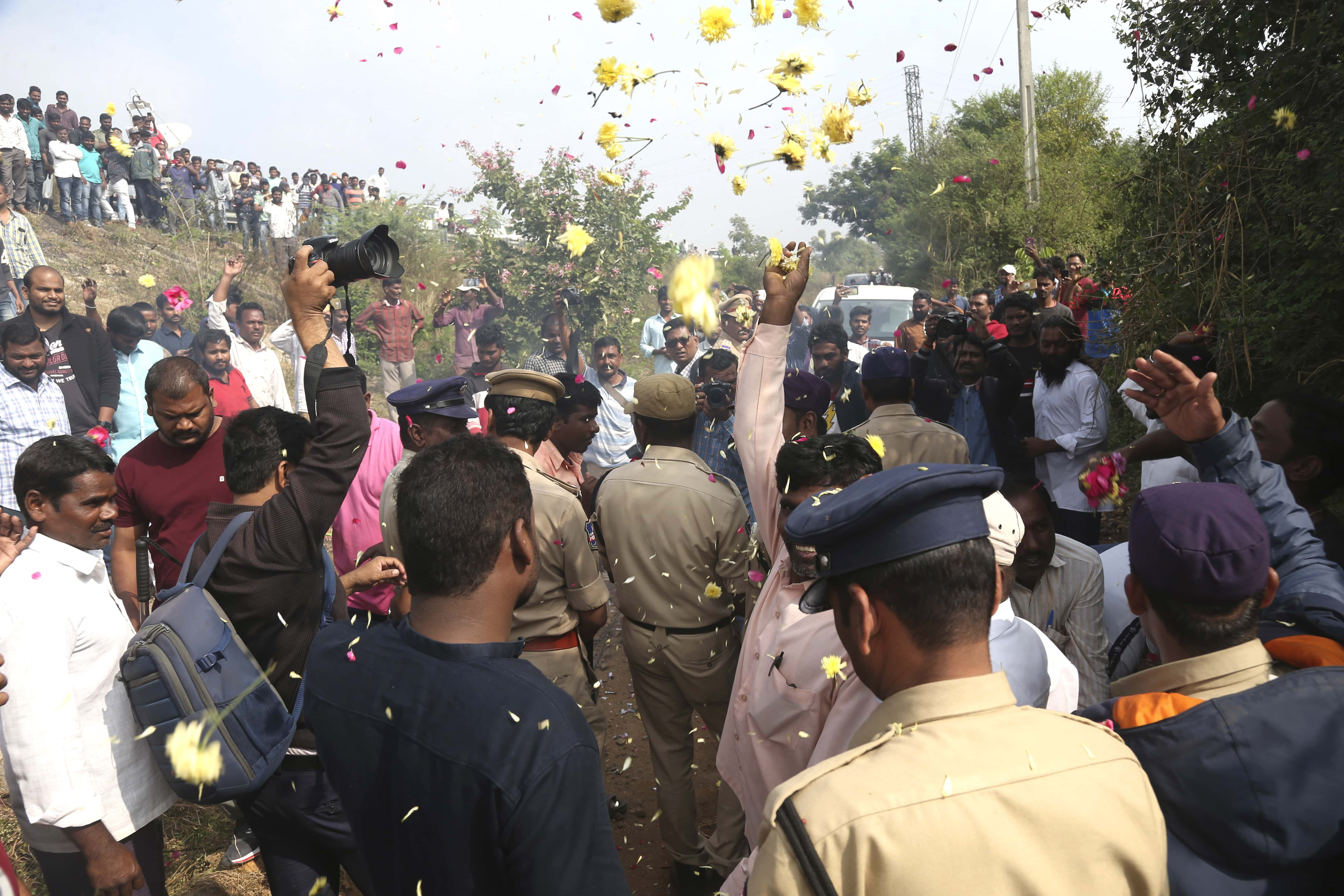 She said she told the stranger she wanted to take the vehicle to a repair shop but was stopped from leaving. In a recording of the call, she tells her sister, "Please keep talking until my scooter comes back. They [the strangers] are all waiting outside. You please keep talking to me, I am scared."
It was at 7 am the next morning that authorities were informed of a charred body at an underpass near the Chadanpalli village in Rangareddy district, which was later confirmed as belonging to the victim with the help of the clothes she had been wearing.
Later, it was said that she was stalked by four men after she stopped at the Tondupally Toll Plaza. The men, who had been drinking inside a truck, are said to have then made the plan of raping the victim, following which one of them punctured the back tire of her scooter.
She was abducted and taken to an isolated compound nearby. The men snatched her phone, turned it off, forced her to drink alcohol, and gang-raped her.
She fell unconscious during the horrific attack, and when she eventually came back around, she was smothered to death. The men then retrieved gasoline from a nearby gas station and set her on fire, before dumping her body near an underpass near the Chadanpalli village in Rangareddy district.
On Friday, the men, who were in police custody and had not been formally charged with the crime, were taken to the crime scenes, both where the rape and killing are suspected of taking place and the spot where the woman's body was burned, according to Shreedharan, an official in the police commissioner's office.
Another police official said the suspects tried to grab an officer's firearm and escape, according to the Associated Press.
To thwart their attempt to escape, they were subsequently gunned down and killed. The officer spoke on condition of anonymity as he was not authorized to speak to the media.
About 300 people gathered at the crime scene to praise the police for killing the suspects. Some hugged officers and lifted them into the air chanting "long live police", while others showered them with flowers.
With inputs from AP