SENATE MIDTERMS 2022: Can Mark Kelly keep Arizona blue in the face of a red wave?
Democrat facing a massive challenge for his seat will now have to pick between voting with party, and appeasing independents not on board with reforms Mark Kelly speaks to supporters at Hotel Congress on November 3, 2020, in Tucson, Arizona. (Courtney Pedroza/Getty Images)
In 2020, Joe Biden narrowly flipped Arizona to take the Presidency. It proved to be a rare anomaly in the deep-red state, which only voted for a Democratic President once (Bill Clinton in 1996) in over four decades. Similarly, Democrats have also faced an uphill struggle to take both seats in the Senate from the state, until Mark Kelly managed to clinch the 2020 special election. With the red wave now predicted to sweep across the US, the big question is - can Kelly keep his seat?
Campaigning in Arizona won't be easy for the Democrats, especially after Donald Trump and the GOP made it the battleground for their claims of election fraud. Maricopa County was subjected to three recounts, the third and most controversial one by a private firm CyberNinjas with ties to Trumpworld. While all those efforts eventually fell flat, support for Trump remains strong in the state.
RELATED ARTICLES
How GOP could steal the 2022 election by using recount in Arizona's Maricopa as a template for other states
SENATE MIDTERMS 2022: Mo Brooks and Katie Britt in epic fight for Alabama as Trump dithers
To make matters worse for Kelly, the biggest challenge the Democrats face is not his opponent, but rather his own colleague - Krysten Sinema. Enraged at Sinema's constant blocking of President Biden's agenda, grassroots workers are reportedly focusing harder on finding a primary challenger for her, even though she won't be on the ballot till 2024. Does Kelly have what it takes to keep his seat?
Kelly's Senate record
Unlike some of his colleagues, the former astronaut's tenure in Congress has been relatively low-key. ProPublica notes he has sponsored 24 bills and 16 amendments while missing just 0.4% of votes. He's also toed the party line most of the time, barring one instance. In August 2021, he voted with the GOP to nullify the Department of Labor's COVID-19 Vaccination and Testing Emergency Temporary Standard (ETS). The standard was created to make Covid-19 vaccines mandatory along with regular testing for all large businesses but is currently being challenged in court.
Beyond that, Kelly seems like a safe bet for Democrats, unlike Sinema. He's never obstructed the party's efforts and unlike some of his colleagues, he remained largely out of the headlines. However, that could soon change as he's dragged into a key battle the Democrats are putting their hopes on - filibuster reform. Senate Majority Leader Chuck Schumer's attempt to force changes to the filibuster could put Kelly in the hotseat because, for years now, he's dodged the question of whether or not he supports it. In June, he reportedly privately conceded to two Senators he's open to change, but he's been less forthcoming in public.
The issue could be the deciding factor, especially since not all the reforms Democrats want to pass have widespread public support. A November 2021 poll found that Kelly is viewed favorably by 41% of Arizona voters, and unfavorably by 48%. He's currently underwater by 10 points with independents, who will be the key to winning the race. The reason? Biden's sweeping changes aren't exactly enticing voters in Arizona.
On that note though, Kelly has backed all of the major reforms by the Democrats. He co-sponsored the For The People Act and the Protecting Our Democracy Act while voting to push the Freedom to Vote Act, Paycheck Fairness Act, and the Growing Climate Solutions Act of 2021. He's now got to sell those to his constituents, which is where the difficulty lies.
Challenges in 2022
While Kelly may not have challengers from his own party for his seat, he still faces an uphill battle. For starters, he's got to deal with the backlash against Sinema. Reportedly, grassroots campaigns are now focused on finding a primary challenger for Sinema, even though she's got two more years. There are some concerns those efforts will take away critical resources from Kelly's campaign, but one consultant told Rollcall, "the kind of work that's being done related to Sinema doesn't really interfere with the work that some of these groups will be doing on behalf of Kelly."
Whether or not Sinema gets in the way of Kelly's campaign, he's also got to deal with the Republican party. The state is expected to be one of the eight major battlegrounds for the US Senate in 2022, meaning whether or not Kelly keeps his seat could determine who controls the Senate. So far, four Republicans have thrown their hat into the ring for the race - Attorney General Mark Brnovich, retired Air Force Major General Michael McGuire, and businessmen Blake Masters and Jim Lamon. A September 2021 poll puts Kelly ahead in match-ups with all four, but never above 45% of the votes. Another challenge for Kelly is something he has little control over - the Biden administration. "Arizona is a fundamentally purple state, but if things get worse for Biden, it could look more like a fundamentally pink state," Miles Coleman, associate editor of Sabato's Crystal Ball at the University of Virginia's Center for Politics told Cronkite News.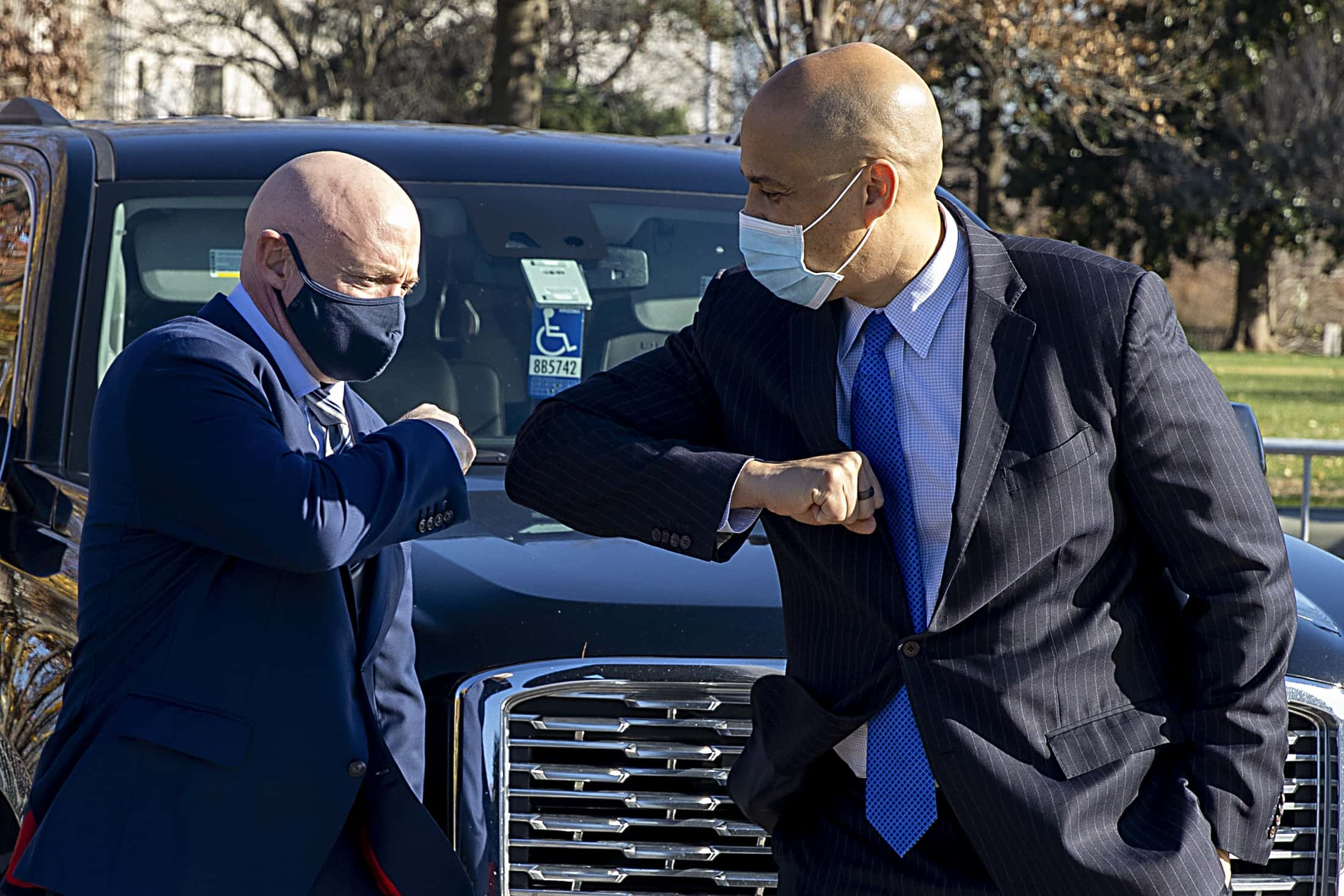 In order to retain his seat, Kelly has two options in front of him - either run a huge campaign to convince independents on Biden's reforms or tactically vote against his own party. The former seems next to impossible given the widespread disinformation campaign Republicans are running, while the latter could put Kelly in a lot of hot water with his party. Neither option looks great now, and it's made worse by the anger Sinema has fuelled with her obstructionism.
At the moment, it looks like a lot of the race is out of Kelly's hands. Given how traditionally red Arizona is, the GOP will no doubt be positive they can flip the seat irrespective of who ends up challenging Kelly. The only spanner in the works could be Donald Trump. So far, the former President hasn't weighed in on the race, and some Republicans may be hoping it stays that way. His comments could end up flipping support, particularly as more and more information about the January 6 coup attempt comes to light. It's hard to say what will happen, but Kelly surely has to put up a strong fight, if Democrats want to get anything done in Biden's next two years.
The 2022 midterms are scheduled for November 8, 2022, with the primaries in Arizona scheduled for August 2, 2022.