10 hottest female athletes slaying at the Winter Olympics 2018
These 10 female athletes have got it all — medals, beauty and a stunning body You know the best thing about athletes? They are almost always at the peak of human fitness. Now imagine the Olympic level athletes. They have trained for years together to hone their craft and achieve their goal bodies and that doesn't hurt this list. 
So now that the Winter Olympics are here and the world is armed with the power of social media (so we don't have to wonder what's underneath all the heavy suits), let us talk about the hottest female athletes slaying at the games in South Korea. 
1. Ashley Wagner, figure skating
This cute blonde babe is an American figure skater.
She's 26, 5ft 3 inches tall and totally sassy, says her Instagram bio. She is the 2016 World silver medalist, 2012 Four Continents champion, a three-time Grand Prix Final medalist and a bronze winner in the 2014 Winter Olympics in a team event.
Ashley is so much like your girl next door but damn, does she look super fine in a swimsuit.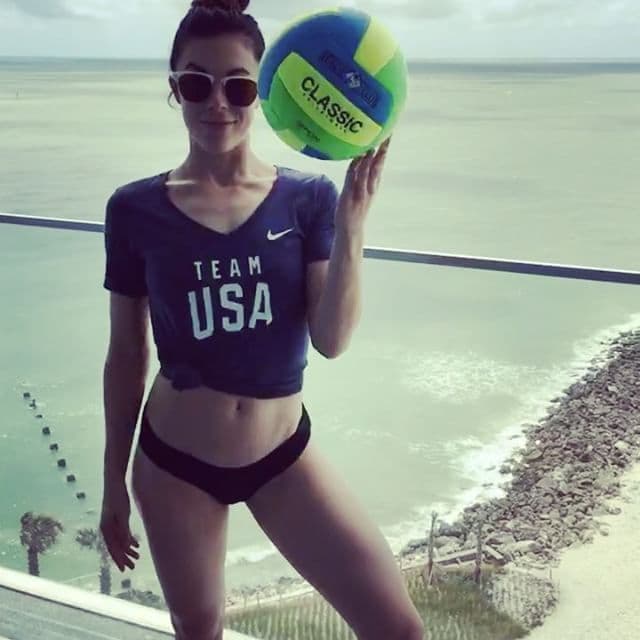 2. Lindsey Jacobellis, snowboarding
At 32, Lindsay Jacobellis has perhaps realized that easy breezy is actually beautiful. She has a very boho chic vibe.
From her curly blonde hair that seems to have a mind of their own, the American snowboarder has a very chilled out look about her personality but at the same time, her muscular body looks tough. She would crack a few beers with you, but she could also break your face, who knows?
She bagged a silver medal at the 2006 Winter Olympics, in Women's Snowboard Cross's Olympics and is a ten-time snowboard cross champion at the X Games.
3. Madison Chock, ice dancer
Madison Chock is an American ice dancer with pixie-like Asian features.
This beautiful brunette, elegant in every move she makes (obviously, she's a dancer) has two World medals in her bag — one silver and one bronze.
She loves flowers, fishing, chocolates, and dogs. This 25-year-old is dating her dance partner, who she competes side by side on the ice as well - her sweet pea Evan Bates.
4. Lindsey Vonn, ski racer
This blond bombshell is not just a ski racer, she is a model as well — with a body like this, why not?
She appeared in the Sports Illustrated Swimsuit Edition back in 2010. She posed in nothing but body paint. Not only that, she's also made it to the Maxim Hot 100 list in the same year, securing the 59th spot.
Vonn is a four-time World Cup championship and is one of the only two female skiers ever to do so, along with Annemarie Moser-Proll. This 33-year-old is almost 6 feet tall and loves cycling and playing tennis in her free time.
5. Aja Evans, bobsleigh
This 29-year-old hottie competes as a brakeman. Her super toned muscles could take on the world but it is her smile that has melted hearts.
She's bagged a bronze in Sochi Winter Olympics 2014 so she is perhaps right at home with the current one. This 29-year-old is a homebody - she adores eating sushi and seafood and absolutely loves her mom's Thanksgiving dinner, according to the Team USA website.
6. Silje Norendal, snowboarding
Silje Norendal will probably floor you with one sultry look, that is, if you aren't already smitten by her accomplishments.
This gorgeous September born Virgo competes in halfpipe, slopestyle, and boardercross. She's won three consecutive Winter X Games Europe in 2013, 2014 and 2015. This 23-year-old leggy lass is also he also a fitness fanatic. She's been the cover girl for Norwegian editions of Cosmo and Elle magazines.
7. Penny Coomes, figure skating
She stands at 5 feet but packs a punch. Plus, aren't short girls cute anyway? Yes!
Penny Coomes, who hails from Great Britain is figure skater is a bronze medal winner in the 2014 European Figure Skating Championship. She's won six other international medals and has been a part of the 2014 and 2010 Winter Olympics.
8. Mikaela Shiffrin, ski racer
One thing that everyone who watches the games wonders — how the hell is she so fast?!
Shiffrin, 22, is a Colorado native who is the reigning Overall World Cup champion.  
She's just won her second gold at the 2018 Winter Olympics securing a position next to Ted Ligety and Andrea Mead Lawrence for the most Olympic gold medals won by an American Olympian in alpine skiing in history. The 5 feet 7 inches tall strawberry blonde is a perfect mix of beauty and hard work.
9. Spencer O'Brien, snowboarding
What is with the snowboarders being so hot? Spencer is a Canadian female snowboarder whose bone structure should be nominated for some beauty Olympic game.
She has won 5 X Games medals including one gold. She's a head spinner — quite literally. 
In 2015 O'Brien became the first women to successfully land a Backside 900 trick in X Games competition. The 30-year-old stunner is also quite the poet. Her Instagram bio reads, "born of dark water, daughter of the rain and snow." Sigh.
10. Karen Chen, figure skating
Karen Chen is just 18 and she's the reigning US national champion. This California girl with Taiwanese roots is not just pretty — she's also an author and artist. 
Cute as a button, this little over 5 feet skater are what your anime dreams are made of.
She might as well have stepped out right out of a teenage movie — with her dark hair and Instagram account with the girl next door aesthetic on point, she would fit right in.
If you have any views or stories that you would like to share with us, drop us an email at [email protected]