'Tammy has been switched': Lori Vallow and Chad Daybell shared chilling texts hours after alleged murder Warning: This article contains a recollection of crime and can be triggering to some, readers' discretion advised
MADISON COUNTY, IDAHO: In a dramatic court revelation, it was disclosed that Lori Vallow and Chad Daybell exchanged numerous affectionate text messages, discussing their future plans, just 24 hours after the alleged suffocation of Daybell's wife. On Monday, May 8, FBI agent Doug Hart testified that the couple had clandestinely arranged a date when Daybell abruptly texted Vallow with "big news" regarding his wife, Tammy Daybell, claiming she had been "switched" and possessed by a demonic entity.
Vallow, 49, and her fifth husband, Daybell, stand accused of a sick plot, fueled by their 'cult' beliefs, to 'mercy kill' JJ Vallow, 7, and Tylee Ryan, 16, in Rexburg, Idaho, in September 2019. In addition, they also face charges for Tammy's death in October 2019. Prosecutors claim Daybell's first wife, Tammy, who they first believed died of natural causes but later found dead due to asphyxiation, was murdered by the pair for Social Security and insurance funds. At the time, the children were reported missing until their dismembered and burned corpses were discovered on Daybell's property in June 2020.
RELATED ARTICLES
Summer Shiflet: Lori Vallow's sister slams 'cult mom' for 'dancing on beach' while her children were buried in ground 'like trash'
Audrey Barattiero: Friend makes chilling allegation that 'doomsday mom' Lori Vallow threatened to 'cut her up and bury her remains'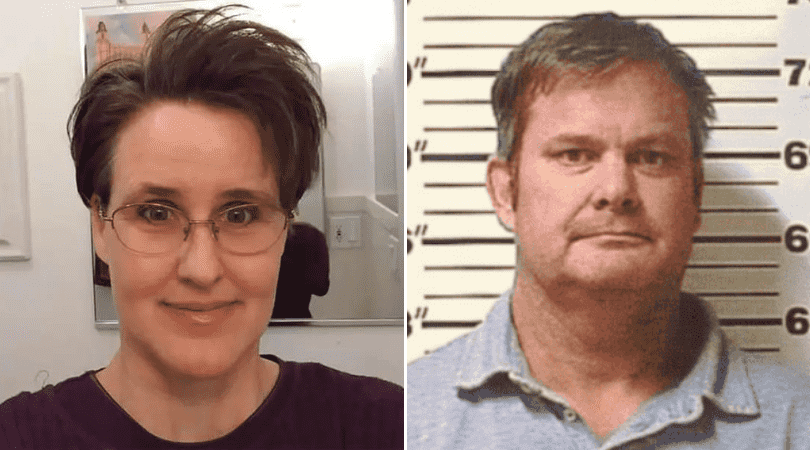 'Lori Vallow and Chad Daybell's texts revealed'
Agent Hart, who testified about the contents of Vallow's seized iCloud account during her trial, revealed the pair exchanged texts expressing their longing for each other. Daybell even mentioned that it was "baby night" and invited Vallow to pick him up later. Text messages revealed that on October 3, 2019, before Tammy's death, Daybell eagerly texted Vallow about an upcoming date. The following day, Vallow informed her brother, Alex Cox, about the date. "We are supposed to go on a real date tonight, but we are discussing it," she wrote. "So excited to go on a real date tonight we are discussing it. Perhaps an evening at home would be better so we're not out and about."
Daybell then texted Vallow with "big news" about his wife, Tammy. "Hello sweet angel. Big news about tammy. Please let me know if you're awake" He went on to write, "Tammy has been switched. Tammy is in Limbo, and a level 3 demonic entity named Viola is in her body." "Not fully sure of the timing for removal, but once her actions verify the differences, I don't want to wait," as per Daily Mail. In the 24 hours after Tammy died, Daybell and Vallow were already texting, telling each other how much they miss them. "I'm feeling sad, but it isn't for the reason everyone thinks," Daybell wrote the morning after his wife's death.
Daybell sent Vallow a text about the death percentages. "Percentage in body - Holsor 24, Ukola 11, Grisome 14. Great job on lowering them," he texted Vallow, adding, "I loved talking with you. It is baby night so come get me later," he added. "Missing you so much. I can feel you in bed with me, though. Can't wait to hold you tightly every day and night." Vallow gushed, "I'm missing you more!! I need you desperately! I can't wait! That would be great. What about the idea of you coming here Thursday or Friday. Or do u want me to come home?"
'Lori Vallow and Chad Daybell wanted to cause pain to the children'
During Monday's testimony, Hart revealed that Vallow and Daybell had chillingly discussed causing pain to children and giving them a reason to scream if they misbehaved, prior to the children's deaths. The seized iCloud texts from Vallow's accounts indicated that she had messaged Daybell about her niece's children being possessed in July 2019. In another exchange, Daybell, the alleged leader of their doomsday cult, informed Vallow that he had "turned up the pain" on her daughter, Tylee, and "placed a spiritual virus in her."
The texts also referred to a trip Vallow took with her niece and her two children, referred to as the "3s" by Daybell. It remains unclear if Tylee was present on that trip. The "3s" represented the couple's distorted rating system for individuals they believed to be possessed. Daybell allegedly then texted Vallow, asking if she wanted him to 'cause pain' to the two 3s she was riding with. Vallow told Daybell to hold off but added that if they started acting up again, "we can zap them."
'We'll at least give them a reason to scream!'
Daybell agreed and said, "If they are going to act up, we'll at least give them a reason to scream." Hart told the Ada County Courthouse in Boise that the "references to hurting children and giving them a reason to scream are relevant." He confirmed that he never saw any messages that depicted Vallow protesting harm to anyone. He revealed that messages between the pair show that they were plotting the killings of her then-husband, Charles Vallow, her kids, and Daybell's wife.
Vallow and Daybell are charged with murder in connection with the deaths of JJ and Tylee and conspiracy to commit first-degree murder in the death of Chad's late wife, Tammy. In addition, Vallow is facing additional conspiracy to commit murder charges related to the death of Charles, and she will face trial at a later date in Arizona.
Share this article:
'Tammy has been switched': Lori Vallow and Chad Daybell shared chilling texts hours after alleged murder