The US army has lifted its waiver on recruits with a history of these illnesses, but not everyone's convinced it's a good idea
Following a mandate that required the army to acquire 80,000 recruits by September 2018, the army has lifted an eight-year waiver and will now accept recruits with a history of mental illnesses.
Back in February, it emerged that the US Army was planning to spend $300 million in bonuses and advertising in a bid to attract an additional 6,000 soldiers to fill out its ranks. Rising global tensions saw legislation approved by both Congress and Barack Obama meant that the number of required recruits went up from 62,500 to 68,500; the largest
in-year increase in the history of the all-volunteer force that dates to 1973.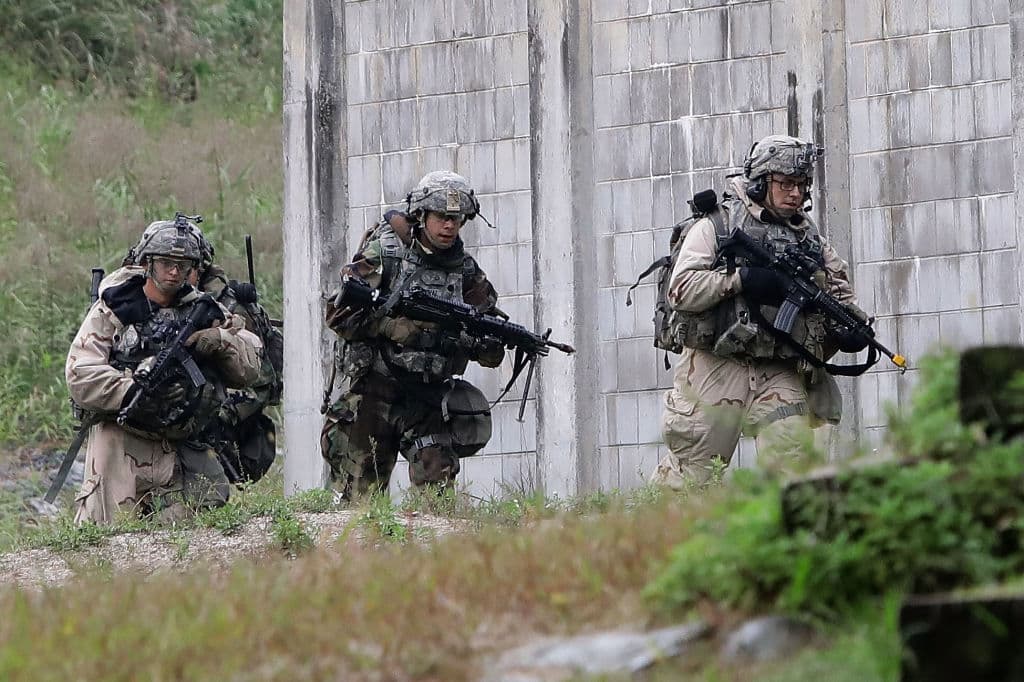 At the time, Maj. Gen. Jeffrey Snow, who leads Army Recruiting Command, had assured those concerned that standards would not be lowered to recruit sub-par soldiers. However, to meet this goal, the Army had to accept those applicants who fared poorly on aptitude tests, increased the number of waivers granted to those with a history of marijuana use, and offered hundreds of millions in bonuses.
The revised recruitment goal for this year meant that the Army had to recruit 80,000 new soldiers by September 2018. Now, news has emerged from Washington that the Army has relaxed its standards so that people with a history of 'self-mutilation,' bipolar disorder, depression, and drug and alcohol abuse can now seek waivers to join.
Furthermore, it soon became evident that the Army signed off on the policy as far back as August, but never announced it. The army had issued a blanket ban on waivers for the aforementioned individuals in 2009 following a string of suicides amongst the troops.
Explaining the decision to renege on the previous ban, Lt. Col. Randy Taylor, an Army spokesman, told USA Today that expanding the waivers on those with mental health issues is now possible because of advancements in technology that mean the Army has more medical information about each potential recruit.
The controversial decision drew mixed reactions from various quarters. Dr. Joel Dvoskin, a clinical psychologist and assistant professor in the University of Arizona's Department of Psychiatry was of the belief that the decision was a step in the right direction.
He told Fox News: "The label of mental illness is meaningless. There are a ton of people who have a history of something – some kind of emotional trouble – and they are fine. There is no reason in the world they couldn't serve in the military." He even added to suggest that mental illness might make these future soldiers 'tougher and better.'
Unsurprisingly, the decision drew quite a bit of flak. Craig Bryan, executive director of the National Center for Veterans Studies at the University of Utah, was quoted telling Fox News that he was shocked and that the decision contradicted everything they had been working towards the past 10 to 15 years.
Elspeth Ritchie, a retired psychiatrist from the Army and an expert on waivers for military service, feels accepting recruits with a history of mental illness presents risks. Many returning soldiers suffer from PTSD, and Ritchie is of the belief that those who previously have had mental health problems are more likely to have those issues resurface than those who do not.
Army officials will undoubtedly defend their position by claiming that these potential recruits are vetted thoroughly. According to a September memo to commanders, applicants with a history of mental problems must provide 'appropriate documentation' to obtain the waiver.
These requirements include a detailed statement from the applicant, the appropriate medical records, evidence from an employer if the injury was job-related, photos submitted by the recruiter and a psychiatric evaluation and "clearance."
Taylor suggests that the new reform had already been successful, with 'meritorious cases' found of many highly qualified applicants who had previously been disqualified because of events that may have occurred when they were young children.
While the merits and demerits of the decision can be debated to no end, what's obvious is that it has come to public light at a very poor time. The Texas church massacre is still fresh on the minds of Americans, and the shooter in the incident, Devin Patrick Kelley, had a history of violent behavior and mental health problems.
He tried to smuggle weaponry into his air force base to threaten his superiors and was subsequently admitted to a mental health facility; from which he then managed to escape. He had also beaten and injured his wife and daughter; an offense that saw him court-martialed and eventually discharged from the Air Force.
The Iraqi incident of 2006 also comes to mind. An Iraqi girl was raped and her family killed by US soldiers, one of whom required waivers for minor criminal activity and poor educational background to join the Army.
Recruitment has always presented problems when the economy is strong. To attract recruits, the Army began offering more bonuses to those who sign up for service. These bonuses can go up to as much as $40,000 in hard-to-fill military specialties.
It emerged that in the fiscal year 2017, the Army paid out $424 million in bonuses; compared to $284 million in 2016 and just $8.2 million in 2014. They did not respond to USA Today's query about how many waivers have been issued since the policy change.
If you have any views or stories that you would like to share with us, drop us an email at writetous@meawwworld.com