Ted Bundy's ex Sandy reveals serial killer 'choked' her during sex and 'laughed' as he tried to drown her Warning: This article contains a recollection of crime and can be triggering to some, readers' discretion advised
One of Ted Bundy's former girlfriends, who only identified as Sandy, recalled the horrors of dating the serial killer in her interview aired on the new true crime docu-series, 'Violent Minds: Killers on Tape', based on the recordings of Dr Al Carlisle. In her account, Sandy revealed that Bundy held her underwater and laughed while attempting to drown her. She also said that the serial killer left her "frightened" when he choked her during sex.
The docu-series showed that Dr Carlisle tracked down Sandy alongside other people who knew Ted Bundy to discover the origin of the serial killer's violent tendencies, as per Fox News. The latest information on Ted Bundy came after several experts remembered the serial killer while drawing similarities between him and Idaho murder suspect Bryan Kohberger earlier this year.
READ MORE
How is Ted Bundy linked to UI massacre? Nancy Grace reveals chilling TRUTH about 1978 sorority killings
'Is taking human life OK?': Bryan Kohberger's mom wrote AGAINST Ted Bundy's death penalty in 1989 column
Dr Carlisle examined Bundy at the request of the court after the latter was arrested in 1975, Fox News reported. Although the true nature of the serial killer's crimes was unknown at the time, Carlisle spoke to him for 20 hours during psychological assessment and believed that he was much more dangerous, the publication noted.
In addition to Bundy, the Utah State Prison psychologist interviewed many criminals like Arthur Gary Bishop, Manny Cortez, and the Hi-Fi killers, among others. Following Dr Carlisle's death in 2018, his family discovered more than 650 hours of inmate tapes, some of which included studies about Ted Bundy, Fox News reported.
'He just laughed'
An account of Ted Bundy's former girlfriend, Sandy, opening up about her experience of dating the serial killer was broadcasted on the premiere episode of the Oxygen docuseries, 'Violent Minds: Killers on Tape', The woman said that she dated Bundy when she was a college student in the '60s and recalled how the serial killer attempted to drown her when they went on a picnic date by the river where they often went swimming.
"That's when he was dunking me in the water," Sandy recalled. "It's playful up until the point someone is trying to get away to get air, he just laughed." Sandy also revealed that she was "frightened" after Bundy choked her during sex.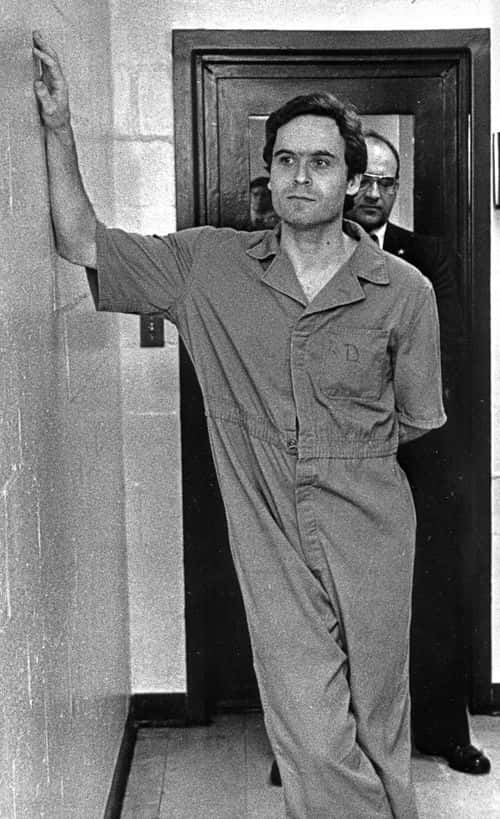 In his tapes, Dr Al Carlisle said that Sandy's account was one of his "first indications" that Bundy was getting violent, Fox News reported. "He can't control himself when he's having sex. He's choking and so, yeah, I'm seeing violence developing," Dr Carlisle mentioned.
He went on to explain, "It was clear that Ted was not the normal college student he wanted others to see him as. He had been aggressive in putting his arm over his sexual partner's throat and choking her during sex. [It] bordered on homicide."
Dr Carlisle's assistant reveals Ted Bundy was 'horrible'
Dr. Carlisle's assistant Carrie Anne Drazewski-Keller also appeared in the 'Violent Minds: Killers on Tape' docuseries to discuss about the nature of Ted Bundy's crimes. "The depth of Bundy's depravity was not fully expressed to the public at the time of his killings," she told Fox News Digital.
"The reality is he was horrible. He was a necrophiliac. He was a Jekyll and Hyde who appeared as a super great guy but transformed into this terrible monster who did terrible things to you after you were dead," Drazewski-Keller added. She went on to say, "Dr. Carlisle wanted to understand what would drive someone to take such a dark path. He truly believed everyone was good."
"It's very interesting. You have [Bundy's] mother saying, 'Oh, he's my precious baby boy,' and then you have the girlfriend saying, 'He held my head underwater for too long,"' the assistant commented on Sandy's experience. The docuseries 'Violent Minds: Killers on Tape' premieres on Oxygen True Crime on April 2 at 7 PM ET.
Ted Bundy shoved another ex-girlfriend into the water
Another one of Ted Bundy's ex-girlfriends, Elizabeth Kloepfer, previously recalled in her book titled 'The Phantom Prince: My Life with Ted Bundy', that the serial killer once shoved her into the water. She said that the incident happened when Bundy's anger was on full display during a rafting trip, E! News reported.
Kloepfer shared that she was suddenly shoved into the water while she was sitting on the edge of their rubber raft while staring off into the distance. "Ted lunged at me, put his hands on my shoulders and pushed me into the river. The plunge into the icy water took my breath away," she wrote.
The woman further recalled, "I came up sputtering and grabbed the rope on the edge of the raft, too dazed for the moment to do more than hang on. I looked up at Ted and our eyes locked. His face had gone blank, as though he was not there at all." She also noted that Bundy told her it was "no big deal" and that the shoving was a joke.