This 10-year-old fighting a life-threatening condition is running a successful bath bomb business and inspiring others
You go, kiddo. You're awesome!
She was only 11-months-old when she was diagnosed with type-1 diabetes. Her parents couldn't believe their ears when they were given the shocking news about their daughter's condition.
With their life turned on its head with the news, the girl's parent's struggled to keep their young girl alive, despite the revelation of a life-threatening condition that had a far-reaching impact than the little one realized at the time.
But what the little girl's parents did not know at that moment was that their young one wasn't just going to survive, but strive to become an extraordinary woman of incredible acumen—both emotionally and mentally.
A native of New Bedford, Massachusetts, today Hannah Grace Walsh is 10-years-old and perhaps one of the youngest entrepreneurs in the world. She is the founder of her brand of her own line bath bombs that primarily entail production of soaps and bath bombs that, as we are writing this, are selling like hot cakes across three states in America.
A child prodigy
As Hannah was growing up, her parents were quick to take note of her limitless potential and determination that made her stand out in the crowd. Headstrong from quite a young age, Hannah was a strong believer in never giving up on her dreams and strived relentlessly towards what she desired.
Hannah's father would often end up telling her that she would become a CEO or an entrepreneur someday in the future, as long as she would use her powers for good.
And boy, did she manage to do it! And at a young age, too! 
It all started on New Year's Eve day in 2016 when her family was traveling to Hannah's favorite health and beauty store. At the store, her father turned to Hannah and gave her a challenge that changed the course of her life. He gave her the task of making the same products she loved so much and sell them herself, believing that she could do a better job at it.
"My dad thought I could make these and it worked," she said.
That same day, Hannah ended up researching on all the necessary ingredients to make bath bombs (her favorite health and beauty product) and later that week, she began making her first set of delectable bath bombs. Within few weeks time, she ended up putting her products on sale at a local gift shop.
Today, her bath bombs are selling everywhere and are retailed online and well as across 14 retail outlets in America.
"They're really selling well," Shelley Cardoos, the owner of Hippo, a local store that offers hand-made goods and independently designed products revealed in an interview with South Coast Today. "She's had to come in several times to replenish," she added. 
On being quizzed about her favorite one from Hannah's collection, Shelley said: "I did try the bath bomb and it's excellent. It was grapefruit and lime scented called refreshing," she added further.
Hannah takes up to 30-40 minutes to produce her bath bombs in several flavors that range from 'paradise,' a bath bomb reminiscent of Hawaii that also hides a little trinket inside to orange cocoa butter—each product promising to give consumers a luxuriant and fragrance-fuelled bathing experience like never before. She promotes her products through an Instagram page and a YouTube channel.
Hannah's enterprise is called BeYOUtiful—she is of the strong opinion that being beautiful means being yourself, no matter what challenges may come your way. Only 10, Hannah is a living example of how difficulties cannot break you as long as you know how to make the best out of them and not allow them to whittle you down.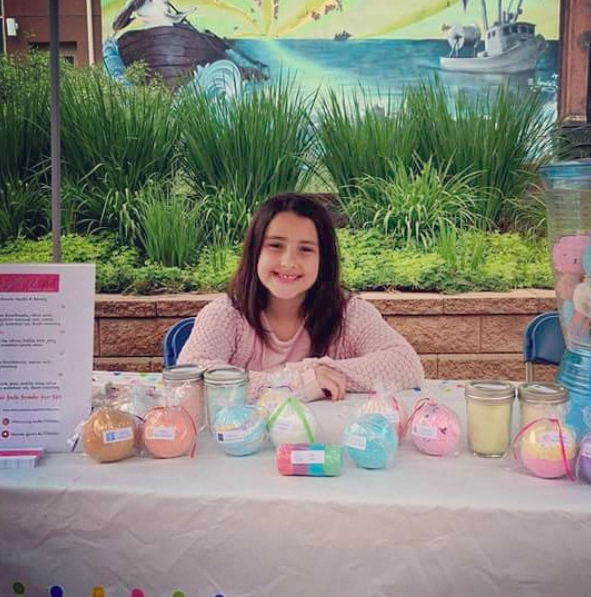 However, the little one isn't all about the business. Hannah has donated more than  $1000 to several charities and has committed to donate 20% of her web sales to JDRF—a charitable organization dedicated to funding type-1 diabetes research.
With big plans and even bigger goals set in mind, Hannah is all set to expand her soap business to create a line of natural, handmade beauty products under Hannah Grace BeYOUtiful and reach out to other parts of the globe.
All we can say is we are mighty inspired by the little one.
Watch her complete story in 60 seconds here:
If you have any views or stories that you would like to share with us, drop us an email at writetous@meawwworld.com