Sophia Hadjipanteli, the pioneer of the trending unibrow movement, is challenging beauty stereotypes
Letting the unibrow do the talking while giving zero hoots to what the world says
Apart from her piercing blue eyes, sharp features and full lips, there's another very prominent feature that people notice about Sophia Hadjipanteli—her unibrow.
---
Add me on snapchat: sophia.hadji pic.twitter.com/3QEzAtydq1

— Sophia Hadjipanteli (@hadjisophia) 4 February 2017
---
Breaking the glass ceiling and flying high, Hadjipanteli, a 21-year-old marketing student, enjoys the attention of more than 153k followers on Instagram, with one section of her audience who can't get enough of her statement-making unibrows while the rest who can't stop slamming her for the 'apparent' beauty faux pas. 
---
Snapchat: sophia.hadji pic.twitter.com/OByoGmGeYp

— Sophia Hadjipanteli (@hadjisophia) 7 February 2017
---
"It's laughable at first. I was a little taken aback because the attention I did get online did come all at once for me [though]. I was put on the Instagram explore page one day when I was going to a motocross show-right before I posted this selfie and it reached, like, a million people, and there were hate comments I've never seen in my life before," Hadjipanteli told Ladbible.
"That day I remember feeling really down. It took me quite a few months to understand why people have this [disposition]," she recalled.
But the negativity did not stop the college student and model from rocking the unibrow with aplomb in real.
---
I'm sorry for tweeting pictures - "this isn't Instagram" but I am a rebel whtvr pic.twitter.com/WirMZqEbvi

— Sophia Hadjipanteli (@hadjisophia) 4 April 2017
---
"I am not really doing this to show people that they have to like [my unibrow], I am more so doing it to show people that they can get on with their lives by having a preference. I personally think my face looks better this way. Others disagree, and that's totally cool," Hadjipanteli told Harper's Bazaar. "I am not trying to get anyone on the unibrow bandwagon. If I like this, just let me like this," she added. 
Brimming with confidence and making the most of her distinctive facial features, Hadjipanteli, who grew up in Maryland with a Cypriot father and a British mother, took a long time to come to this stage of self-assuredness. 
According to a profile on Vice, Hadjipanteli was bullied by her peers at school, among whom she always felt like an outcast.
"Growing up, I was always different," she told Vice. "I was known to have really quirky outfits — and I was really bullied for it. I hate to throw that word — bully — around because it's so loosely thrown around these days, but it was so horrible in high school," she recalled.
But Hadjipanteli has learned how to live among the haters and still thrive like a swan among crows, without letting the negativity get to her. 
"Even at the time I was deciding to let my eyebrows do their own thing, it really was a stubbornness thing, like: 'Well, I like myself and I don't know why I have to do this if I don't like it,'" she explained.
---
i get it okay, twitter isn't instagram WE ARE ALL OUT HERE TRYING KIDS 😂 pic.twitter.com/3vwna6mDhe

— Sophia Hadjipanteli (@hadjisophia) 31 January 2017
---
"And I guess that is how it is for a lot of people. But if anything, it just made me want to wear even quirkier things because I did grow up in a really conservative area in Maryland, so I think that sort of stubbornness has followed me through to this day," Hadjipanteli asserted.
Letting the unibrow 'do their own thing'
On prodding her about the origin of her bushy eyebrows, Hadjipanteli told Harpers Bazaar that it was in her genes. "If you're in a family where your brother and dad also have really nice eyebrows, you're never really self-conscious of having thick eyebrows," she stated. 
However, what irked her was the maintainence of the eyebrows that had her twitching in pain.
"I think it was about two years ago-I just kind of decided to stop [waxing them]," she told Ladbible. "I don't think it was anything in particular that happened that made me want to boycott doing my eyebrows, I think it was just a preference thing," she added further.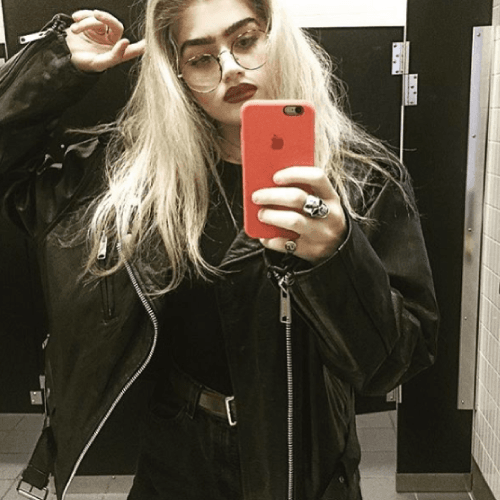 All of this proves that, besides the occasional troll and death threat, Hadjipanteli has successfully beaten the odds and thrived by just being herself.
"I'm constantly asked, 'how do you deal with the negative criticism?' Definitely, take this at face value-but a part of me loves having that control over someone that they get so annoyed and mad," she responded.
But Hadjipanteli isn't here to make just a fashion statement—she is here for the long haul and is determined to aredefine the rules of beauty and makeup.
"I think beauty in itself is great because it's so subjective across cultures but I also think there's a big community that shames people for certain types of beauty and I think that's wrong. So instead of just getting rid of beauty standards, it should just be more inclusive," Hadjipanteli asserted.
"There's nothing wrong with filling in your eyebrows and plucking them-nothing wrong with that at all, it's gorgeous. But I think there needs to be the change when the people are so fixated on the one beauty [norm] they pursue and they're not accepting of what someone else wants to do," she added further.
"They don't [even] really need to be accepting, but they have no right to bash them and make them feel like any less of a person. I just want to continue this thing about accepting people's preferences, not bashing people. I think the Internet has been a bit too mean these days," she concluded.
You do you, girl!
If you have any views or stories that you would like to share with us, drop us an email at writetous@meawwworld.com