8 awesome maternity photo shoots that will make you go wow!
Motherhood is a magical phase of life. Maternity photo shoots have become the latest thing to celebrate this joy and create memories for life.  A lot of thinking and planning goes into a maternity shoot and since these are special moments, people go a long way to commemorate them.  These 8 photo shoots are beyond beautiful: 
Also read: Shamed for breastfeeding in public, these mothers share their stories in these gorgeous pics
#8 Muddy much?! 
This is a photograph captured by the photographer Elaine Baca showing Brittany Barton, her husband, and two sons playing in the mud. This was not Brittany's original plan, but she had to think of something quickly due to the unforgiving rain. "In Waxahachie, Texas, when it rains, it pours. In the weeks leading up to the maternity session, the rain was relentless." It was definitely one heck of a muddy maternity shoot!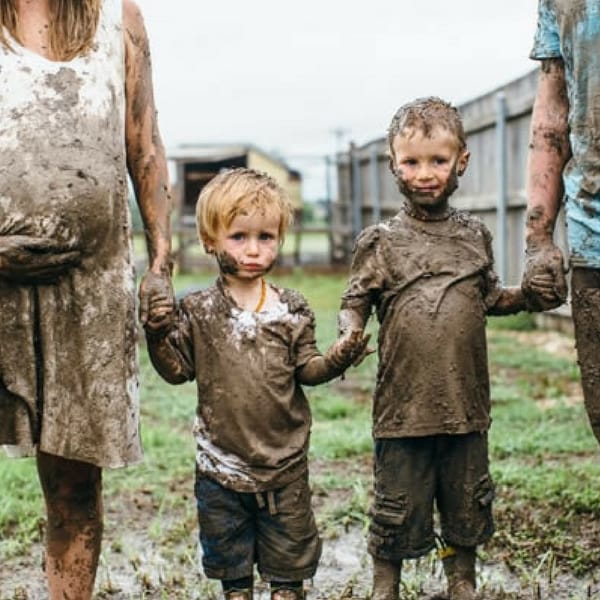 #7 Children add color to life
Jessica had six miscarriages after the birth of her first child, but by August 2016, she had reached the third trimester with a baby girl. Of course, this was her miracle baby and she called her Rainbow (defined as a child born after a miscarriage, stillbirth or infant death, like a rainbow following a storm). Jessica's husband hired photographer Joan Marrero and the photo shoot was absolutely breathtaking. 
#6 Photoshop used in the right way
Brandon Philips was deployed overseas with the Air Force when his wife Veronica was pregnant with their first child. Veronica wanted to include Brandon in the maternity photo shoot and had to resort to Photoshop to combine two pictures of them. She wanted to shed light on the reality of pregnancy in military families. The photo shoot led to some very emotional pictures. 
#5 Every princess deserves a beautiful photoshoot
Vanessa Firm, a Brazilian photographer, has been photographing moms posing as popular Disney princesses. The photographer re-imagines what it would be like if princesses experienced motherhood to create some surreal, stunning photographs. 
#4 An expectant dog has a photo shoot too!
This dog owner Elsa believed that her dog Fusee deserved a great maternity shoot. Eight weeks into Fusee's pregnancy, Elsa asked her sister's boyfriend to photograph her and Fusee for the maternity shoot. 
#3 This mom had the perfect place in mind for her photo shoot
Page Miller chose the popular store Target as a location for her maternity photo shoot. Page, who is a photographer herself, asked her friend Heather Pippin to take her maternity pictures in a place that was beyond well known to families. She posed alongside her daughter Avery in a very creative photo shoot! 
#2 When you take your pregnancy underwater...
Adam Opris, a photographer from Florida, went underwater with expectant moms for his latest project. The women looked absolutely beautiful with their flowing hair and natural glow. The photos had an intimate and romantic touch to them. 
#1 Posing with bees
A 33-year-old mother from Ohio, when expecting her fourth child, decided to do a one-of-a-kind photo shoot. She posed with a four-pound swarm of bees on her belly. Mueller made a career out of saving bees in Akron and its surrounding areas after suffering a series of miscarriages. For the photoshoot, she had the help of her husband and Kendrah Damis Photography. 
If you have any interesting stories to share and would like a chance at having it published or any feedback, you can email us at writetous@meawwworld.com