Trailblazer: Oprah Winfrey spoke of domestic abuse, gender biases and mental health when it was taboo
Oprah initiated the mass dialogue about many taboo topics such as sexual abuse, domestic violence, living with HIV, the social issues of being a part of the LGBT community, etc.
Long before it became fashionable to read self-help books or follow a new-age guru on social media and share their witty aphorisms, Oprah set the stage, literally, for people from all walks of life to come step forward and take charge of their own lives. The Oprah Winfrey Show spanned over 25 seasons and received over 47 Daytime Emmy Awards! Oprah is more than just a self-made billionaire, media mogul or passionate award-winning speaker.
Behind the larger-than-life persona is a girl from a town that had no electricity. It's this little girl's resilience and fierce battle with reality that makes her a tireless champion of self-reliance, who urged millions of participants and viewers to rely on no one but themselves first to make their lives better.
First of the lot
Imagine a woman, a woman of color in that, taking over prime time by getting a bunch of strangers to open their hearts to millions of viewers. While the Oprah Show didn't have a dearth of tears, laughter, secrets and betrayals, breakups, renewed vows, and new friendships, it was much more than a caricatured drama that reality TV is now.
The stories of abuse, survival, courage, and hope made a difference to all those in the room and broke the stigma around reaching out for help. It also paved the way for conversations about mental health, sexual abuse within families, gender biases, domestic violence at a time it wasn't considered cool or critical to talk and shed tears about it.
Opened a mass dialogue about abuse 
About four decades before her famous "Times-up speech" at the 60th Grammy Awards, Oprah had already sparked a vocal revolution. She helped thousands of women and men break the silence and come forward to talk about physical, emotional, and sexual abuse. What individuals revealed in the closed room of a therapist's clinic became the script of a TV show.
Raw, often unedited, and real, the stories of women being battered behind closed doors; male and female children being molested by their own dads or uncles; wives shooting abusive partners and all grey stories that the country safely chose not to hear were now part of their daily conversation.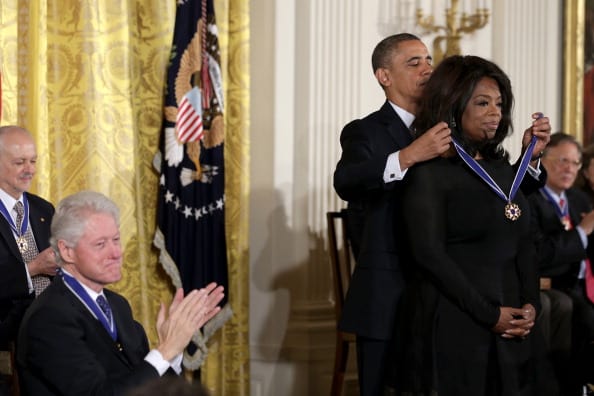 Dealing with shame
Having been a survivor of abuse and rape and having giving birth to a child at 14, Oprah knew how crippling and toxic shame can be. Unlike other talk-show hosts, Oprah brought to light stories of everyday heroes who faced abuse, cruelty, violence, and oppression with an earnestness that went beyond TRP goals. Therapists and mental-health experts know how the secrecy around the abuse is often more piercing and scarring than the actual act because of the sense of shame the victims carry.
Oprah broke through layers and layers of collective denial that we as a society had developed and gave way for the oppressed to find a voice, encouraging the millions watching from home to reach out for support. She also played a powerful role in helping the collective conscious shift the responsibility and guilt of abuse to where it belongs: the abuser.
Broke taboos: HIV, LGBT, incest 
Remember the episode where Ellen DeGeneres came out as gay on the Oprah Winfrey Show? It was 1997. Today, if a person comes out a gay, it's met with mixed reactions. Back then, Ellen did it without knowing how it would impact her life and her career. Oprah, who was sitting in front of her, was quoted to have said "I'm so proud to be a part of this. I'm so proud" with tears rolling down her cheeks.
Oprah made the public and medical/social communities open to a wide range of minority groups including the LGBT community, those living with AIDS (including an 11-year-old child), victims of hate crimes and members of ethnic and cultural minorities.
Celebration of female friendships and women
Right from chatting with her best friend, Gaile King, discussing the mysteries of the mind with therapists and healers, to talking business and policy-making with leaders, first ladies, and gathering insights from the lives of the rich and the famous, Oprah emphasized the importance of sharing laughter and soul-talk with girlfriends as a form of healing.
Remember the time Rihanna broke down over the Chris Brown episode, which then led to an in-depth discussion over domestic violence? Or, how she fiercely stood by a woman who had shot the guy that had sexually abused her child? It's in little moments like this that she sends a silent message to women that they aren't alone. That they might be weak, vulnerable, and confused, or might have even slipped by giving into their rage, but that they aren't alone.
Spirituality without the frills
Oprah was the first to bring in experts from fields that were then not considered scientific or hep in the Western society. These conversations with spiritual leaders and healers later evolved to become "Soul Sundays" and "Master Class."
But back then, when being in the present moment or listening to the voice in your head was received with raised brows and skeptical looks, Oprah went right ahead to discuss strategies to make everyone have a glimpse of the peace residing within. Much of these conversations introduced practices from religions and cultures around the globe.
She encouraged resilience rather than victimhood
If there is one word that comes to mind when we encounter Oprah, it's "tough." Not cold and impenetrably tough, but warm, real, and approachable, yet tough. Having been through physical abuse as a young child and molestation and rape as a little girl and teenager, Oprah's words of wisdom, confronting questions and compassion comes from having been the hardest of spots and knowing first hand what it is to feel like a victim.
So when she began talking to people on her shows, she sparked the same spirit of resilience and self-dependence in them. She knew it was hard for them, just like it was for her. But she told them, you can do it because nothing is more powerful than the decision you take this moment. That's therapy, right there. 
Gratitude
Remember this episode?
There are over a 100 new-age books on gratitude and how this single act can change your life. Whether it be owning a 50-million worth home, a private jet or having her muffins flown in from her favorite bakery across the state, Oprah lives big and in style. She attributes much of her success to a daily routine of gratitude, a habit she has held onto for nearly three decades.
Self-help requires believing in yourself and knowing things can change even when the odds are against you. And who better to kick-start this mass movement of self-help than the one who turned from a girl who wore a potato sack to school to the one who is one the top self-made billionaires, celebrities, and philanthropists of all times?
If you have any views or stories that you would like to share with us, drop us an email at writetous@meawwworld.com