Meet Minnie Beau, the tiny pageant queen who has a $20,000 wardrobe to her name
While many have slammed the mother for her parenting, Jas has a different perspective to offer on why she does, what she does.
We all know of parents who pamper their little ones to make them feel extra special. But Jas Sullivan went an octave higher and splurged higher than most parents on her daughter for one purpose alone—to make her daughter a beauty queen.
Up till 2015, single mum Sullivan, 26, had splurged over $27934 to change her four-year-old daughter Minnie-Beau lifestyle, by making her wear $20000 worth designer clothes, along with fancy hair extensions and full make-up, getting her ready for beauty pageants.
Today, Minnie-Beau is making heads turn with her presence and winning beauty pageant titles with her signature pout that sets her apart from her competitors.
Glamor, glitz, and fashion—life of a toddler beauty queen
Unlike many toddlers her age, Beau is living a queen's life—quite literally. One glimpse into her flamboyant wardrobe and you will know what exactly we mean.
Sample this: Beau's beauty pageant wardrobe includes two-piece bikini sets, along with extravagant ruffled dresses and $1400 worth of gold jewelry, to name a few of her essentials.
However, Sullivan, a carer from Plymouth, has had her share of brickbats, with several people questioning her parenting methods, accusing her of being a 'bad parent.' 
"I know some people don't agree with it but haters are going to hate. Everyone's going to have their own opinions, and my opinion is my daughter was not too young to have her ears pierced," Sullivan stated.
In her opinion, the money she has spent on her daughter is worth it all and she has no regrets. "I've spent probably around the price mark of twenty thousand pounds on Minnie and she's worth every penny. She is spoilt but she's not a spoilt brat and she appreciates everything I give to her," Sullivan explained, adding, "she got her pout from copying me and now everyone knows her for it; her personality is amazing."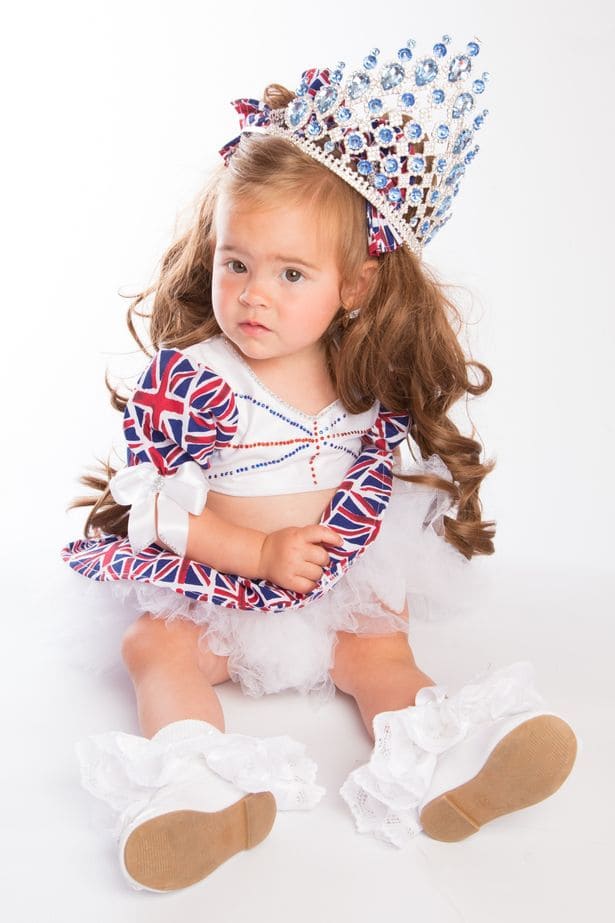 On first glance, it surely may look like Sullivan is definitely spoiling her child and giving in to the demands of her young one. But scratch the surface and one finds the story of a determined mother who decided to do everything to make her daughter feel like a queen, despite having no support from either a partner or her family. "Before I had Minnie, you could say I was a bit of a wild child, out all the time drinking with friends and all of my money went on that. Now that I have Minnie, every penny I have goes to her and she's completely changed my life for the better," Sullivan explained.
---
Is Minnie-Beau Plymouth's most pampered princess? https://t.co/IcSbT3oEnO pic.twitter.com/rRtgnOgCOm

— Plymouth Herald (@PlymouthHerald) 20 October 2015
---
Sullivan, who was unexpectedly pregnant with Minnie when she was 21, had quite early on begun preparing to make her daughter ready for the glitz and glamour of the fashion and beauty world. Sullivan had reportedly spent approximately hundreds of dollars in the beginning on Beau's wardrobe, that included her $419 worth christening dress.
Thanks to her mother's efforts, Beau was able to participate in a beauty pageant when she was just 18 months old after Sullivan saw a TV show about pageants. Not surprisingly, the little star impressed the jury members with her dolled-up avatar replete with hair and eyelash extensions and $838 worth of dresses, including a full repertoire of makeup which included eyebrow pencil, blusher, and coral lipstick, winning the titles of Division Supreme Queen, Best Dressed and Best Personality.
Since her first win, Beau has participated in eight more competitions up till 2016, winning hearts of all.
Bad parenting v. good parenting
While the mother-daughter duo is continuing to bedazzle judges and people alike with their hard work and fashion game, Sullivan's critics have slammed her for her apparent lack of 'parenting sensibilities.'
"People have said that I'm sexualizing Minnie but that's their sick thoughts, not mine. Once, somebody commented on a picture of Minnie-Beau at a pageant and asked why I was dressing my daughter inappropriately and like a prostitute," said Sullivan, adding, "this is a controlled environment, a pageant, and in my eyes, it's not at all sexualizing your child. It's all totally innocent."
Without letting the detractors get to her head, Sullivan is continuing to work on her daughter, making her ramp-ready for the future.
"I don't care what anyone says. I work hard to provide for Minnie and we do what makes us happy. She loves having her makeup applied and her hair done – straightened and curled. We're not harming anybody so what's the problem?" Sullivan questioned.
When Sullivan's mother Bridgette, 49, was asked what she thought about her daughter's 'obsession', she too, wasn't exactly rallying behind her daughter's decisions —but supports her nonetheless. 
"I suppose Jasmine does spoil Minnie-Beau by buying expensive dresses and pretty little bows but isn't that what mums are supposed to do? She kind of hides the spending on Minnie's dresses away from me but it's her money, isn't it? I don't help Jasmine financially, she's very independent and she buys all Minnie-Beau's dresses and matching accessories herself," Bridgette stated, adding in the same breath, "she's an amazing mummy."
"I afford Minnie's wardrobe and her designer clothes by working hard and all of my money goes on Minnie," Sullivan stated. "I live with my mum and I don't pay any bills. I don't go out drinking and wasting money. Minnie is my life and I'd spend any amount to make her happy," she added further.
Sullivan has been extremely diligent about her tot's ensemble and has a strict code she follows to create her daughter's closet, in order to keep Beau's wardrobe trendy and chic.
"She doesn't wear any type of trousers and I certainly wouldn't dream of putting her in jeans. I would literally walk around with holes in my clothes so she could be dressed in a beautiful designer dress. I'm quite happy for her to grow out of clothes quickly, that means more dresses for me to buy," Sullivan explained.
However, what one fails to grasp is how does the little girl manage to keep up with the exhaustion and tiring working hours that comes with the preparation of a beauty pageant?   
To which Sullivan said: "Sometimes if she's a bit tired and she's getting a bit tetchy I will give her a bit of ice cream or a teddy to hold just to cheer her up - a little bit of bribery, just to get her to sit there and let me finish."
The young mother now hopes to see her daughter continue her fashion journey and keep earning more titles to her name. With the dream of seeing her daughter compete even when she is all grown up, Sullivan promises to continue splurging on her young girl, without giving two hoots to what the world has to say about her.
Watch the story here:
If you have any views or stories that you would like to share with us, drop us an email at writetous@meawwworld.com