Born with a cleft lip, this 9-year-old girl helps other children by sewing dolls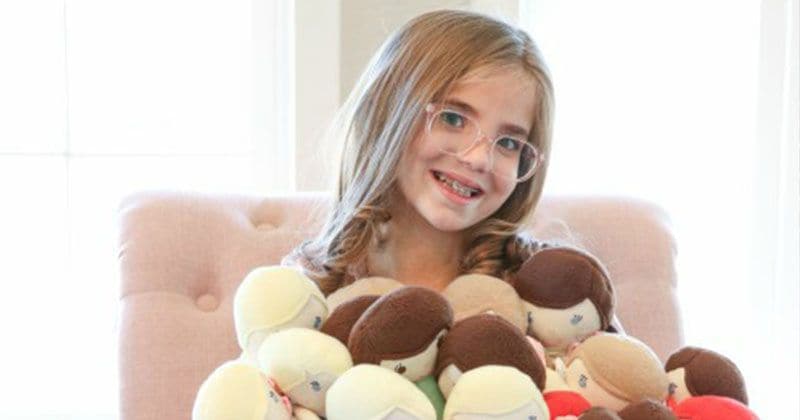 Something tells us that this little one will go on to do bigger things in life
Surgeries and other invasive medical procedures are painful. And to imagine a young child being probed and poked with sharp instruments can make even an adult flinch in pain at the very thought of it.
Charlotte Gould was born with a cleft lip and palate, and she had to undergo several surgeries to fix her upper jaw — some of which took place when she was a little baby, and others when she was old enough to remember it.
"I was born with a cleft lip and palate, which means I was born with part of my upper lip missing," Charlotte told 13 News Now, an ABC news affiliate. "One at three months old, one at nine months old, and two when I was four," she said. "It really changed my life in a lot of ways," she revealed further.
The pain is immeasurable and the agony of going through the same rigamarole of probing and poking, again and again, is unfathomable.
And the pain isn't over just yet. "I might have to have a bone graft," Charlotte added.
The little girl knew how it felt; all too well and decided to do something about it by bringing relief in the world to children who felt the deep-seated fear of surgeries and pain repeatedly—one doll at a time.
Charlotte is on a mission to bring comfort to other kids undergoing surgery through her love of sewing—she sews and sells dolls for children and a portion out of her sale proceeds are also donated to Barrow Cleft & Craniofacial Center at St Joe's Hospital, Phoenix, Arizona.
"I sew it piece by piece," Gould revealed in her interview.
Sewing for kindness
It all began when Charlotte had started to learn sewing in 2016 from her grandmother who had gifted her a sewing machine for Christmas. The first doll that Charlotte sewed was in her likeness—she had sewn a small scar over her lip like her own surgery scar.
The doll fetched her so many compliments that Charlotte began sewing dolls for other kids too.
With the help of her grandmother, who continues to teach her to date, Charlotte learned some basic patterns and began sewing like there was no end.
---
One #KidReporter Charlotte is a finalist in the "Imagine If, With @Jif" contest! She is making a HUGE difference for kids undergoing surgery w/ her business #StitchesByCharlotte. Learn more about her great work and how she would like to grow her business: https://t.co/OUqoJ0Yj33 pic.twitter.com/wuZCARpZcf

— Childsplay (@childsplayaz) 14 November 2017 
---
"I design and sew little rag dolls. I call them 'Sweeties' and call my project Stitches by Charlotte. After each doll is designed and sewn, I sell it. Half of all the sales go to the hospital and doctors that I love "sew" much," Charlotte explained in an interview with Girls with Ideas.
"A rag doll pattern peaked her interest," Nicole, Charlotte's mother, added. "And once she snuggled that doll she created to look just like her, she knew she couldn't stop at one," Nicole explained further.
Now Charlotte wants to help other kids smile through her sewing journey.
---
I just have to share this adorable doll sewn by a sweet 7 yr. old girl. stitchesbycharlotte got… https://t.co/YOpgG5720P

— Hoopla Events (@hooplaeventsnw) 12 February 2016
"This is what I'm meant to do," she said.
Read: This 10-year-old fighting a life-threatening condition is running a successful bath bomb business and inspiring others.
Nicole told Babble that her daughter often wished that at the time of her surgeries, she could have had a doll like her own to keep her company during all those pain-fuelling surgeries, which is why Charlotte is very passionate about offering her hand-made dolls to other kids who are reeling under the same pain.
---
Thank you Miss Charlotte for the sewing kit and heartwarming message! I am proud to support #StitchesByCharlotte, you are an inspiration to so many and I wish you much success. Your future is bright! 😁 #GivingTuesday #sewkindsewcharlotte pic.twitter.com/OOb9qmY04M

— Ryan Carter (@RyaCart91) 5 December 2017
---
"Charlotte vividly remembers the fears and uncertainty of her own surgeries and having something soft to hold that can help normalize the experience and explain it a kid-friendly way really resonates with Charlotte," Nicole told Babble. "She's a hard worker," Nicole added further.
Big heart. Bigger dreams
Charlotte is keen to continue doing what she does best and wants to expand her business — including expansion plans for her line of rag dolls along with upgrading her sewing machine, expanding her business, and getting her dolls into the hands of more kids who need it.
---
---
"In the near future Charlotte hopes to have a line of dolls specifically designed for children needing surgery available on her website and in pediatric hospital gift stores," her mother explained. "Each doll will come with a kid-friendly needle, thread, and instructions on how to personalize the doll to match the child's situation."
Nicole also revealed that her daughter wants to move to New York City to become a fashion designer, which does not look like an impossible feat to achieve for this kind-hearted "kid-preneur".
---
Everyone! You still have one week to contribute to these #YoungEntrepreneurs and help them on their mission to make the world a better place! ❤️🌎 @SuperEwan7, @thisamericankid, and #StitchesByCharlotte are all equally amazing role models! #ImagineIf @Jif pic.twitter.com/BVDsB5Cl4K

— Ryan Carter (@RyaCart91) 24 December 2017
---
Way to go, little one!
Watch her story here:
---
This incredible 9-year-old has sewn over 150 "comfort dolls" for kids who need surgery — and she's not stopping there! #kindness #StitchesByCharlotte pic.twitter.com/AVG0dsIc0K

— Babble (@BabbleEditors) 29 January 2018 
---
If you have any views or stories that you would like to share with us, drop us an email at writetous@meawwworld.com