During the course of Donald Trump's presidential campaign, there was one term he used time and again to discredit what he felt were negative stories about him: Fake News! On September 18th this year, the biggest purveyor of fake news and arguably the man who helped Donald Trump get elected into the White House with his inflammatory stories, Paul Horner, was found dead in his bed in his mother's suburban Phoenix home. He was only 38.
After it was ascertained that he was indeed dead and that this was not another one of his supremely well-executed hoaxes, the question on everyone's lips was, how did he die? Was he finally killed by someone who was sufficiently angered by his incessant trolling or was the cause more mundane? The answer, it seems, is somewhere between the two.
A little over two months after his passing, the Maricopa County Medical Examiner's office autopsy and toxicology results show that Horner had a mixture of clonazepam, despropionyl fentanyl, diazepam, ethanol, and furanyl fentanyl in his system.
Despropionyl fentanyl is a synthetic opioid and a known chemical intermediary used in the manufacture of illicit fentanyl, a drug, which according to the Center for Disease Control and Prevention (CDC), is up to 50 times more potent than heroin, and up to 100 times more potent than morphine.
Turner was known to have a long history of narcotics use and opioid abuse and was arrested in Chandler in 2011 when he was found to be in possession of hundreds of syringes and more than $15,000 worth of drugs, which included 247 grams of ketamine, heroin, diazepam, oxycodone, and Prozac. He would serve four months in prison.
A police report said that he was under the influence of ketamine at the time of his arrest and 'appeared to be coming down from an opiate-based high.' Investigators claim he bought and sold drugs online from places as far as India.
Turner is far from the only victim of opioid abuse, an endemic that seems to have come back in full force over the past decade. According to the CDC, a rise in the illicit manufacture of fentanyl is responsible for the fact that five times more people died of overdoses from synthetic opioids in 2016 than in 2013. In Maricopa County, where Turner OD'd, the Drug Enforcement Administration (DEA) determined that 32 had died of Fentanyl overdose in the past 18 months.
When opioid abuse and opioid-related deaths have unfortunately become commonplace in the US, why is that Turner's death is significant? It's possibly because of his high-profile status as a fake news merchant and that his incendiary pieces went a long way in influencing the contentious 2016 presidential elections. His CV on fake news articles makes for quite the reading.
His most viral online hoax was a fake Associated Press story with a controversial headline of "Donald Trump Protestor Speaks Out: 'I Was Paid $3,500 To Protest Trump's Rally". The first line of the article reads: "I was given $3,500 to protest Donald Trump's rally in Fountain Hills," said 38-year-old Paul Horner. "I answered a Craigslist ad about a group needing actors for a political event. I interviewed with them and got the part."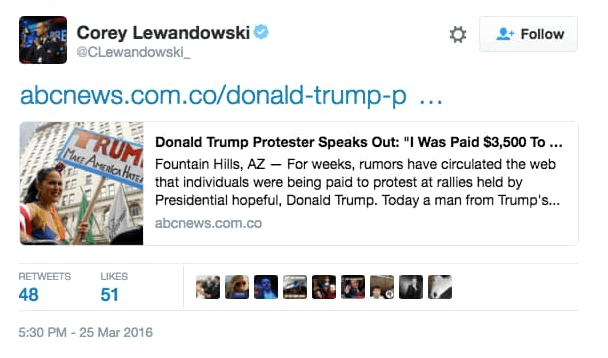 The article went on to claim that these paid protestors were discriminated on the basis of race and sex, with white males paid the highest for their services. Ironically, it even faked an interview with the founder of fact-checking website Snopes. It fooled Trump's then-campaign manager, Corey Lewandowski, who retweeted it out to his 44,000 odd followers.
Turner reportedly had a twisted motive behind each of his articles that he wanted to show the public how easy it was to disseminate false information. Of course, he did it in his own taunting and aggravating way. After his paid protestors article was debunked, he edited the article with a disclaimer which read: "I personally went to two Donald Trump rallies and I can say with 100% certainty that NONE of the protesters were getting paid. This story I wrote is mocking all of you sheep who think protesters are getting paid."
He also wrote an article with a where he appeared to be giving an interview claiming to be a former Secret Service agent who had written a book to expose the 'real truth' about Barack Obama. In the story, Horner claimed that he was '100% positive that Barack Obama is not only gay but a radical Muslim as well.' That narrative was latched on to by Trump and various other Republicans who then constantly used it during their campaign trail.