Parkland High School Shooting: 'Gun-obsessed' shooter Nikolas Cruz joked about carrying out a school shooting
The Parkland High School shooting marks the 18th such shooting in 2018 alone; the year is just 45 days old. Shooter Nikolas Cruz has been captured alive by the police and set to appear in court on Thursday.
The shooting at the Marjory Stoneman Douglas High School in Parkland, about an hour north of Miami, has so far claimed the lives of 17 innocent people, most of them, students. According to local news sources, a further 17 people were taken to nearby hospitals, with three said to be in critical condition.
The suspect in the shooting has been identified as 19-year-old Nikolas Cruz, who had previously been expelled from the high school for 'disciplinary reasons.' Broward County Sheriff Scott Israel told reporters that Cruz killed three people outside the school before then entering the premises and shooting dead a further 12. Two others died after being taken to hospitals. Reports say he was using an 'AR-15-style semiautomatic rifle' and that he had 'countless magazines.'
Israel also said that Cruz was one of those treated in the hospital and that he has since been handed over to the authorities. He was apprehended by police in the nearby town of Coral Springs around an hour and a half after he fled from the school building. Reports say he managed to make his initial escape by blending in with the crowd of students making their way out of the school during the fire alarm - which he himself had initially pulled to cause the chaos and begin the shooting.
While in most such school shootings or mass shootings in general, the culprit kills themselves soon after, this is one of those rare occasions where the authorities have managed to capture the shooter alive. Police say they are currently combing through his posts on social media and that some of the things they've come across are 'very, very disturbing.'
Said to have been studying in another school in the district, a teacher at the school said that staff had been warned to not let him back on campus. He had also reportedly been receiving treatment for a slew of mental health issues.
Cruz, whose parents are both deceased, was working at a Dollar Tree store near the school. Employees told ABC News that they were 'shocked' by his actions, describing him as 'loyal' and 'responsible' and saying that he would 'arrive to work half an hour early.' He had reportedly been transferred away from the Dollar Tree store near the school for an unknown reason but his manager said Cruz was a 'nice kid' who was always in a good mood. The management of said shop has confirmed they will fully cooperate with law enforcement officials on their investigation.
Jim Gard, who teaches math at the school said about Cruz: "We were told last year that he wasn't allowed on campus with a backpack on him. There were problems with him threatening students, and I guess he was asked to leave campus."
Images that have been taken from Cruz's social media accounts, which have since been suspended, paint a picture of a man obsessed with weapons. Various uploads show Cruz, who has his face obscured with either a hat or balaclava, holding up and posing with knives and guns.
One of the images he posted shows a Maverick 88 Slug shotgun with the caption: "I plan on getting this but I need more information on it so if someone could give advice on how much I'm spending and background checks please to god let me know," claiming in the comments that he was purchasing the gun for hunting.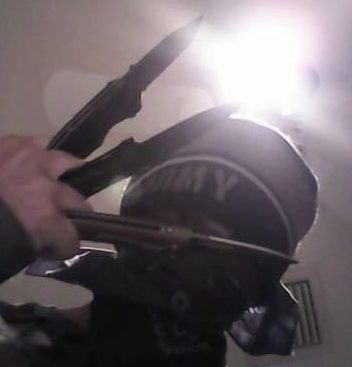 His former friends also said they had grown suspicious of Cruz. 17-year-old Dakota Mutchler said he cut himself off from the shooter after he started 'progressively getting a little more weird,' and that Cruz often posted about killing animals and target practice on his social media accounts.
He continued: "Everyone in the school that knew him speculated about him. When someone's expelled, you don't really expect them to come back ... If they're expelled, they're gone. But of course, he came back," adding that he said he stopped talking to Cruz after 'he started going after one of my friends and threatening her.'
17-year-old Victoria Olvera, another former friend of Cruz said that the shooter was initially 'really nice' but that he later changed and that he was 'like a future school shooter.' Another unidentified student shared similar sentiments, telling CNN: "A lot of people were saying that it was going to be him. All the kids joked ... saying he was the one that screwed up at school, but it turns out everyone predicted it. That's crazy."
Yet another 17-year-old student told local TV station WSVN: "He's been a troubled kid and he's always had a certain amount of issues going on. He shotguns because he felt it gave him, I guess, an exhilarating feeling. He showed me on his phone. I stayed clear of him most of the time, I didn't want to be with him," adding: "It surprises me it's going on today but it doesn't surprise me to know it's him."
The shooting is the second-deadliest school shooting in the country's history after only the horrific 2012 Sandy Hook Elementary shooting in Connecticut, where 20 first-graders and six educators lost their lives. It is also the deadliest ever at an American high school, surpassing the infamous Columbine high school massacre of 1999, where 12 students and two teachers were killed.
According to the BBC, the shooting marks at least the 18th such shooting in and around school premises this year and is the eighth such shooting which has resulted in either injury or a loss of life. Furthermore, since 2013, there have been a whopping 291 school shootings in the country, which amounts to almost one every week.
Cruz is set for a court hearing on Thursday.
If you have any views or stories that you would like to share with us, drop us an email at writetous@meawwworld.com