12 of America's most favorite Thanksgiving side dishes
From mashed potatoes to cranberry sauce, here's what Americans like to have as side dishes on Thanksgiving.
Thanksgiving is all about the parade, spending the day with loved ones, feeling gratitude for the good things in life, and of course, the lavish feast! Come Thanksgiving and all we can picture is a traditional Thanksgiving feast with a huge roast turkey sitting at the center of the table, adorned with a number of side dishes.
Here are 12 of America's most liked Thanksgiving side dishes.
12. Corn pudding
There are so many things you can do with corn, which makes it such a hit for Thanksgiving. You can whip up a corn pudding, or bake a cornbread, or corn muffins. You can make a corn salad, or try your hands at a corn casserole. If you are feeling too lazy, you can grill it on the flame and smear it with lime butter.
11. Glazed carrots
This is one of the easiest side dishes to make for the day and to add some color to your feast. Pick some carrots and roast them with some olive oil and minced garlic, and you are good to go. It may not be a favorite of too many of you, but it's easy and adds a sweet touch to the meal.
10. Candied yam
There is a reason why yams stand out on the table between harvest vegetables and the regular mashed potatoes. Adding a sweet tinge to the palate, all you have to do is add butter and sugar to the yam pieces and bake them till they are tender. You can add marshmallows to the dish if you want it to be sweeter.
9. Creamed spinach
There must always be a healthy dish in a massive feast. This is where the green, leafy spinach comes to the rescue. You may choose from a sweet-and-sour steamed spinach, or a simple spinach salad with garlic vinaigrette, or go ahead with the most popular dish—creamed spinach.
8. Brussel sprouts
It is now a season for Brussel sprouts and you must add this element to your feast. Roasted Brussel sprouts work wonders on their own. You may also team these with bacon and maple syrup, or grill them in a pan with breadcrumbs and parmesan, or simply fry the Brussel sprouts with some chili fish sauce.
7. Sweet potato casserole
Another sweet dish to add to the host of side dishes is a sweet potato pie or a sweet potato casserole. You can give a twist to scalloped potatoes by using sweet potatoes instead of regular ones. If you want to make the side dish less sweet, bake the sweet potatoes with some ricotta cheese.
6. Green beans casserole
Add a salty, creamy texture to the side dishes by cooking a green bean casserole with fried shallots topped with roasted almonds. If you want to add a twist to the dish, make a sauce with mushrooms and chopped sun-dried tomatoes or roasted bell peppers and add it to the dish!
5. Bread basket
No Thanksgiving is complete without having a buttery, dinner roll or flaky biscuits on the side. Get creative with this and come up with potato dough rolls, or herbed olive oil and cheese rolls, raisin bread, buttermilk rolls, salt and pepper biscuits; there are endless things you can do with the bread basket.
4. Mac and cheese
Although not a classic side dish, this is certainly one of the most popular side dishes for Americans on Thanksgiving. Why's that, you may ask? Well, the gooey, creamy, cheesy mac and cheese is a big favorite with kids, and that's why it features on most Thanksgiving feasts.
3. Stuffing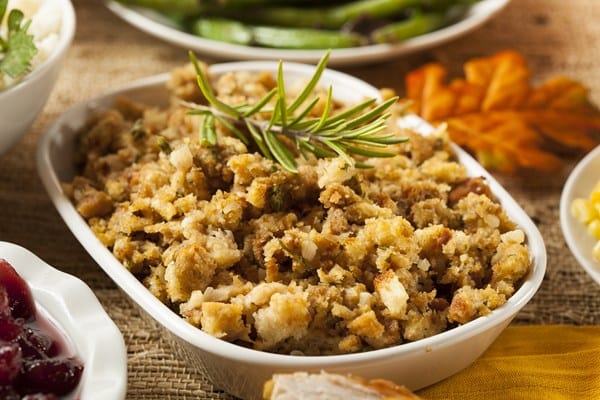 A Thanksgiving turkey without any stuffing on the side is no less than a nightmare. This is a must for all dinner tables on Thanksgiving. Think of bread slices mixed with celery, onion, butter, fresh parsley, and condiments—yes, now the meal is complete!
2. Mashed potatoes
This is a Thanksgiving staple made by all families year after year. A plate of creamy, buttery, shiny mashed potatoes may be hard to master, but once you do that, you will be a hit at all Thanksgiving dinners that you host. What's more? It will also hold your rich gravy/sauce.
1. Cranberry sauce
Another Thanksgiving staple, cranberry sauce represents the fall season and brings together the whole feast. It adds a touch of tartness to the otherwise spicy and sweet dishes and is essential for any Thanksgiving dinner. For those who don't wish to make it from the scratch at home, you can always buy a can of cranberry jam at the store and then work with it, or buy cranberry sauce and serve that.
If you have any views or stories that you would like to share with us, drop us an email at writetous@meawwworld.com