RIP Antonio Carluccio, the Godfather of Italian cuisine
Italian chef and restaurateur Antonio Carluccio died on Wednesday after a fall at his home.
He was known as the godfather of Italian cuisine. Antonio Carluccio put Italian food on the world map with a UK chain Carluccio's. A statement released by Carluccio's agent on Wednesday said—It is with great sadness that we announce that Commendatore Antonio Carluccio OBE sadly passed away this morning.
It is with great sadness that we announce that Commendatore Antonio Carluccio OBE sadly passed away this morning. https://t.co/LWJtijvtf6 pic.twitter.com/WJsqSks7ud

— Antonio Carluccio (@CookCarluccio) November 8, 2017
Carluccio's restaurant chain also released a statement, which said, "We are incredibly saddened by the news that Antonio Carluccio, our founder, passed away on Wednesday. Antonio built Carluccio's from one restaurant to the fantastic brand it is today. It isn't just Antonio's name above our doors, but his heart and soul lives and breathes throughout our restaurants."
The statement went on: "Antonio was an OBE, OMRI and a much-loved and respected Italian cookery writer, cook, restaurateur, food expert and TV personality. He was regarded as the godfather of Italian cooking. Antonio has been a huge inspiration to many of us and his energy, zest for life and sense of humor will be greatly missed."
Carluccio, born in Italy's north-west region of Piedmont, started off as a journalist in Turin and later worked in Vienna and Germany. He then made his way to London to work as a wine merchant.
Carluccio's restaurant business began in 1981 when he was named runner-up in Sunday Times Cook of the Year competition, and eventually went on to open the Neal Street restaurant in London's Covent Garden, which ran for 26 years. From then, it was an upward ride for him.
Carluccio co-founded the high-street restaurant chain Carluccio's Caffe in 1998 near London's Oxford Circus, with exquisite Italian dishes and wines on offer. Carluccio's chain expanded to more than 80 locations in the following years, till he sold his interest in the chain in 2005.
Carluccio had served famous patrons including Prince Charles and Sir Elton John.
In 1998, he was appointed Commendatore by the Italian government for his services to Italy. In 2007, he was awarded an OBE (Order of the British Empire), from the Queen, rewarding his services and contributions in the culinary industry. He was also awarded the AA hospitality lifetime achievement award in 2012.
Carluccio made his first TV appearance on MasterChef in 1991, followed by a stint with Saturday Kitchen from 2006-2009, popular show Two Greedy Italians alongside chef Gennaro Contaldo, as well as Antonio Carluccio's Italian Feast. The world-renowned chef also wrote 22 cookbooks, of which many went on to become bestsellers, and released his memoir in 2012.
The chef had earlier attempted to end his life, when he was battling depression, in 2008. He had then checked himself into the London psychiatric hospital Priory, following the incident.
Carluccio went on to train many chefs in his career spanning over 35 years, the most famous being Jamie Oliver. Oliver paid a tribute to his mentor chef in an Instagram post, in which he wrote — "He was my first London Boss at the Neal Street restaurant 25 years ago which was an institution and Mecca of wild mushrooms where I had the pleasure of working for him. He was such a charismatic charming don of all things Italian! Always hanging out the front door of the restaurant with a big fat cigar a glass of something splendid and his amazing fuzzy white hair." "Viva Antonio Carluccio... Cook a feast up there mate," he added.
Oliver has said several times in his earlier interviews how it was Carluccio who got his hooked on pasta and said in his post, "My love goes out to his partner Sabina his family and his dear and close friends on this very sad day."
Other chefs also paid condolences to the legendary Italian chef. Celebrity chef Gino D'Acampo also paid tribute to his "good friend" in a Twitter post, saying, "I will remember the good times we had together."
I'd like to dedicate tonight's episode of 'Italian Coastal Escape' to my good friend Antonio @CookCarluccio . Sending all my love to his family. I will remember the good times we had together xxxx

— Gino D'Acampo (@Ginofantastico) November 8, 2017
Celebrity chef Nigella Lawson wrote on Twitter: "Riposi in pace". TV chef James Martin called him "one of the true greats of TV chefs," as he said in a statement, "His passion and commitment to both the restaurant business and to television was lifelong. He was a giant in the food world and he helped bring Italian food to the masses around the world."
Sad news of Antonio Carluccio. One of the chef legends. RIP @CookCarluccio pic.twitter.com/7gEmYP1GS1

— THE MEAT MAN (@barrypvera) November 8, 2017
MasterChef critic William Sitwell said in a tribute, "The saddest news. One of the loveliest people, and a really wonderful friend, Antonio Carluccio, has died. He had such warmth and at 80 great energy." He added, "It is so sad but what an absolute joy to know that he really was a friend. Every mushroom growing quietly beneath a pile of leaves in one of the secret woods that only he knew about might shed a little tear knowing he will never pick one of them again."
One of my favourite photographs of anything anywhere is this one of Antonio Carluccio eating pasta out of a WHOLE PARMESAN WHEEL pic.twitter.com/Fv1c2mBvoV

— sarahshenker (@sarahshenker) November 8, 2017
Former Great British Bake Off winner, Candice Brown, described Carluccio as "a true gent and honest man".
Russell Grant said to BBC that Carluccio was "just the kindest and loveliest man to be with. He was so passionate about his cookery and where he came from. Every mouthful would bring another story."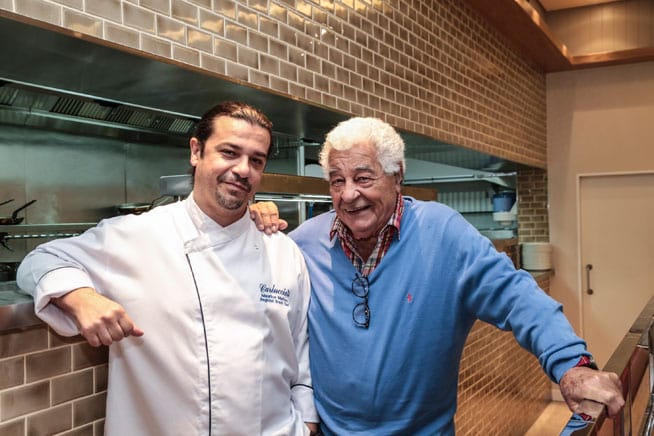 Carluccio laughed about how Italian food was stereotyped in other parts of Europe. In a 2009 interview with The Guardian, the chef had said, "British people eat an awful lot of wrong pasta. An example would be spaghetti bolognese, which doesn't exist in Italy. You wouldn't have bolognese, or a meat sauce, with spaghetti, it would be with tagliatelle."
Rest in Peace, Antonio Carluccio.
If you have any views or stories that you would like to share with us, drop us an email at writetous@meawwworld.com