What's the difference between using makeup worth $10 and $1,000?
Is there any difference in the results of expensive makeup products and their cheaper counterparts? Eva Gutowski finds out.
How much money do you spend on your makeup products? Have you ever given it a thought? Well, YouTube queen Eva Gutowski put both cheap and expensive makeup products to test for you, to find out if expensive products did actually make the face look better or not.
Eva tweeted a selfie of herself with one side of her face sporting makeup worth $1,000 and the other side of the face with makeup worth $10. Can you make out the difference?
YALL ONE SIDE OF MY FACE HAS $1000 of makeup on ONE SIDE HAS legit $10 *NOOO EDITING* IM DONE IM DECEASED. pic.twitter.com/jVA0L6EZZx

— Jolly Eva Gutowski (@lifeaseva) October 27, 2017
The test
On the right side of her face, she used the following makeup products worth $1,100.
FACE
1. Tatcha Soothing Triple Recovery Cream $135 (an expensive night cream which is reportedly used by the Kardashians and so, "must be fancy," says Eva)
2. Urban dDecaySetting Spray $32
3. Cover FX Illuminating Primer $38
4. Urban Decay Color Corrector
5. Cover FX Custom Enhancer Drops with Marc Jacobs Foundation $55
6. Diorskin Under-Eye Concealer $34
7. Kevin Aucoin Liquid Contour Stick $50
8. Becca Sunlit Bronzer $38
9. Becca X Jaclyn Hill Blush and Highlight $38
10. Urban Decay Afterglow Blush $26
11. Fenty Trophy Wife Highlighter $34
12. Ben Nye Banana Powder $15
13. Marc Jacobs Featherweight Finish $48
14. Urban Decay all-night-long setting spray $32
EYES
1. Anastasia brow pencil $23
2. Anastasia brow wiz $21
3. Anastasia brow gel $22
4. Tarte lid lock $21
5. Urban Decay Naked Palette Eye Shadow $54
6. Anastasia Modern Renaissance Palette $42
7. Jouer Essential Matte and Shimmer Palette $40
8. Tarte Liquid Liner $20
9. Jouer Slim Cream Liner $20
10. Tarte mascara $23
LIPS
1. Colourpop Lipppie liner $5
2. Kat Von D bow and arrow $20
3. Sugar lip tint $24
On the left side of her face, she used the following makeup products worth $10.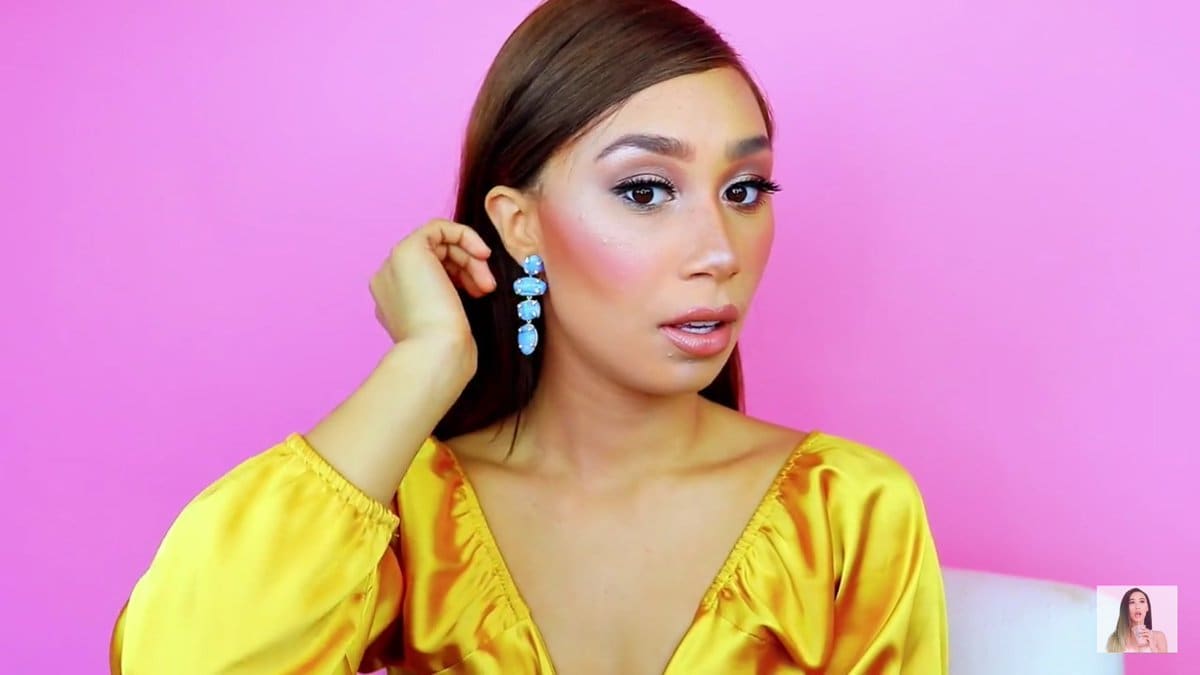 FACE
1. Rimmel Stay Matte foundation $2
2. Rimmel Match Perfection concealer $2
3. Dollar Store blush $1
EYES
1. Dollar Store eyeshadow palette color mates $0.50
2. Rimmel concealer and Dollar Store eyeshadow palette $0.50
3. Eyeliner with the black color of the color palette
4. Same color palette, using the silver to highlight
5. Aziza powder foundation $1
LIPS
1. Wet N' Wild lipstick $2. Dollar Store lipgloss $1
After her experiment, Eva found that both sides of her face actually looked almost the same. In her own words, she was, "blown away with all that you can do with a Dollar Store makeup palette. Both sides look almost identical. I can barely tell the difference between the two."
The only difference
1. She liked her eyebrows a lot more on the $10 side
2. Her face felt a lot more supple on the $1,000 side and the cheap side felt really chalky, with the makeup coming off in her hands when she touched her face
The verdict
At the end of the video, Eva said, "Basically, you don't need to spend a bunch of money on expensive makeup products out there. Affordable products do almost the same job." She laughed and added, "Also, you don't need 25 steps in your makeup tutorial."
So, are you going to cut down your expense on makeup products now?
Watch the video here.
If you have any views or stories that you would like to share with us, drop us an email at writetous@meawwworld.com