Brooklyn Beckham's girlfriend Chloe Moretz takes style inspiration from Victoria Beckham
When you're dating the son of one of the world's most respected and renowned fashion designers, you'd hope you'd be able to bag a few pieces from their runway collections
It's always wonderful when young stars get fashion inspo from older ones — and it's all the more amazing if you can take style tips from your (maybe future) mother-in-law!
Chloe Grace Moretz, the 20-year-old girlfriend of Brooklyn Beckham, has been spotted out and about wearing outfits that are inspired and designed by Brooklyn's mom Victoria. 
At a gala dinner in Utah recently, the Carrie actress was pictured in a white blouse with high collar and sleek black blazer. She even got the glitter pointy pumps to match (also a VB creation, btw)
A nearly identical look was worn by Victoria last November, where she attended the Harper's Bazaar Women of the Year awards at Claridge's Hotel in London.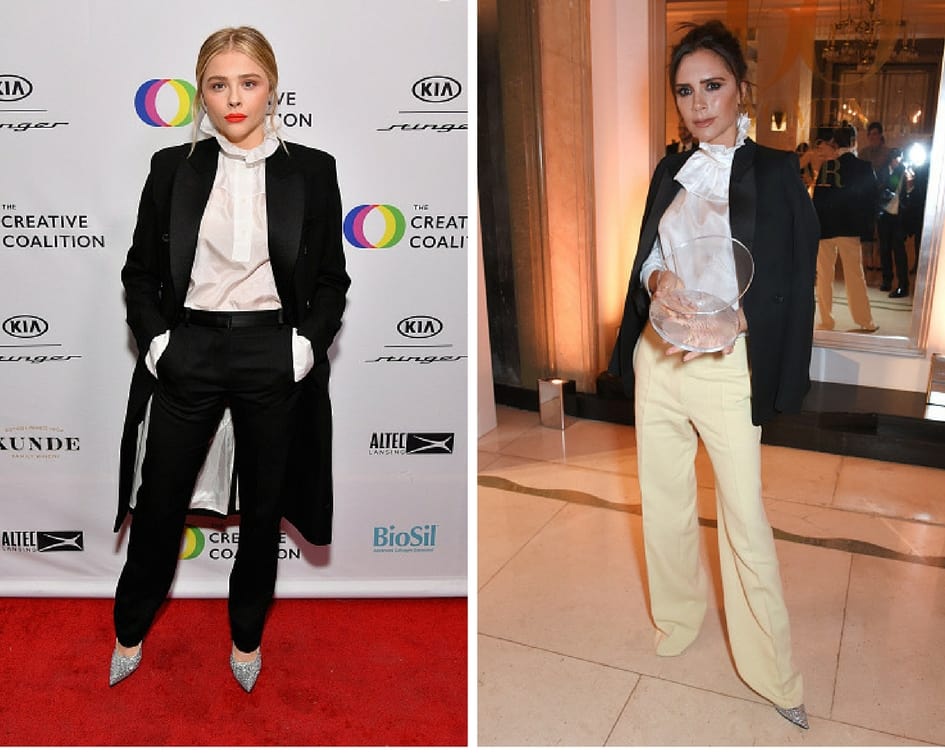 Since she began dating Brooklyn, Chloe has been spotted in many more items designed by Victoria. Trying to get into the family, are we?
Chloe wore a black silk blouse from Victoria's collection at the Sundance Film Festival last weekend — and teamed it with black trousers and gold shoes. Guess who wore a lot of those back in the day? Yes, Posh Spice.
The following day, she then chose a camel high-necked sweater and black trousers, with a simple updo to complete the look.
She was also seen wearing a cute pink and white blazer and cropped trousers outfit in December last year, which was from the Ready To Wear spring collection.
Her boxy little burgundy bag was from Victoria's line as well, which matched her bold red lip on the night.
They say imitation is the greatest form of flattery but it is still a secret if Victoria agrees.
Earlier last year, Chloe attended the Harper's Bazaar September Issue party and wore a skirt designed by Victoria, teamed with a simple black top.
The skirt fell to below the knee, had a Prussian blue trim that really brought out her her shoulder length blonde curls pinned on one side. She went with black peep toe heels to complete the look.
She has also been spotted in an embellished long-sleeve Victoria Beckham blouse when speaking in support of Hillary Clinton in Las Vegas.
The actress looks amazing in all the looks, but perhaps Brooklyn should have a chat with his mum Victoria so that she could start designing some pieces with Chloe in mind? Or maybe even collaborate! 
So if you're really looking for some gorgeous clothes, here is the answer — start dating the designer's son.
If you have any views or stories that you would like to share with us, drop us an email at writetous@meawwworld.com