12 shocking secrets from a first-class Emirates flight attendant
Next time you take an Emirates flight, remember the work these girls put in to make it successful
Flight attendants seem to do nothing wrong — their make-up is on point, their clothes perfectly starched and their skin as smooth as silk. But this comes at a price, that the rest of us don't see.
As soon as these attendants slip into the uniform, they need to follow certain rules and cannot afford to slip even once. Even though it is glamorous and well paid, this job in the skies also comes with its own challenges. Take a look at the 12 surprising things that these flight attendants have to do to make an Emirates flight a successful one.
12. They actually have information about you even before you're on the flight
The cabin crew has a briefing before every flight and they get to know their customer preferences before the flight begins. They usually have your name and other information, stored in their tablets on board — for both VIP and regular customers.
11. They take notes about you during the flight
In first class flights, the customers' hobbies, food preferences, dietary supplements, their destination and boarding place are kept. The crew saves it and passes it on to the other crews that would serve them through the rest of the flight.
10. They have an imaging and grooming department that tells them what kind of make-up they can wear
For Emirates, the attendants swear MAC Russian Red or the Emirates Red lip colour with a lip liner is used.The attendants can only wear black or beige eyeshadow and wearing liquid liner is advisable. Their nails can only be nude, light pink or French-manicured. No nail art is allowed.
9. Hairstyles on point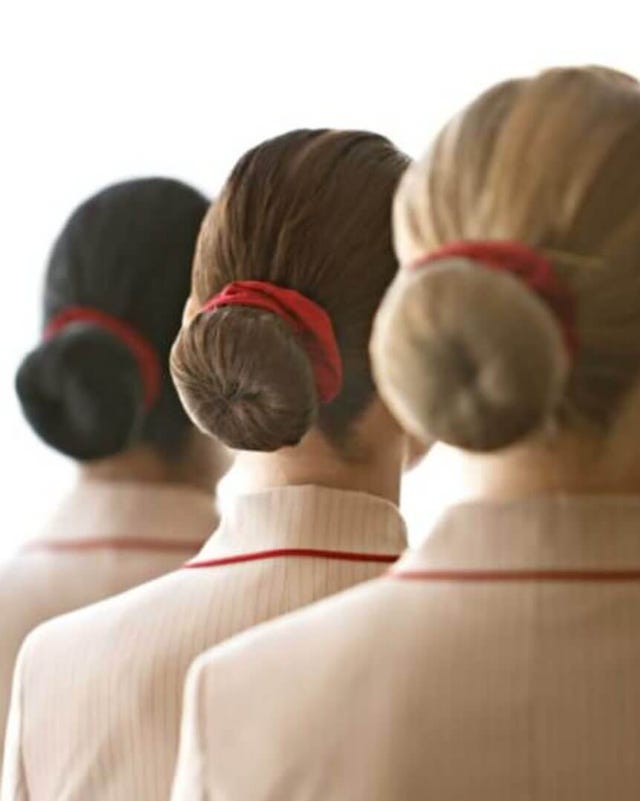 Emirate air hostesses can only wear their hair in a French twist or a bun with a red colored scrunchie. Most of them use hair doughnuts. The red rubber band is optional.
8. They are trained in make-up and skincare
The flight attendants, along with other training, are given classes on how to do their make up take care of their skin so that they can keep it glowing.
7. Jewelry restrictions
Emirates only allows its flight attendants to wear pearl earrings. They can also be little studded earrings that have to either be diamond a lookalike crystal. They are not allowed to wear necklaces, elaborate or otherwise. They can wear watches as long as they are plain and not flashy. 
6. The chief of the crew wears a different color
The chief flight attendant also called purser wears a brown color uniform while everyone else wears the standard skirt, white shirt, hat, jacket, and scarf.
5. Promotions are rigorous
When someone from the economy class crew gets bumped up to a to business class or first class, they undergo strenuous training. This gets particularly crazy with dining. The economy class has just one tray but the first class dining has something called as the Silver Service dining where appetizers, main courses, and desserts are served differently one after the other. Flyers can also dine on demand. The attendants are taught cutlery etiquette and the different plates that go with each.
4. They are sommeliers to an extent
These attendants know what they are pouring. They use expensive wines on a flight like Dom Perignon and Bordeaux and the attendants are taught the difference between old-world wines and new ones. They also know the varieties of champagne, bourbons and whiskys among other spirits.
3. They slip out of their uniform after they take off
They are allowed to slip out of their heels into flats, red ones after they take off. They have to have their heels on when they are in the airport and when boarding goes on. They have a service attire too — which is the skirt and shirt without the jacket but with a waistcoat.
2. Sometimes the requests get bizarre
A flight attendant has their share of bizarre requests that usually go asking if they can use the crew cart to put their baby to sleep. More often than not, they cannot say yes to such requests because of safety hazards.
1. Crews serve together once and then never meet
It is the rare occasion for them to meet a familiar face in the briefing room because there are too many fresh faces every single day. Next time you meet one, share a smile or a greeting, they work really hard to make you feel good.
If you have any views or stories that you would like to share with us, drop us an email at writetous@meawwworld.com