Sleep experts give 5 solutions as to how you can overcome insomnia
Insomnia can leave you feeling weak and tired all the time, here is how you can counter it.
Many people tend to suffer from insomnia and more often than not, have no idea how to combat it. If you are one of those who has problems sleeping easily, then do not worry as there are several ways that you can counter insomnia. 
According to WebMD, "Insomnia is a sleep disorder that is characterized by difficulty falling and/or staying asleep."
Dr. Matthew Walker, director of Sleep and Neuroimaging Laboratory at the University of California, Berkeley has done plenty of research on the subject and has some words of advice for those who suffer from the disorder.
Here are 5 ways that you can combat insomnia: 
#5 Sleep in a cool and dark room 
If your bedroom is uncomfortable and hot then it will be difficult for you to get a peaceful night's sleep. If your room is messy and untidy, it can also contribute towards insomnia and a lack of sleep as the mind will feel uneasy in all the clutter. A clean, cool, and dark space are ideal for good sleep. 
According to Dr. Walker, "The reason is that your brain and your body need to drop their core temperature by about two or three degrees Fahrenheit to initiate good sleep." 
#4 Try and sleep at the same time every night 
When you are trying to combat a sleep disorder such as insomnia, then you have to have certain systems and structures in place. Even if it means giving up some weekends to get your body clock back in order, it is a must to try and sleep at the same time every day until your body has become used to the schedule. 
Keeping the sleep time constant will make your body feel sleepy at the same time every day and before you know it, the body will automatically get ready to rest at a certain time. Director of sleep services at the Pritikin Longevity Center & Spa, Sam J. Sugar says, "The idea is that you're creating a habit that the body then wants to stick to, so it tells you that it's tired at the chosen time." 
#3 Don't lie in bed while awake 
If you have been lying in bed for over twenty minutes and are still unable to sleep, then it is suggested that you get out of bed and do something which will relax and ease your mind. Try and look for activities which will induce a sense of calm and therefore hopefully some sleep. 
The more you lie in bed forcing yourself to sleep, the more your brain will start to associate the bed with being awake rather than a place to sleep. Dr. Walker says, "The reason is that your brain very quickly starts to learn the association between your bed being about the place that you're awake rather than your bed being about sleep." 
#2 Avoid caffeine or alcohol 
Drinking a cup of coffee or alcohol before bed will counter your sleepiness and will keep you feeling awake. Caffeine is known to make falling asleep very hard and it is highly likely that it will disrupt and complicate your regular sleep cycle. In order to get a good night's sleep, drinking alcohol is an absolute no-no. 
According to Dr Walker, "Alcohol is a class of drugs that we call 'the sedatives.' And what you're doing is just knocking your brain out. You're not putting it into natural sleep."
#1 Stay away from all screens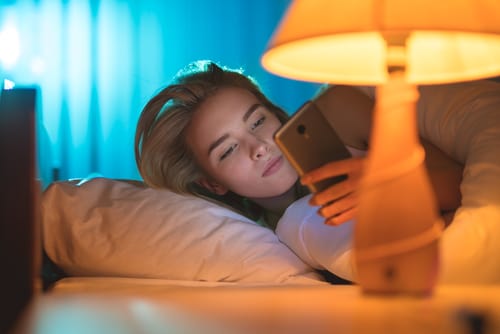 When it comes to going to bed, most people like to wind down by watching television or surfing on their phones or other gadgets. Some people even believe that mindlessly scrolling through Facebook or Instagram feed will induce sleep and even help us to fall asleep. 
However, scientists and researchers have concluded that the blue light which is emitted from our phones and gadgets tend to disrupt the hormones which indicate to our body that we need to sleep. So, every time you reach for your phone before bed you are actually telling your brain to stay awake. 
Here is a video to help you understand insomnia better: 
If you have any views or stories that you would like to share with us, drop us an email at writetous@meawwworld.com