Australia set to become first country to eradicate cervical cancer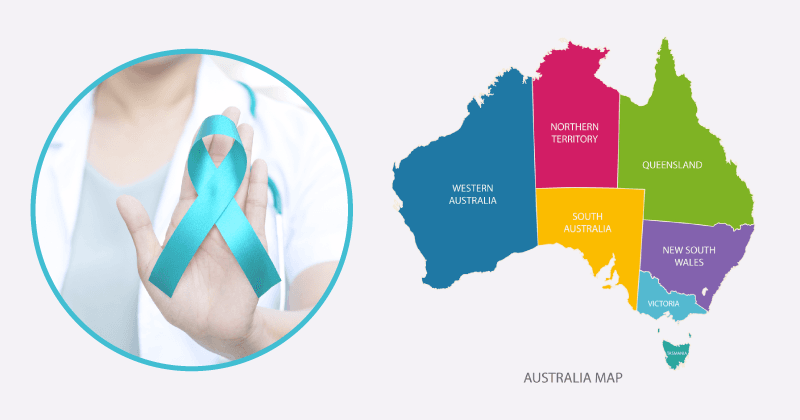 Thanks to the Australian federal government's mandatory initiatives and advanced screening tests, cervical cancer is set to be obliterated from the continent for good.
According to the International Papillomavirus Society, Australia may soon hit the pedestal with #1 rank as it is geared to become the first country to eliminate cervical cancer completely. 
---
Australia, where HPV vaccine was co-invented, could be 1st country to eliminate cervical cancer. A global inspiration: https://t.co/KmPcjPYqqj #vaccineswork

— Seth Berkley (@GaviSeth) 6 March 2018
Australia's victory against cervical cancer 
According to a new research published on HPV awareness day i.e March 4, Australia's groundbreaking free HPV vaccine program in schools has led to the rapid fall in the cervical cancer rates.
For the uninitiated, the sexually transmitted HPV infection is the cause of most cervical cancer cases.
Read: Doing this with more than five people will increase the risk of cancer.
---
The end of cervical cancer is in sight, with experts revealing Australia is on track to eliminate the deadly disease in just decades. #9News pic.twitter.com/4EkChKVgjZ

— Nine News Sydney (@9NewsSyd) 4 March 2018
---
Taking Australia's case into consideration, the Kevin Rudd federal government had begun offering the vaccine to girls between the age group of 12-13 since 2007, which was made available to boys from the year 2013. Even girls and boys outside the age bracket but under nineteen were given two free doses of the vaccine.
---
Experts predict Australia is likely to become the first country to effectively eliminate cervical cancer, expected within the next 40 years. Report on 7 News at 6pm. https://t.co/ofC5DfnslG #7News pic.twitter.com/pnE7B1yZyD

— 7 News Sydney (@7NewsSydney) 4 March 2018
---
Astonishingly, between 2005 and 2015, the percentage of Australian women infected with HPV dropped from 22.7 to a striking 1.1 percent, with a marked increase in immunization rates since 2015.
Coupled with advanced screening test made available to the public by December 2017, lead researcher of the study professor Suzanne Garland from Royal Women's Hospital, is hopeful that there will be no new cases of cervical cancer within the coming 40 years. 
Read: Jack Tweed remembers his late wife Jade Goody on their 9th wedding anniversary. 
---
Today is #InternationalHPVAwarenessDay. Australia is set to eliminate (ELIMINATE!) cervical cancer because of high uptake of a safe and effective tool to prevent cancer - #HPV vaccination (see link in comments). In the US, slightly more than half of our kids have been vaccinated. pic.twitter.com/hAxwKUmZIl

— Heather Brandt (@BlondeScientist) 4 March 2018
How does the rest of the world fare?
According to the Association of Reproductive Health Professionals, the HPV vaccine costs a massive $450 for the full regimen in America. Not so surprisingly, as per data published by the Henry J. Kaiser Family Foundation, compared to 78.6 percent of 15-year-old Australian girls, and 72.9 percent of 15-year-old Australian boys, only 50 percent of American girls between 13 and 17, and 38 percent of American boys between 13 and 17 were vaccinated. 
---
#NativeAmerican women are nearly x2 as likely to develop #cervicalcancer as white women. Read our recent report about the cervical cancer crisis affecting #America's #underserved communities and how to improve #accesstocare. https://t.co/0orVCbBMbh #screenings4all #indigenous pic.twitter.com/w1X2n6sSCv

— MobileODT (@MobileODT) 7 March 2018
---
But the worse circumstances exist for people from the developing world, where the HPV infection presence is largely concentrated among women who have no access to screening tests or the vaccines.
"Two-thirds of the world's population of women don't get access to what Australian women do," said Joe Tooma, the chief executive of the Australian Cervical Cancer Foundation told Futurism.
"Unless we do something, it will still be one of the major cancer killers in developing countries," he added grimly. 
---
Hi @NLIRH, we quote you in our latest report about America's Cervical Cancer Crisis unfairly burdening medically underserved communities including Hispanic women. Download the full report here: https://t.co/IVIYZg36MW. We'd love to know your thoughts about it. #screeningsforall pic.twitter.com/tw3ldJNgk4

— MobileODT (@MobileODT) 27 February 2018
---
But America and the rest of the world can take inspiration from not just Australia but Bhutan too that implemented free HPV vaccination programs in school that has helped in lowering cervical cancer cases.
---
Cervical cancer control in Latin America: A call to action https://t.co/eOvb70KRYJ pic.twitter.com/SSixHlxlYS

— ACS Journal Cancer (@JournalCancer) 16 December 2015
---
As Professor Ian Frazer, from the University of Queensland (who is also the co-creator of the vaccine), told Guardian, the prospect of free availability of the vaccine is mootable, but something tha governments across the world must consider. 
"It will be a challenge to get rid of cervical cancer globally. But the tools are there to do it. We've done the program in Vanuatu and Bhutan, and that shows it doesn't matter what country, if you provide the vaccine for free, people will take it up," he stated.
---
The human papillomavirus (HPV) can cause several types of cancer. For example, almost all cases of cervical cancer are caused by HPV. HPV vaccination has the potential to reduce cervical cancer incidences around the world by two-thirds. https://t.co/EbW8jPgGsH pic.twitter.com/sIqgv9Btrr

— NCI Prevention (@NCIprevention) 1 March 2018
---
Is Trump listening?
If you have any views or stories that you would like to share with us, drop us an email at writetous@meawwworld.com