Top 15 upcoming albums of 2018 to be excited about
Brace yourself and mark your calendars. 2018 is already looking to be a promising year with a line of soon-to-be-released albums that will leave you star-struck and begging for more. Here's our list of the 15 most anticipated ones:
Although 2017 was a chaotic cluster-fuck of a year that felt like it would never end, it did have a redeeming plus side - it was a fantastic year for music. It was a year of comebacks (LCD Soundsystem, Ride, Slowdive, Depeche Mode) and the music scene was politically charged, reminding us what an important role art and music plays in the socio-politics of the times.
Fortunately, 2018 seems like it's going to be equally promising. With confirmed releases from the likes of Franz Ferdinand and Superchunk—plus expected new albums from My Bloody Valentine, Kanye West, Vampire Weekend, and more—2018 is already shaping up to be great year for music. Here's our pick of the top 15 albums that should get you totally stoked this year: 
15. Sky Ferreira
Album: Masochism
Release Date: TBA
What's exciting?
Sky Ferreira blew the music world straight outta the water with her 2013 debut album 'Night Time, My Time', setting a fresh new tone with indie elements and heavy synths. Ever since, the years have been slowly rolling by while fans are going half mad waiting. But Sky's been busy meanwhile, featuring in Edgar Wright's Baby Driver where she contributed a cover of The Commodores' Easy and David Lynch's revival of Twin Peaks.
Over the last year, Sky has made a few statements explaining why it's taking so long to put out her new album, titled 'Masochism'. "I stuck to my guns, and that makes the process a lot longer than you would expect it to," she said in conversation with DIY magazine. She also took to Instagram to give her fans an update every now and then so that all hope was not lost. With such hype racking up month after month, it would be interesting to see what Ferreira rolls out when it's finally time.
---
---
14. Frank Ocean
Album: TBA
Release Date: TBA
What's exciting?
Frank Ocean tends to do things at his own pace while he keep the rest of us guessing. He went quiet for about four years after his critically acclaimed 2012 debut Channel Orange, then suddenly came back with two full albums sets in August 2016, the visual album Endless and the Billboard topping masterpiece, Blond.
Frank once promised "five albums before 30." He turned 30 last November and the album was nowhere to be seen. But he did post a message on his infamous Tumblr page that said, "Well I made the album before 30. I just aint put that bitch out!" If that wasn't tantalizing enough, he explained his statements as "quotes from an interview I haven't given."
Frank Ocean has released some music in 2017, Chanel and Biking (you can watch the official music video below), which could be a taste of what's to come. So chances are we won't be waiting too long for the much awaited fifth album.
13. Bruce Springsteen
 Album: TBA
Release Date: TBA
What's exciting?
It seemed like The Boss would roll out his first album of all new material since 2012's Wrecking Ball in 2017 but it was a no show. So there's no way that it's not coming out this year, right? At least we hope so. Springsteen has spent 2017 revisiting what it's like to perform solo with his sold-out Broadway show, and this new album is said to be a shout-back to his older solo stuff like Devils and Dust and Tunnel of Love.
Talking about what to expect on the big release, Springsteen said the music was "influenced by Southern California pop music of the '70s. Glen Campbell, Jimmy Webb, Burt Bacharach – those kinds of records." Whatever the influences, we can't wait for the Rock and Roll Hall of Fame to blow our socks off with his 19th studio album.
12. Superchunk
Album: What A Time To Be Alive
Release Date: Feb 16
What's exciting?
North Carolina's proto-indie rock act Superchunk sort of fizzled out in 2001with the relatively mellow Here's To Shutting Up, after a decade of perfecting their sound. But in 2010, they got back into the game with Majesty Shredding, an album more reflective of their earlier roots and they haven't stepped off the gas pedal since.
Don't be fooled by the merry looking album cover for the upcoming What A Time To Be Alive. The connotation of that title is not necessarily positive, as suggested by the lyrics of the already released titular single from the album. Superchunk seems to have turned up the punk to maximum, coming close to a sound they last explore in their 1993 release, On The Mouth. Expect some heated political lyrics and grungy guitars targeted at the misery of the current times.
11. The 1975
Album: Music For Cars
Release Date: June 1
What's Exciting?
The 1975 made same serious impact with their weirdly-titled second studio album, I Like It When You Sleep, for You Are So Beautiful yet So Unaware of It in 2016. They even went on to win the Brit Award for Best British Group in 2017 while topping both the US and UK charts and even received a Grammy nomination. So they've already set a pretty high bar for themselves and it's always interesting to see where an artist goes after reaching their peak.
The 1975's next album which shares its name with their previous EP Music For Cars is due out June 1st, frontman Matt Healy revealed on Twitter. "Music For Cars was an EP named for our love for Brian Eno," Healy said. "We're using it as the album title now because of how meta and self-referential everything has become in the world of The 1975, and 'Music For Cars' was always my favourite title of everything we'd ever done, so it kinda made sense to wrap it up that way." So we expect to see a lot more drone and ambient sounds in the background with their signature synth-pop hooks cemented on top this June.
10. Childish Gambino
Album: TBA
Release Date: TBA
What's Exciting?
Modern renaissance man Donald Glover aka Childish Gambino has been extremely busy off-late! He's been working on the second season to his critically acclaimed TV show Atlanta, and is also starring as Lando Calrissian in the upcoming Han Solo Star Wars spin-off film.
In 2016 the rapper turned funk producer churned out one of the year's best albums Awaken, My Love! After which he announced that his next album would be his last, saying, "There's only so far you can go before you just are the radio". But that statement might not entirely be true. Gambino recently revealed he was working on new music, that may or may not be a collaboration with Chance the Rapper! But let's just pray that it is indeed true. Who wouldn't want to see a collaboration between two of the most innovative musical spearheads of rap collaborating in 2018? Nobody. That's who!
9. My Bloody Valentine
Album: TBA
Release Date: TBA
If there were any doubts about shoegaze music making a come-back, the power-packed musical year of 2017 dispelled all of them with shoe gaze stalwarts Ride, Slowdive and The Jesus and Mary Chain all making thumping comebacks after a long hiatus. But before the movement picked up such steam, My Bloody Valentine had already laid the stones for the foundation of the comeback with their 2013 release MBV, a jaw-dropper of an album that more than delivered after 22 years of rumors, frustration, and indefinite waiting for fans. So this next album comes only after 5 years, which in MBV time is pretty quick!
After the frontman, Kevin Shields was at the butt end of several "lazy Kevin Shields" jokes on the internet, he has awoken to say his band will "one hundred percent" release a new album in 2018. The album apparently "started off as an EP" before Shields "realized it has to be, like, a mini-album, because it's going to be at least 40 minutes long." Meanwhile, while we all wait for the new album, you can check out Shield's brilliant 9 minute drone-heavy collaboration with Brian Eno.
8. Justin Timberlake
Album: Man of the Woods
Release Date: Feb 2
What's exciting?
Justin Timberlake has announced his first new record in five years.The album, titled Man of the Woods is slated to come out on February 2 - just two days before his headlining Super Bowl performance. To announce the record, Timberlake dropped a one-minute trailer where he's portraying himself as a woodsman where he runs through mountains and cornfields with a background of earthy, folktronica sounds.
We can expect a much more earnest sound, one that's completely different from his previous body of work. "This album is really inspired by my son, my wife, my family, but more so than any other album I've ever written, where I'm from – it's personal," Timberlake says. The internet, being the internet, ripped on the intro and Twitter exploded with jokes, dismissing the album as Bon-Iver-turned-pop. But love it or hate it, it's definitely going to be something absolutely new.
---
JT looks like he's about to try something for the first time in a tent with Jake Gyllenhaal 👀 pic.twitter.com/40nmDkzgGz

— Hugh McIntyre (@PopBangHugh) January 2, 2018
---
---
ingredients:
1 part Pendleton catalog
1 part Bon Iver circa 2007
1 musky campfire scented candle
spritz lightly w/the gratifying feeling of being a dad; shake well
pour the new Justin Timberlake promo into artisanal copper mug, sell to millions at target https://t.co/igKME4Xij8

— Samantha Rollins (@SamanthaRollins) January 2, 2018
---
7. Vampire Weekend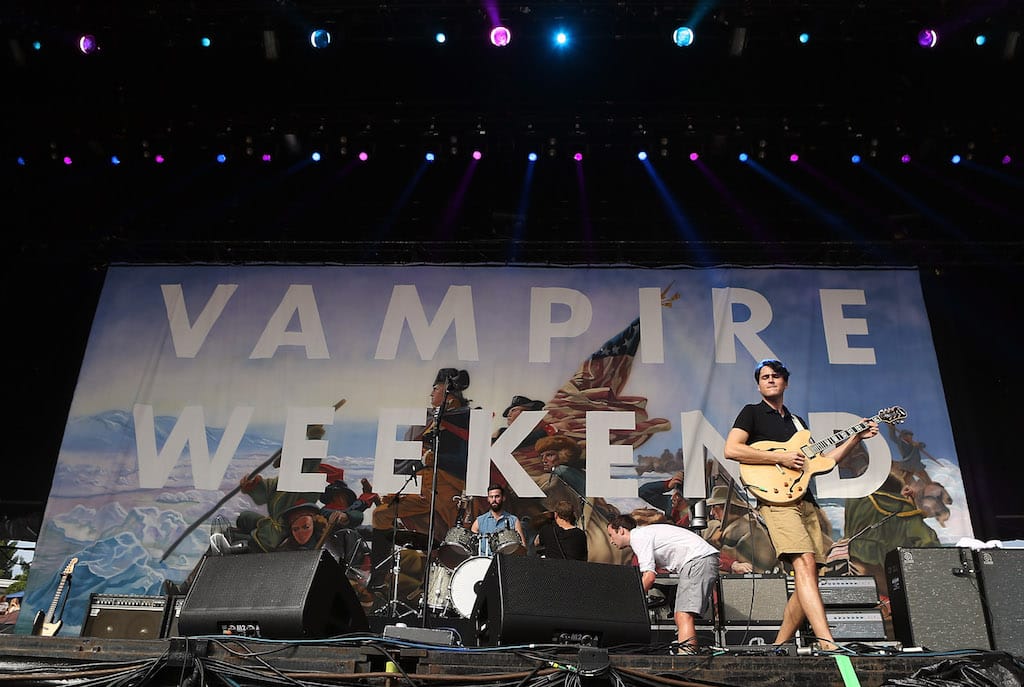 Album: Mitsubishi Macchiato (working title, not confirmed)
Release Date: TBA
What's exciting?
New York based indie-rockers Vampire Weekend have a monumental task lying ahead of them - a follow up to their previous album, 2013's Modern Vampires of the City, which was nearly perfect in every way possible. Responding to a Twitter fan inquiring about the new record, Koenig replied, "80% done but the last 20% is always the hardest."But after a long 5 year hiatus, it'll be the first time the band records without the services of founding member and producer Rostam Batmanglij, so it'll be interesting to see what their new sound feels like.
In a recent interview with Entertainment Weekly, the band's singer-songwriter Ezra Koenig said that Batmanglij would still have a significant role to play in the album. He also mentioned how the band has been specifically influenced by seeing pop-country star Kacey Musgraves, which might influence their new sound. Ultimately, what remains to see is how the band will maintain the balance of the Vampire Weekend brand with their new found sound. Should be electrifying stuff!
6. A Perfect Circle
Album: TBA
Release Date: TBA
What's exciting?
Maynard James Keenan has made a name for himself for two things. Groundbreaking prog-rock music that defies genres and keeping fans eagerly waiting for years together! 2017 saw a lot of hype and buzz as fans waited eagerly for Tool's new album, which would mark their big comeback after 2006's 10,000 Days (hopefully they won't keep us waiting that long for the new release), but it was a no show. Keenan has promised that the Tool album will "definitely" be out this year, but don't hold your breath!
Meanwhile, Maynard's other band, A Perfect Circle is all set to release their 4th studio album since 2004's Emotive. Fortunately, we have a solid reason to believe it because the band recently released two singles from the album, Disillusioned and Doomed.
The titles of the song should give you an idea of the theme they intend to address. It's a much needed antidote to the chaos of 2017 and we hope A Perfect Circle goes all-out on their big release.
5. Gorillaz
Album: TBA
Release Date: TBA
What's exciting?
After waiting seven years for Gorillaz to follow up 2010's Plastic Beach, Damon Albarn and Jamie Hewlett's fictional animated primate-brat-pack finally returned in 2017 with Humanz. But, the problem was that it barely felt like a Gorillaz album. The focus was pretty much on the fairly long guest list of featuring artists (which included the likes of De la Soul, Mavis Staples, DRAM and Rag 'n Bone Man). Damon Albarn's punch was fairly non-existent, and too many of the songs left you hanging.
So, maybe that's why they're planning to return in 2018. In a recent interview, Hewlett dropped a bombshell, stating: "We are working on another Gorillaz album, which is going to be released next year. So we're going straight into the next album with no break. Usually we have a good five years break but this time we decided to keep going." If this means that they are going to strip-back the sound and lose the guest-list, we are in for a massive joy ride this year!
4. Franz Ferdinand
Album: Always Ascending
Release Date: Feb 9
What's exciting?
The last time we saw or heard of Franz Ferdinand was four years ago in 2013 when they collaborated with he band Sparks on the album FFS. 2018's Always Ascending will be the Scottish indie-rock outfit's first proper studio album since and their fifth album overall. The new album is produced by Philippe Zdar, who has previously worked with the likes of Phoenix and Beastie Boys. We'll also get a first look at new members Julian Corrie and Dino Bardot, who will help fill the gap left by founding member Nick McCarthy, who departed in 2016.
As the self-titled single from the album clearly indicates, Franz Ferdinand is definitely exploring a new sound — synth heavy and dancey, with more electronic elements than usual, as they take a step towards the dance-punk genre, which has always been a big influence on the band.
3. Kanye West
Album: Turbo Grafx 16
Release Date: TBA
What's exciting?
Kanye has a method to his madness. He makes records by brewing them over a long time, picking away at ideas, finding collaborators and inspirations that seem to make sense together, and then all of a sudden, in a manic rush, announcing a release date and rallying to put a cohesive album in order! 2016's The Life Of Pablo was a messy, lively record, and one gets the feeling that he wasn't quite finished tinkering with it upon release. He immediately announced a follow-up in the weeks afterward that we still haven't seen.
Meanwhile, he's been busy doing Kanye like things, announcing that he'll probably run for President in 2020 (can you imagine what it'd be like to have First Lady Kimmy K?) and mending fences with old collaborators like Kid Cudi and Takashi Murakami. Whether his next album will really be called Turbo Grafx 16 (as he's claimed) or something else remains to be seen, but if there's one certainty about Kanye, it's that he's hard at work. But do remember that this is Kanye West we're talking about, and Kanye answers to no one! So there's no real indication of when Turbo Grafx 16 will be out, but we should be ready for the usual hurried surprise release!
2. Jack White
Album: Boarding House Reach
Release Date: TBA
What's exciting?
At any given point of time, Jack White can be dabbling with a handful of projects, so it can get quite difficult to follow what he's up to. But that should be much easier in 2018 as he's releasing a solo album — his third in his solo career. But what's coming might leave you utterly confused because as usual, nobody really knows what bizarre antics are involved in the project.
He described the album to The New Yorker as "bizarre," which could mean a lot of different things. To Interview, he called it "good gardening music or roofing music or, you know, back-alley stabbing music." White released a first peek at his new music, a collage of sounds and images called 'Servings And Portions from my Boarding House Reach', (that's all we have to go by for the album's title) which only added to the confusion because it sounds like a radio station switching between a strange jumble of organic and electronic sounds, with some typically Jack White sounding interludes thrown about. All things said and done, the solo project is surely going to be a stunner.
1. Arctic Monkeys
Album: TBA
Release Date: TBA
What's exciting?
When Arctic Monkeys released AM in 2013, they reached a new pinnacle, with a new, power-packed sound and a lot more electronic appeal, a diversion from their usual, fast paced dance-floor friendly indie sound. Since then, the members of the Arctic Monkeys have stayed quite busy.
Lead man Alex Turner toured around with his side-project, The Last Shadow Puppets, while drummer Matt Helders joined with long time collaborator Josh Homme and Iggy Pop to record Post Pop Depression. How these new influences will add up on their upcoming record will be interesting to observe. Bassist Nick O'Malley said their next album should be released in 2018, and "if it isn't, we've got problems!" After a five-year-wait, fans are hungry for a new album and the time is finally here. Well, almost!
If you have any views or stories that you would like to share with us, drop us an email at writetous@meawwworld.com